United Kingdom and Ireland
If you are from UK or Ireland and want to receive free gifts from Clinique, do not forget to visit one of the department stores below during bonus time.
While you need to spend a certain amount for the bonus gift in U.S., in the UK or IE you have to usually make a purchase of 2 or more Clinique products (one to be a skin-care product). Please be advised that not all stores participating in Clinique bonuses offer online ordering.
Advertisements
---

Celebrate summer with this perfect cute gift, with different things inside and amazing summer fresh bag – at Boots. From 30th July through 15th August, 2015.
Cleanse, moisturise and glow whether you are home or away this summer
You have to make a purchase of two or more products (one to be skin care or foundation) during the promo period.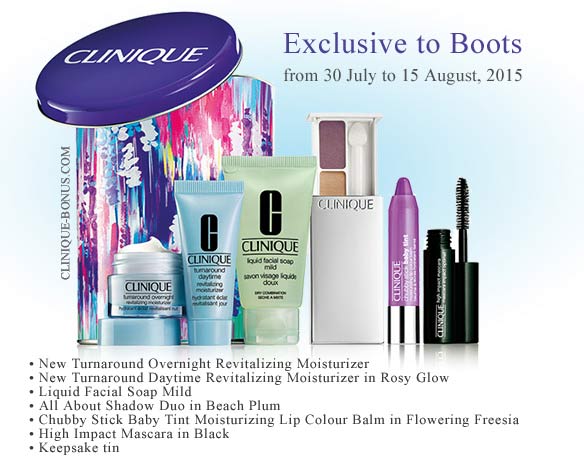 Note: Gift contains promotional size items.
Advertisements
---
---
The past Clinique promotions in UK and Ireland
Below are listed the most popular bonus times across UK and Ireland in the past 12 months.

Update: Unfortunately, this promotion is not available anymore.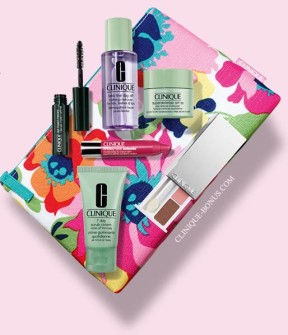 There is a 6-pc Clinique gift plus make up bag now on Clinique.co.uk. All the Clinique Beauty Heroes – free with any £50 spend. The gift is available online only and it includes:
Superdefense Daily Defense Moisturizer
Take The Day Off Makeup Remover
7 Day Scrub Cream Rinse-Off Formula
All About Shadow Duo in Strawberry Fudge
Chubby Stick Lip Colour Balm in Plushest Punch
Mascara in Black
A Floral cosmetic bag
You must enter promo code: BEAUTYHERO at checkout. Offer ends 11:59 on 26/06/2015 2015 or until stocks last.
Note: a similar offer was available on Clinique.co.uk one month ago with min. spend of £40.00.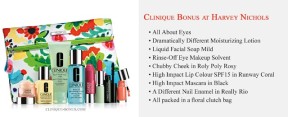 There is a Clinique complimentary gift filled with a selection of deluxe skincare and makeup favourites. Buy 2 Clinique products at Harvey Nichols from 21 May to 6 June, 2015 and you will receive this cosmetics bag and these Clinique products:
One of the products must be chosen from skincare section. Gift available at all Harvey Nichols nationwide. Not available online.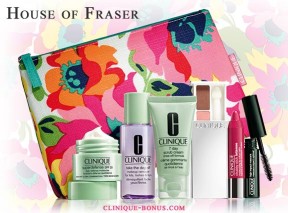 The next Bonus promotion in the UK is at House of Fraser online and in-stores. The promotion runs from May 7 to May 23, 2015. Available for UK and Ireland delivery.
Superdefense SPF 20 Daily Defense Moisturizer

Take The Day Off Makeup Remover

7 Day Scrub Cream Rinse-Off Formula

All About Shadow Duo in Strawberry Fudge

Chubby Stick Intense Moisturizing Lip Colour Balm in Plushest Punch

High Impact Mascara in Black

All packed in a floral cosmetics bag
Yours with purchase of 2 Clinique products (1 to be a skincare product) exclusively at HofF.
Shop now and get something EXTRA: with every 3rd purchase you will receive a full size Sparkle Skin Body Exfoliator (a $26 value). Free shipping is when you spend £50+.

Update 4/21: This promotion has ended.
There is Clinique bonus in UK at Harrods starting from Thursday 2nd April until Saturday 18th April, 2015.
Online offer
It's available online at Harrods website to all customers who spend £75 or more on ANY Clinique product(s).
This exclusive gift contains:
Repairwear Wrinkle Correcting Eye Cream, 5ml
New Repairwear Sculpting Night Cream, 15ml
Clinique Smart Custom-Repair Serum, 10ml
Liquid Facial Soap Mild, 50ml
All About Shadow Duo in Beach Plum
Chubby Stick Baby Tint in Flowering Freesia, 1.2g
High Impact Mascara in Black, 4g
Clinique Calyx Perfume Spray, 4ml
All packed in a floral cosmetics bag
Shipping is not free, standard shipping costs £5.95 and next day shipping £12.00. Note that the Clinique gift can be delivered to UK address only.
In-store offer:
This gift is also exclusively available in The Beauty Apothecary and The Cosmetics Hall on the Ground Floor at Harrods Knightsbridge (87–135 Brompton Road, Knightsbridge, SW1X 7XL London) until Saturday 18th April or while stocks last.
To qualify you have to make a purchase of any 2 or more Clinique products. Please, ask in-store for the details and the contents of the gift, as it might be slightly different from the online offer.

Update Mar 29: This promotion at Boots has ended.
The next UK bonus starts at Boots (online and instores) from Thursday 12 March to Saturday 28 March, 2015.
Must-have gift for your Spring pretty look this season.
Gift includes:
Take The Day Off Makeup Remover for Lids, Lashes and Lips
Blushing Blush Powder Blush in Pink Love
Chubby Stick Shadow Tint for Eyes in Lavish Lilac
High Lengths Mascara in Black
Eyelash Curler
All packed in a floral cosmetics bag
 How to get this gift?
To receive this complimentary gift, purchase at least 2 Clinique products.
Ordering online? You will be qualified for FREE instore collection. Shipping is free over £45 purchase, otherwise £3.50.
Visiting in-store? Find the nearest Boots with Clinique counters here.

Update Feb 24: The offer published on Johnlewis.com website is slightly different from instores offers.
Online: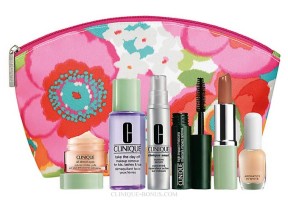 The gift bag includes: All about eyes cream, Take the day off makeup remover, Smart serum, High impact mascara, Long last lipstick and Aromatics in white. There are no choices. In order to get this 7-pc gift you have to purchase at least 1 product from these selected Clinique products (18). The cheapest one is for £39.50.
In-stores:
It seems this is for the first time ever when customers from UK can select items in their Clinique gift. Stop by at Clinique counter at John Lewis instore, make 2 Clinique products purchase and you will receive:
New Clinique Smart Custom Serum
New Aromatics in White Perfume Spray
+ your choice of four (4) from eight luxury products.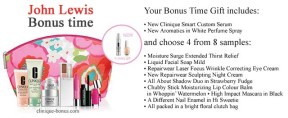 This gift with purchase offer is available until March 7, 2015 at 21:00 in UTC. Standard shipping in UK is free for orders over £50, otherwise £3.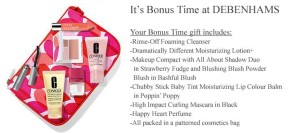 Its bonus time – at Debenhams and Debenhams.com.
Visit your nearest Clinique counter or make the purchase online. Yours with any 2 Clinique products purchase, one to be skincare.  No promo code needed, gift will automatically be added to your basket (if not, gift is out of stock).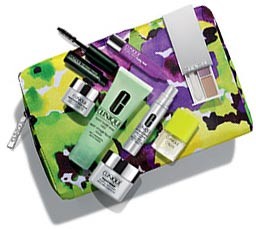 Keep your skin looking flawless with these free* Clinique products included in a bonus gift at Brown Thomas from Jan 22, 2015.
Period: Thursday 22 January – Saturday 7 February, 2015
Gift: 9 piece gift set (click here to show the gift items)
  *A purchase of one Clinique skin care product AND any other Clinique product is required in order to get this complimentary gift.


Another bonus time for Clinique shoppers in UK starts at Fenwick & Bentalls.
Starts: January 22nd, 2015 at 9:00 UTC
Ends: February 7th, 2015 18.00 UTC.
Location: Fenwick (Bond Street, Bracknell, Brent Cross, Canterbury, Colchester, Kingston, Leicester, Newcastle, Tunbridge Wells, Windsor, York) and Bentalls.
Visit the mentioned stores in the promotional time and make a purchase of at least 2 Clinique products.
Gift includes everything you need to keep skin looking and feeling great;
Repairwear Laser Focus Wrinkle Correcting Eye Cream
Repairwear Uplifting Firming Cream
Take The Day Off Makeup Remover for Lids, Lashes and Lips
Liquid Facial Soap Mild
Makeup Compact with Eye Shadow Duo in Blackberry Frost and Blushing Blush Powder Blush in Smouldering Plum
2 Piece Brush Set
High Impact Lip Colour SPF15 in Extreme Pink
High Impact Mascara in Black
All packed in a patterned cosmetics bag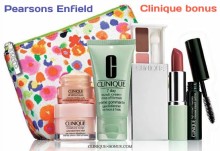 There's a Bonus Time at Pearsons in Enfield Town (11- 14 The Town, Enfield, Middlesex EN2 6LJ). It's on until Sat 31st. Free with the purchase of 2 or more Clinique products. See in-store for details.

Update 19 Jan: The gift has been sold out on Debenhams.com, as well as on the Debenhams.ie.
From January 9, 2015 there is a new Clinique gift available online only at Debenhams.com (UK) and Debenhams.ie (Ireland).
Free Moisture Surge Concern Kit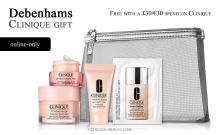 This time there is no need to buy at least 2 Clinique products. Now in order to receive this gift, you have to spend £30/€30 on Clinique online.
Note: Gift will not be added to your basket at checkout if it is out of stock and/or if you use a promo code. Debenhams offers free standard delivery with orders over 30 EUR/GBP.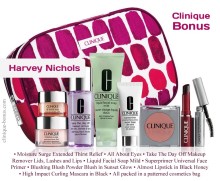 Update: The promotion at HN has ended.
The bonus time at Harvey Nichols in UK is available now through Dec 13, 2014. The exclusive gift (packed in a patterned bag) is filled with a selection of deluxe skin care and makeup products which you need to make it through the colder months.

When: 27 November at 09.00 – 13 December 21:00 in UTC


Where: Harvey Nichols, SW1X 7RJ London, United Kingdom


What: 7-piece gift FREE with 2 products purchase*.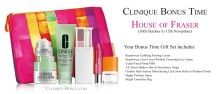 Simply visit Clinique counter at House of Fraser or make a purchase online between 30th October – 15th November to receive this cosmetic gift. Skin care and beauty bests.
Yours free with 2 Clinique products purchase.
Something extra: Purchase one more product (3 Clinique products in total) and receive also a full-size Deep Comfort Body Moisture.
Delivery: UK and Ireland Standard shipping – £3.00. Delivery within 5 – 7 working days. FREE on orders of £50 or more.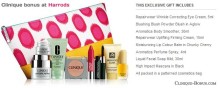 Another Clinique bonus in UK is at Harrods from 23rd October – 8th November, 2014.
Your luxury gift free with any £50 spend on Clinique.
The gift will be added into your shopping bag automatically, when the product(s) you buy exceed £49.99.
The bonus time is also available "offline" – at select Clinique counters. However, it is recommended to check the availability with the Clinique lady.


Receive this gift from Thursday 9 to Saturday 25 October only at Debenhams – in-stores and now also available online.
Free with 2 or more Clinique purchases. 1 to be skincare.
Shipping: Standard delivery (within 4 working day) is £3.99. Free shipping on orders over £30. Next Day delivery costs £4.99. Unfortunately, international delivery is unavailable for Clinique products from Debenhams.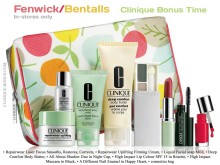 Visit Fenwick or Bentalls department stores from 18 September and get ready for the upcoming Autumn.
You will get beauty treats including all the make up and skin care products you will need to keep skin looking good anytime. The bonus time will last for over 2 weeks, the last day for visiting the store is Saturday – 4th October.
As usually, purchase of 2 Clinique products, one to be a skin-care product, is required to get this gift.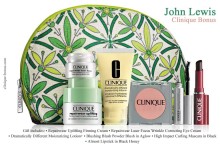 There is Clinique promotion (for the next 2 weeks) from Aug 21 to Sep 6, 2014 at John Lewis (UK).
Yours with any 2 Clinique purchase in-stores. Gift contains promotional size products.
A celebration of Clinique favourites in a custom-fit gift bag.
The gift comes in a very exclusive cosmetic bag (desighned by John Lewis n celebration of their 150 year anniversary and it includes skin care and makeup as well as your choice of moisturiser and eye cream.
---
List of Famous UK Department Stores:
House of Fraser
House of Fraser, originally from Glasgow, now operates across the United Kingdom with over 60 departments stores.

Again, this company started with only one small shop at the corner of two streets in Glasgow in 1849.
Debenhams
Starting with their first store in London in 1778, Debenhams has grown into one of the biggest department stores chains in the United Kingdom. Debenhams also operates in Ireland, Denmark and in a few other countries using a franchise business system.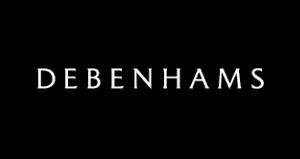 According to the latest stats (October 2012) the company operates 167 stores in the UK and Ireland. Offering anything from fashion, cosmetics, shoes, beauty, healthy product and home wears.
Fenwick
Fenwick was founded by John James Fenwick in 1882 as a store selling only mantles, silk goods, dresses, fabrics and trimmings. However, in 1890 with Fenwick son's decision this company changed direction.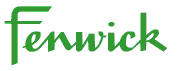 Now they are a well established department store, stocking all manner of goods, which includes beauty products and more specifically a Clinique counter. They also hold Clinique Bonus Time events, so you'll also be able to pick up your free goodies in their stores. By the way it was establish in Newcastle (UK) where their headquarters are still located.
All other departments stores in United Kingdom
Boots
Beales
Harrods
Beatties
Bentalls
Harvey Nichols
John Lewis
Selfridges
Hoopers
and Irish Doors:
Brown Thomas
Boots
Debenhams IE
House of Fraser