If you are from UK and want to take a participation on some free gifts from time to time by Clinique, do not forget to visit one of the department stores below during bonus time.

Starting from: April 3th, 2014 at 8:00
Until: April 19th, 2014 20.00 UTC.
Location: Harrods, 87–135 Brompton Road, Knightsbridge, SW1X 7XL London.
The past Clinique promotions in UK
Click to show more Clinique bonus times >>>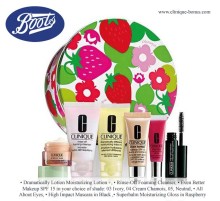 This lovely gift with lovely spring Clinique's bestselling skin care and makeup products starts Thursday 13th in all Clinique counters in (selected) Boots stores (UK). Promotion ends 29 March at 18:00 in UTC. To receive this complimentary gift, purchase at least 2 Clinique products.
Unfortunately, this bonus is not available on the internet.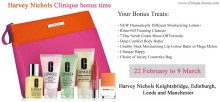 Two days after the John Lewis bonus, there is an another change to get Free* Clinique gift in United England – at Harvey Nichols Knightsbridge, Edinburgh, Leeds and Manchester only.
Promo period: Saturday 22 February to Sunday 9 March, 2014.
*Gift is free with your purchase of two or more Clinique products (one to be a skin care) in-stores only.

Stop by at Clinique counter in John Lewis in UK, make Clinique purchase of 2 products and you will receive this 7-pc gift set. Free.
Includes the New Repairwear Laser Focus serum for visibly smoother, younger-looking skin.
This gift with purchase offer is available until March 8, 2014 at 20:00 in UTC.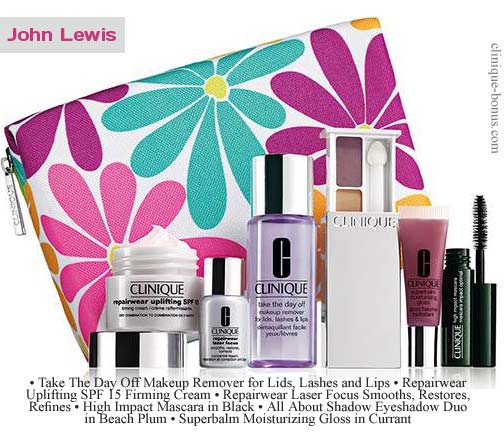 Starting today (Thursday February 6, 2014) there is a new gift with purchase of 2 Clinique products at Debenhams (in-stores only). Valid until 22 February.
Treats includes also the new favourite Moisture Surge CC Cream and our # 1 selling lip product Chubby Stick in Super Strawberry.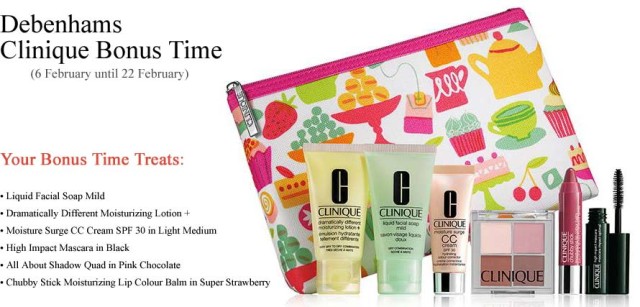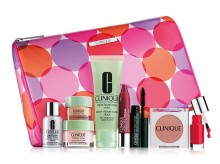 Place: only at Brown Thomas
Time: Thursday 23 January – Saturday 8 February, 2014
Gift: 9 piece gift set (click here to show the gift items)
A purchase of one Clinique skin care product AND any other Clinique product is required in order to get this complimentary gift. Offer available in-store only.

First bonus offer in this year (2014) for UK Clinique shoppers is at Fenwick & Bentalls.

Starting from: January 23th, 2014 at 9:00
Until: February 8th, 2014 18.00 UTC.
Location: Fenwick (Brent Cross, Canterbury, Leicester, London, Newcastle, Tunbridge Wells and Windsor), Bentalls.
Visit those stores in that promotional time and make a purchase of at least 2 Clinique products. Gift includes everything you need such as the Dual Ended Lash Doubling Mascara and Different Lipstick and other must-have skin care products.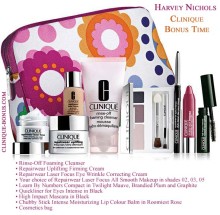 Another bonus time for UK Clinique lovers in November and December 2013 is at Harvey Nichols (in-stores only).
Free with 2 Clinique products purchase during period: 28 November at 09:00 until 14 December at 12:00 in UTC.
This gift contains all the skin care and makeup essentials you need to make it through the colder months.


31 October at 09.00 – 16 November 12:00 in UTC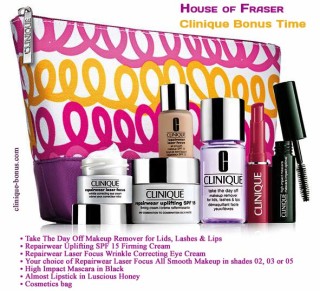 House of Fraser stores, United Kingdom


7-piece gift FREE with 2 products purchase*.
Beauty Breakthroughs and More! See the picture below.
This gift is available from Thursday, October 10 to Saturday, October 26 exclusively at Debenhams (UK).
It contents new (NEW  Moisturizing Lotion +), as well as the well-known skin care and makeup products.
As usually, the packed gift will be yours with 2 Clinique products purchase at those stores (offer not available online).
The Clinique Fall promotions in the United Kingdom start at Fenwick (63 New Bond Street, W1S 1RJ London) and Bentalls department stores.
It starts on Thursday Sep 19 through October 5, 2013.
Celebrate summer with this perfect cute gift, with different things inside and amazing nail kit – at Boots. Bonus time starts on Thursday – 1st August 2013.
The last day to visit the store is 17th August.
Today (Saturday, June 8)  are starting many bonus times in various stores across the United Kingdom and Ireland.

8 June – 23 June 12:00 UTC+1


Flagship stores: Bentalls, Boots, Brown Thomas, Browns, Clerys, Debenhams, Fenwick, House of Fraser, Harrods, Harvey Nichols, John Lewis, Selfridges. Click here for the entire list of stores.


7-Piece gift with 2 products purchase.

• Repairwear Laser Focus Wrinkle & UV Damage Corrector
• Moisture Surge Face Spray Thirsty Skin Relief
• All About Eyes
• Take The Day Off Makeup Remover for Lids, Lashes & Lips
• Sparkle Skin Body Exfoliating Cream
• Deep Comfort Body Butter
• Cosmetic bag
Note: not each Clinique counter in the mentioned stores in every town is participating in these events.
An exclusive gift containing all the products you need to refresh and smooth skin giving you an all over glow!
8 Clinique items; all packed in a patterned cosmetic bag. Yours with any 2 Clinique purchase from Thursday 30 May to Saturday 15 June 2013.
Only at department stores Harvey Nichols in UK. Not available online.
Update (13/6/2013): Now this gift also available directly from Clinique.co.uk. Just enter offer code DELIVERY at checkout and get free next day delivery on any order to ensure you get your gift in time for Father's Day.
The Father's Day is coming (June 16, 2013) and this could be a great surprise for him!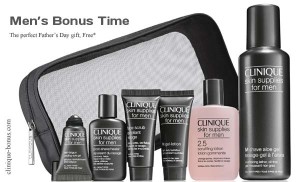 With 2 or more Skin Supplies For Men products receive these products for him; all packed in a functional wash bag.
Skin Supplies For Men: • Face Scrub 15ml, • M Lotion 40ml, • M-Gel Lotion 15ml, • Anti-Fatigue Cooling Eye Gel 7ml, • Post shave healer 15ml, • M-shave aloe gel 41ml + Clinique Washbag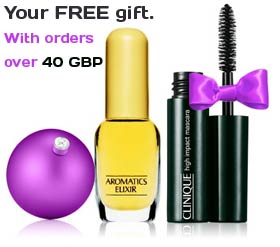 Exclusively for residents of United Kingdom: Your Free Gift with all orders over £40
Aromatics elixir perfume spray 4ml
High impact mascara in Black 4g
Enter offer code IMPACT at checkout
This promotion is only available online on UK version of Clinique website whilst stocks last. One per customer. Clinique reserves the right to substitute the one of the free items (or both) with a similar the same-valued item or an item with greater value.
House of Fraser
House of Fraser originally from Glasgow now operating across the whole United Kingdom with over 60 departments stores.

Again, this company was starting with only one small shop at the corner of two streets in Glasgow in 1849.
Recent Clinique offers:
7-piece gift with purchase available from 1st of November – 17th of November 2012.
Finally something for United Kingdom – Bonus time for all customers ordering Clinique products at House of Fraser stores.
Bonus time details:
When: 1 November at 09:00 until 17 November at 18:00 in UTC
Where: House of Fraser
Bonus: 7-piece bonus gift-set
You need to visit Clinique counter at HofF during the promo period and make a purchase to receive the gift. It will be yours with purchase of any two or more Clinique products. Don't forget to order at least one skin-care product, as this is the another requirement for the free gift.
Offer available only for United Kingdom. Promotional size items. One per person.
Debenhams
Starting with only one stores in London back in 1778 has this stores developed to one of the biggest department stores network across the United Kingdom. Debenhams also operates in Ireland, Denmark and also in some other countries using franchise business system.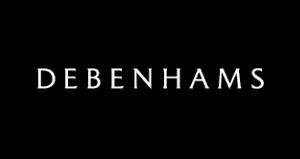 According to the latest stats (October 2012) the company operates 167 stores in UK and Ireland. Offering anything from fashion, cosmetics, shoes, beauty, healthy products…
Fenwick
Fenwick was founded by John James Fenwick in 1882 as a store selling only mantles, silk goods, dresses, fabrics and trimmings. However, in 1890 with Fenwick son's decision this company is changing its goods.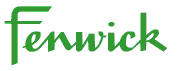 Thanks God, because now we have the opportunity to wait for next clinique bonus time also in this store in UK. By the way it was establish in Newcastle UK where the headquarters are still located nowadays.
All other departments stores in United Kingdom
Boots
Beales
Harrods
Beatties
Bentalls
Harvey Nichols (London) – Bonus time starts here from November 29, 2012 and will last until December 15. Visit Clinique counter in-store at Harvey Nichols and get 8-piece-gift set packed in two floral bags. Full details on their webpage about this bonus time.
John Lewis
Selfridges
Hoopers
and Irish Doors:
Brown Thomas
Boots
Debenhams
House of Fraser