The Hudson's Bay and Clinique.ca offer Clinique gifts regularly at 2 times a year in Canada. Bonus time at The Bay usually starts in March and September and at Clinique.ca in April and October.
Clinique Bonuses Schedule for Canada – 2021
Store
Date
Clinique.ca
April 16 – 28 2021
The Hudson's Bay
mid September 2021*
Clinique.ca
mid October 2021*
*Exact date unknown. This is a prediction based on dates from the previous years.
Update about Sears & Holt Renfrew: These merchants no longer offer a bonus time in Canada.
Clinique Gifts direct from Clinique.ca
April 16 – 28, 2021
A spring gift with purchase direct from the Clinique.ca website – create your gift with any $41+ purchase. Up to 10 pieces with your $115 order.
Online exclusive
Spend $41 and choose the full-size moisturizer in your 7-piece gift:
Your 7-piece gift includes:
YOUR CHOICE of a full-size moisturizer: Dramatically Different Moisturizing Lotion+™ OR Dramatically Different™ Moisturizing Gel OR Dramatically Different™ BB-Gel
Take The Day Off™ Makeup Remover, 50ml Bottle
All About Clean™ Rinse-Off Foaming Cleanser, 30ml Tube
All About Eyes™, 5ml Jar
Clinique Pop™ Lip in Plum Pop
High Impact™ Mascara in Black
Exclusive Makeup Bag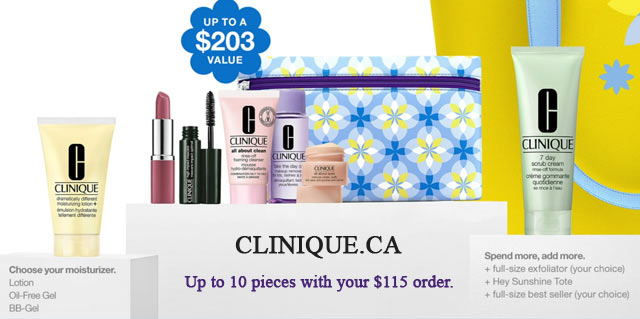 Spend more, get more:
Spend $75+ and choose a full-size exfoliator 7 Day Scrub Cream Rinse-Off Formula OR Pep-Start 2-in-1 Exfoliating Cleanser
Spend $100+ and add a free tote (15" x 12" x 3.5")
Spend $115+ and add a free full-size best seller. Choose from an exclusive selection of the most-wanted formulas.
10 pieces up to a $203 total value. No offer code needed. Customize your gift on this page.
The offer expires on April 28, 2021 or while supplies last.
---
Past offers (2017 – 2021)
If you wish to view and compare previous gifts offered in Canada, click on the button to show those offers. We list offers that have been available over the past 2 years.