The Hudson's Bay and Clinique.ca offer Clinique gifts regularly at 2 times a year in Canada. Bonus time at The Bay usually starts in March and September and at Clinique.ca in April and October. However, there may be mini GWP offers at anytime during the year.
Clinique Bonuses Schedule for Canada – 2023
Store
Date
Clinique.ca
January 22 – February 2, 2023
The Hudson's Bay
March 2023*
Clinique.ca
April 2023*
*Exact date unknown. This is a prediction based on dates from the previous years.
Update about Sears & Holt Renfrew: These merchants no longer offer a bonus time in Canada.
Clinique Gifts on Clinique.ca
January 22 – February 2, 2023
Enter offer code HYDRATE or SMART (with any eligible $55 purchase) on Clinique.ca to receive a free 8-piece gift. A $138 value.
Free Winter Rescue Kit
In both kits:
Quickliner™ For Eyes Intense in Black (.14g)
Clinique Pop™ Lip in Love Pop (3.8g)
All About Clean™ Rinse-Off Cleanser (30ml)
High Impact™ Mascara in Black (3.5ml)
Exclusive Makeup Bag
Plus, with CODE HYDRATE receive: Moisture Surge™ 100H (15ml) + Mask (30ml), All About Eyes™ (5ml) OR
with CODE SMART receive: Dramatically Different Moisturizing Lotion+™ (30ml), Clinique Smart Clinical Repair™ Serum + Eye Cream (5ml each)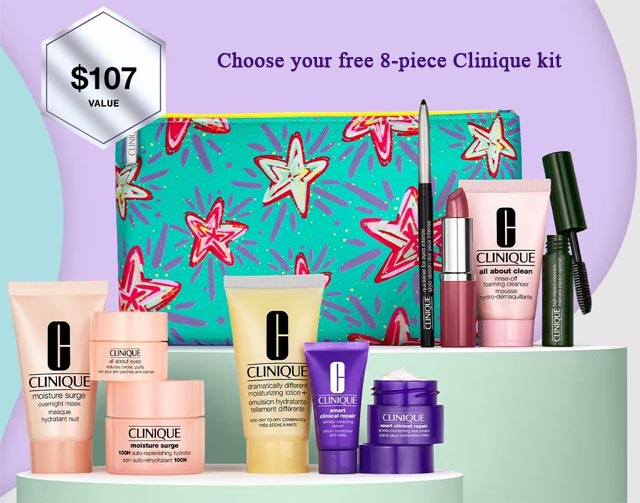 Plus, enjoy up to 6 free samples; with any order choose 1. Spend $30 and choose 2 samples. Then, pick 1 with every $15 you spend. Up to 6 samples with any $90 purchase.
The offer ends on February 2, 2023.
---
Past offers (2020 – 2022)
If you wish to view and compare previous gifts offered in Canada, click on the button to show those offers. We list offers that have been available over the past 2 years.