United Kingdom and Ireland
If you are from the U.K. or Ireland, visit one of the department stores below during their bonus time.
While you need to spend a certain amount for the bonus gift in the U.S., in the UK or IE, you have to usually make a purchase of 2 or more Clinique products (one to be foundation or skin-care). Note that some offers are available in-store only.

Update 5th June: This offer is no longer available. The next Clinique gift in the UK will be available at House of Fraser at the end of June or Boots in July.
---
This is not a regular bonus time, but I think it is worth to mention it; spend £40 at Debenhams.com or €50 at Debenhams.ie and you will receive these 6 deluxe minis. While supplies last.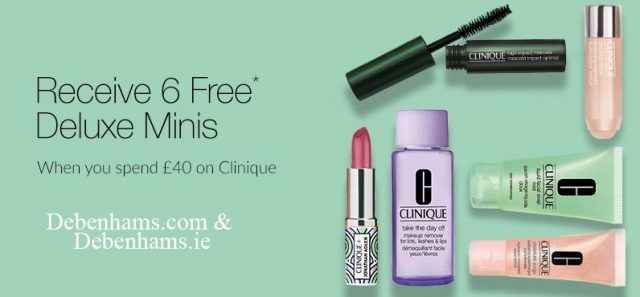 Your free gift includes:
Clinique Liquid Facial Soap Mild 30ml
Take The Day Off™ Makeup Remover For Lids, Lashes & Lips 50ml
Moisture Surge™ Hydrating Supercharged Concentrate 15ml
Chubby Stick™ Sculpting Highlight in Hefty Highlight 3.6g
High Impact™ Mascara in Black 3.5ml
Limited Edition Clinique Pop™ Lip Colour and Primer in Plum Pop 2.3g
You can also enter promo code SHA5 at checkout for free shipping.
---
The past Clinique promotions in UK and Ireland
Below are the most popular bonus times across the U.K. and Ireland in the past 12 months.