United Kingdom and Ireland
This is a schedule of bonus times in the UK and Ireland for the next 1-3 months.
UK/IE Clinique Bonuses Schedule
Store
Date
No active offers
Upcoming: Arnotts
August 2022*
Upcoming: John Lewis
August 2022*
Upcoming: Boots
late August/early September 2022*
*Exact date unknown. This is a prediction based on dates from previous years, but due to current events the calendar might be unreliable right now.
To qualify for a free Clinique gift in the U.K. or Ireland, you have to usually make a purchase of 2 or more Clinique products (one to be foundation or skin-care). Note that in-store offers may vary.
Clinique gifts on Clinique.co.uk
25 – 31 July 2022
Update: The offer is no longer available.
Enjoy a free 4-piece gift including a full-size Chubby Stick™ Cheek Colour Balm + also receive free 4 deluxe minis when you spend £75+ on Clinique.co.uk.
Treat yourself, and we'll treat you
Enter offer code MORETREATS.
You will receive:
Clinique happy
Chubby stic
A lipstik
A cosmetics bag
Moisture Surge Hydrating Lotion
Moisture Surge Overnight Mask
Moisture Surge 100H auto-replenishing hydrator
All About Eyes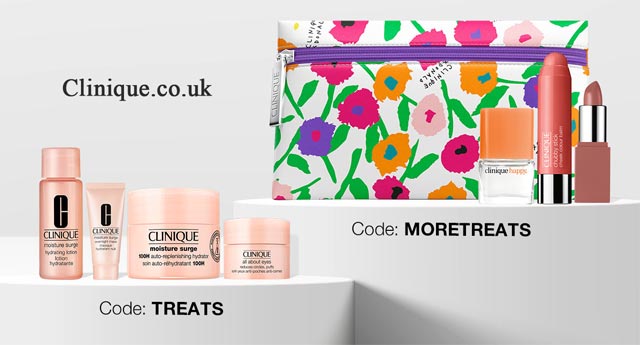 Don't forget to enter the promo code (MORETREATS) to redeem your gifts.
Offer ends at 23:59pm on 1st August 2022 or while stocks last.
---
The past Clinique promotions in the UK and Ireland
Below are the most popular bonus times across the U.K. and Ireland over the past 12 months. Check out the previous months to see what to expect, as the stores tend to follow a pattern from previous years.