United Kingdom and Ireland
This is a schedule of bonus times in the UK and Ireland for the next 3 months.
UK/IE Clinique Bonuses Schedule
Store
Date
Boots
28 March – 13 April 2019. Read more info
Harrods
28 March – 13 April 2019
Browns
mid April 2019*
House of Fraser
early May 2019*
*Exact date unknown. This is a prediction based on dates from previous years.
To qualify for a free Clinique gift in the U.K. or Ireland, you have to usually make a purchase of 2 or more Clinique products (one to be foundation or skin-care). Note that some offers are available in-store only.
Upcoming promotion:
Clinique Bonus at Boots
28 March – 13 April, 2019
Clinique gift time is coming soon to Boots – from 28 March to 13 April 2019 online and at selected stores.
Which 6 will you choose?
Yours with the purchase of two or more products, one to be skincare or foundation.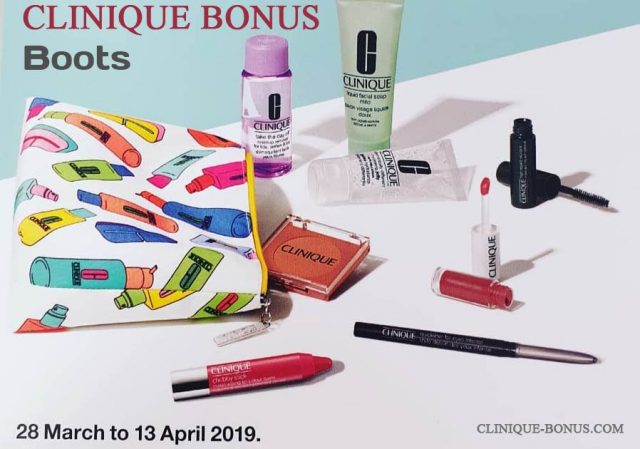 Receive more with any 3rd Clinique purchase: 2-in-1 Cleansing Micellar Gel.
Purchase requirement excludes Clinique mini size products and treatment accessories.
---
The past Clinique promotions in UK and Ireland
Below are the most popular bonus times across the U.K. and Ireland in the past 12 months. Check out the previous months to see what to expect, as the stores tend to follow a pattern from previous years.