United Kingdom and Ireland
If you are from the U.K. or Ireland, visit one of the department stores below during their bonus time.
While you need to spend a certain amount for the bonus gift in the U.S., in the UK or IE, you have to usually make a purchase of 2 or more Clinique products (one to be foundation or skin-care). Note that some offers are available in-store only.
The next bonus time in UK/IE:
There should be a bonus time at Harvey Nichols around this time but they no longer stock Clinique across their stores – the brand was taken out a few months ago.
There is no other bonus time scheduled for this year, the next ones (at Fenwick/Bentalls and Brown Thomas) will most likely start in January 2019. However, there might be a mini GWP offer directly from the Clinique.co.uk website in December 2018.
The last Clinique bonus:

Update 4th Nov: This promotion has expired.
---
This promotion is available instore only; from 18th October to 3rd November, 2018 exclusively at Harrods.
Choose 8 out of the eleven products and take them in a Kapitza cosmetics bag.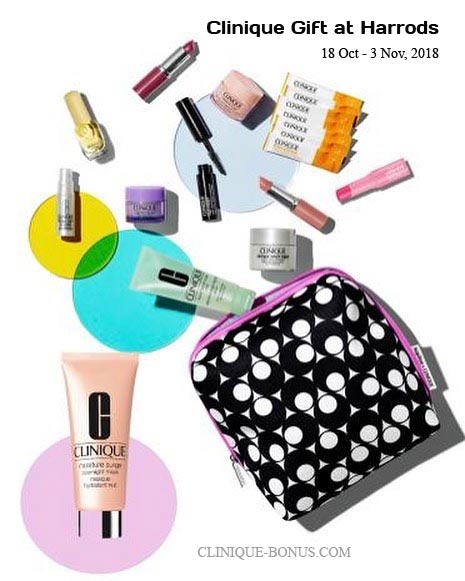 In order to receive the 9-piece gift you have to visit Harrods (87–135 Brompton Road, Knightsbridge, London) and make 2 qualifying purchases, 1 to be skin care or foundation.
With any third purchase you will also receive a full size Moisture Surge Overnight Mask. While limited stocks last.
---
The past Clinique promotions in UK and Ireland
Below are the most popular bonus times across the U.K. and Ireland in the past 12 months.