This is a schedule of Clinique gifts with purchase in the UK for the next 1-2 months.
UK Clinique Gifts Schedule
Store
Date
Clinique.co.uk
7 – 13 December 2023
Upcoming: Clinique.co.uk
mid-January 2024*
Upcoming: John Lewis
mid-February 2024*
Upcoming: Boots
mid-March 2024*
Upcoming: Clinique.co.uk
late March 2024*
*Exact date unknown. This is a prediction based on dates from previous years, but due to current events the calendar might be unreliable right now.
To qualify for a free Clinique gift in the U.K., you have to usually make a purchase of 2 or more Clinique products (one to be foundation or skin-care). Note that in-store offers may vary.
Clinique Gifts on Clinique.co.uk
7 – 13 December 2023
Spin for Clinique treats – enjoy 15% off, free gifts & more. Spin now on Clinique.co.uk for a chance to redeem your exclusive offer or gift.
Free treats you could enjoy:
15% off your order
Free deluxe 5 piece gift when you spend £50
Free Sparkle Skin Body Exfoliator when you spend £50
Free Smart Clinical Repair Wrinkle Correcting Eye Cream when you spend £60
and more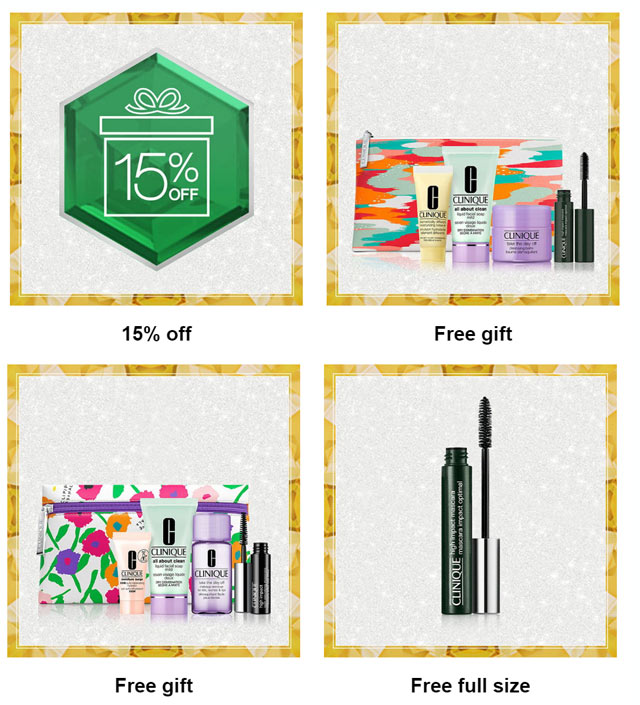 Spend more, get more
Plus, enjoy two free additional deluxe minis when you spend £60+. Automatically applied at checkout.
The offer ends on 13 December 2023.
You have 5 chances to redeem an offer. Once an offer has been redeemed and placed in your basket you cannot remove this offer from your basket and play again during the same transaction. If you empty your basket your offer will be lost, and you will be able to play again in 24 hours.
---
The past Clinique promotions in the UK
Below are the most popular bonus times across the U.K. over the past 12 months. Check out the previous months to see what to expect, as the stores tend to follow a pattern from previous years.