United Kingdom and Ireland
This is a schedule of bonus times in the UK and Ireland for the next 1-3 months.
UK/IE Clinique Bonuses Schedule
Store
Date
Upcoming: Clinique.co.uk
January 2023*
Upcoming: Fenwick
January 2023*
*Exact date unknown. This is a prediction based on dates from previous years, but due to current events the calendar might be unreliable right now.
To qualify for a free Clinique gift in the U.K. or Ireland, you have to usually make a purchase of 2 or more Clinique products (one to be foundation or skin-care). Note that in-store offers may vary.
Clinique gifts on Clinique.co.uk
25 – 30 November 2022
Update 1 December: The offer is no longer available
Receive one (1) free choice of either one free full size product, a four-piece gift or a trio of deluxe minis when you spend £65+ on Clinique.co.uk.
Choose from
Full-size Moisture Surge Overnight Mask, 100ml. Worth £36
Deluxe four-piece gift. Worth £26
Deluxe trio of minis. Worth £12
Full-size Liquid Facial Soap, 200ml. Worth £19.50
Full-size Clinique For Men Face Wash, 200ml. Worth £22
and more…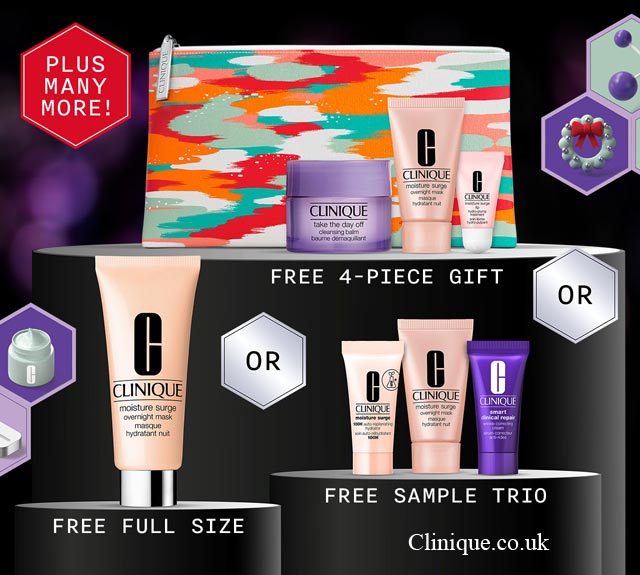 Select one at checkout.
Plus, you will get 25% off your order. Discount automatically applied.
*Ends 23:59pm 30 November 2022 or while stocks last. Only available at Clinique.co.uk.
---
The past Clinique promotions in the UK and Ireland
Below are the most popular bonus times across the U.K. and Ireland over the past 12 months. Check out the previous months to see what to expect, as the stores tend to follow a pattern from previous years.