There are many department stores with Clinique counters across the United States offering bonuses regularly online and in-stores. Also Clinique itself offers bonuses from time to time on their official website.

Some stores offer an option to preorder the gift. This can be done by calling a participating Clinique counter. There are always benefits (free shipping, an extra sample(s), etc.) for those who pre-order.
Clinique Bonus at Lord & Taylor
starts June 4, 2019
Exclusive free Clinique gift at Lord & Taylor online and in stores. An 8-piece gift (with a $100 value) with your choice of Foam Cleanser or 7 Day Scrub. Yours with any Clinique purchase of $29 or more.
The gift includes:
Clarifying Lotion 2
Rinse-off Makeup Solvent
Smart Night
All About Shadow Duo (Ivory Bisque Satin)
Popsplash in Juicy Apple
High Impact Mascara in Black
Cosmetic Bag
Rinse-off Foaming Cleanser OR 7 Day Scrub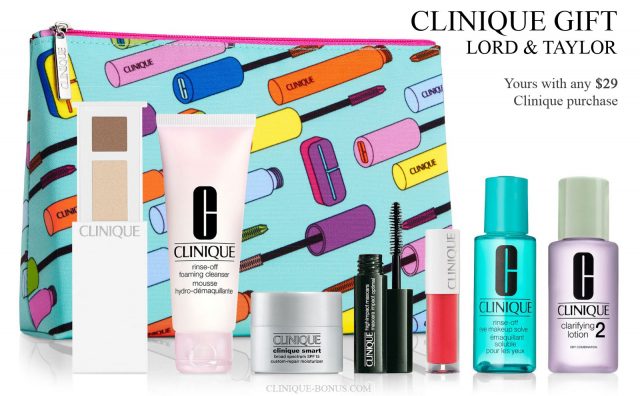 Spend more, get more:
Spend $55 and choose a Moisture Surge Duo (72 Hour Auto Replenishing Hydrator and a Moisture Surge Overnight Mask) or Makeup Duo (a Limited Edition Mirror and a Dramatically Different Lipstick)
Spend $75 and also receive a roomy Clinique tote in teal color
Total gifts value over $130.
While supplies last. Free shipping.
Clinique Bonus at Stage stores
starts June 11, 2019
Bonus time at Stage stores (Bealls, Goody's, Palais royal, Peebles, Stage) starts on June 11, 2019. Online and in selected stores.
Receive this complimentary 6-piece. gift, a $68 value, with any $29 or more Clinique purchase.
Set includes:
Take the Day Off Makeup Remover
Foaming Sonic Facial Soap
Dramatically Different Moisturizing Lotion+
Lipstick
High Impact Mascara
Cosmetics Bag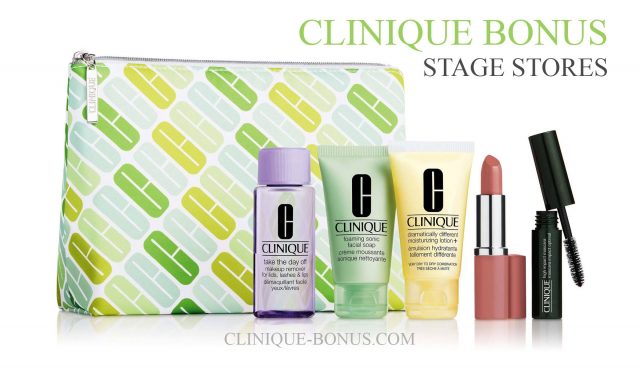 Step up your gift
Spend $55 on Clinique and also receive a free 2-pc. gift (Chubby Stick Intense and Smart Custom-Repair Moisturizer SPF 15)
Free shipping when you spend $75 or more.
Plus, you can also enter code MEGA20 at checkout and get 20% off your beauty purchase (including Clinique). The code expires June 25th 2019.
---
The past bonus times
Below are promotions that were available over the last 12 months at these department stores: Bloomingdale's, Bon Ton, Boscov's, Clinique.com, Lord & Taylor, Neiman Marcus, Saks 5th Avenue, Stage stores and Von Maur.
Most of the stores create Clinique promotions regularly 2 times a year. The minimum purchase limit starts at $28 but some stores require a higher limit, sometimes reaching up to $65. Click on the button below and compare the latest offers (up to 1 year ago).