There are many department stores with Clinique counters across the United States offering bonuses regularly online and in-stores. Also Clinique itself offers bonuses from time to time on their official website.

Some stores offer an option to preorder the gift. This can be done by calling a participating Clinique counter. There are always benefits (free shipping, an extra sample(s), etc.) for those who pre-order.

There are 3 Clinique gifts with purchase at Saks.com now through November 27, 2018.
Spend $40 or more and enter promo code CLINIQ23A to receive a 7-piece gift (a $90 value).
The 7-pc gift includes: Take The Day Off Makeup Remover for Lids, Lashes & Lips 1.7 oz, Dramatically Different Moisturizing Lotion+ 1 oz, Clinique Smart Custom-Repair Serum .33 oz, Clinique Smart Night Custom-Repair Moisturizer 0.5 oz, All About Shadow Duo Slider 1.3 g Shades: Ivory Bisque and Bronze Satin and Clinique Pop Lip Colour + Primer 3.8 g Shade: Plum Pop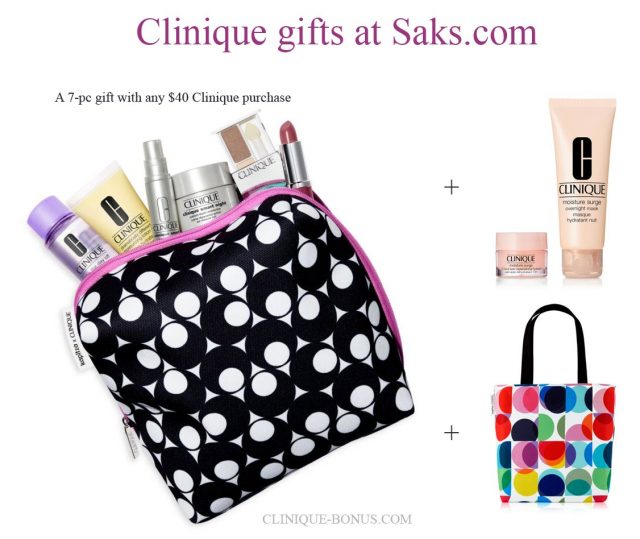 Spend more and get more:
Spend $65 and also receive Moisture Surge 72 Hour Auto-Replenishing Hydrator 0.51 oz. and the Moisture Surge Overnight Mask 2.54 oz. Enter code 

CLINIQ23B

at checkout to redeem.
Spend $85 and take all in a roomy Kapitza tote. Enter code 

CLINIQ23C

  to redeem.
All gifts together worth over $150.
Saks.com allows you to enter up to 5 promo codes per orders – so you can also enter promo code FREESHIP to save $7.50 on shipping!
Something extra: If you spend $250 or more you'll get a free gift card with your purchase – enter code NOV18 (expires on November 16, 2018).
Offers valid at Saks.com through Tuesday, November 27, 2018 at 11:59pm(ET) or while supplies last.
The past bonus times
Below are promotions that were available over the last 12 months at these department stores: Bloomingdale's, Bon Ton, Boscov's, Clinique.com, Lord & Taylor, Neiman Marcus, Saks 5th Avenue, Stage stores and Von Maur.
Most of the stores create Clinique promotions regularly 2 times a year. The minimum purchase limit starts at $28 but some stores require a higher limit, sometimes reaching up to $65. Click on the button below and compare the latest offers (up to 1 year ago).