There are many department stores with Clinique counters across the United States offering bonuses regularly online and in-stores. Also Clinique itself offers bonuses from time to time on their official website.

Some stores offer an option to preorder the gift. This can be done by calling a participating Clinique counter. There are always benefits (free shipping, an extra sample(s), etc.) for those who pre-order.

Update Jun 16th: They are offering this new gift (pictured below). Free with any $28 Clinique purchase. The original gifts were sold out.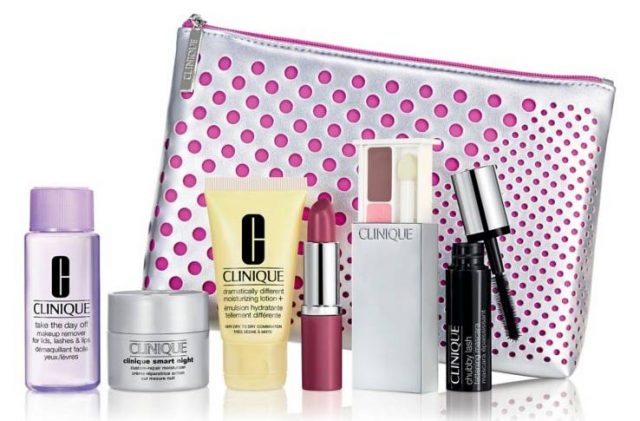 YOUR GIFT INCLUDES: Take The Day Off Makeup Remover, 50 ml; Dramatically Different Moisturizing Lotion+, 30 ml; Clinique Smart Night Custom-Repair Moisturizer, 15 ml; Chubby Lash Fattening Mascara in Jumbo Jet, All About Shadow Duo in shades from Strawberry Fudge / Pop Lip Colour + Primer in Love Pop
Shop Clinique at Lord & Taylor Now
One per customer. While supplies last.
The past bonus times
Below are promotions that were available over the last 12 months at these department stores: Bloomingdale's, Bon Ton, Boscov's, Clinique.com, Lord & Taylor, Neiman Marcus, Saks 5th Avenue, Stage stores and Von Maur.
Most of the stores create Clinique promotions regularly 2 times a year. The minimum purchase limit starts at $28 but some stores require a higher limit, sometimes reaching up to $65. Click on the button below and compare the latest offers (up to 1 year ago).