Note: Clinique.com allows you to enter only one offer code per order. Choose wisely.
Latest coupons and Clinique promotions:
15% off

Enter this code at checkout and get 15% off your order + you will also receive free shipping.


Coupon: LOVEIT

Free shipping with any purchase

Clinique offers free shipping with any $50+ purchase. Enter this offer code and enjoy free Standard Shipping (save $6) with no minimum spend.

Coupons: COMPLETE or LETSGLOW


Expires: not specified
15% off your first order

Get 15% off your first order from Clinique.com as a Smart Reward member. Enter one of these coupons at checkout:


Coupon: FIRST

4% Cashback offer on Clinique.com purchase

Don't forget to shop on Clinique.com via Ebates (just go through the link) and you will automatically get 4% cashback credited back on your PayPal account.
Where to enter the Clinique coupons?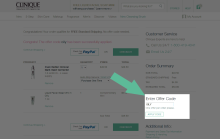 Simply add any items into your shopping bag, click on it (view cart) and find the "Enter Offer Code" field at the right bottom.
Enter the code there (usually they are written in CAPITAL LETTERS) and hit the button "Apply code". You will immediately find out if the promo code is active or not.
In my case, in the picture on the right, I used "OILY" and the system said that the code has been successfully applied. This one has probably already expired but take a look above to find new ones…
---
Expired coupons:
Code: 4BOOSTERS – Brighten up with a blast of Vitamin C. 1-month supply, free. With any $45 purchase. An $84 value.
Codes: DRYSKIN or OILYSKIN – rev up your AM routine with Clinique's Super Enrgizer Duo
Code: SPRING – 30% off any order from Clinique.com.
Code: LUXEBALM – a deluxe sample of our best-loved Take The Day Off Cleansing Balm with any purchase.
Code: DETOX – a free full-size City Block Purifying Mask with any cleanser purchase
Code: SMARTEYE – a free Clinique Smart Eye Treatment with any $29.50 purchase
Codes: DRYSKIN or OILYSKIN – A free full-size Clarifying Lotion with any foundation purchase.
Code: FANFAVES – a free 6-pc Clinique kit with any $45 purchase
Code: COZY4 – 4 best sellers for winter – free with any $45 order
Code: GLOWPRO – a free 7-piece kit with any $45 purchase
Code: CHEERS30 – Get 30% off any order with this code.
Code: JOY30 – 30% OFF any order during the Black Friday and Cyber Monday week.
Code: SINGLE – 25% off any order
Code: LIPTREAT – A free full size moisturizer (Moisture Surge Lip Treatment)
Code: COZY4 – with any $45 order you could received deluxe samples of 4 best sellers; Take The Day Off™ Cleansing Balm, 15ml, All About Clean™ Liquid Facial Soap Mild, 30ml, Moisture Surge™ 72-Hour Hydrator, 7ml and Moisture Surge Eye™ 96-Hour Concentrate, 5ml
Code: FALLKIT – With any $45 purchase receive a a free 6-piece fall kit.
Codes: DEWYSKIN or EYELOVEU – With any $45 purchase you could choose your free 6-piece kit.
Code: FALL25 – Smart Rewards members receive 25% off any purchase.
Code: GLOW – a free deluxe sample (15ml) of our best-loved hydrator with any $35 purchase.
Code: CLEANIT: A free full-size Makeup Brush Cleanser with any $65 purchase.
Codes: WAVES or STRIPES – A free pop-art makeup bag + 5 minis with any $45 purchase
Codes: BYEPUFFS or HELLOGLOW – With any $45 purchase, redeem your 6-piece Clinique kit with your choice of eye cream or face hydrator.
Code: LOVEPINK – Spend $65 or more to receive a free tote
Code: SUMMER30 – 30% off sitewide
Code: EYELOVE – A free 4-piece eye kit with any $45 purchase.
Code: LIPTREAT – With any $28+ moisturizer purchase enter this code to claim your free full-size Moisture Surge Lip Treatment.
Codes: OILYSKIN or DRYSKIN – With any Clinique iD item purchase you could receive your skin-typed set.
Code: 2PERFECT – With any foundation purchase you could receive two essentials for a perfected look (Moisture Surge and Mini brush).
Code: 30MORE – Extra-special sale with 30% off last chance items
Code: TAKE30 – 30% off any purchase on Clinique.com
Code: SHINE  – A free 4-pc shine kit (All About Eyes, Clinique Pop Splash in Rosewater Pop, DDHJ and a mascara)
Code: HEYSPRING – Receive a mini get-up-and-glow 6pc Clinique kit with any $50 purchase.
Codes: ACNE or TRANSFORM – With any $45 purchase pick one skin therapy kit – Clinique Smart Clinical Duo or Acne Solutions Fix It Trio.
Code: LOVETOTE – With any $65 purchase choose 5 minis and one full-size favourite, plus, you will also receive a bright tote bag.
Code: SWEET – With any $40 purchase receive a 5-piece kit including a cosmetic bag and 4 mini Clinique favourites.
Codes: HEROES – A 4-pc free hydration kit including 3 minis Moisture Surge skin-quenchers and a silky eye mask with any $45 purchase
Codes: DRYSOS or OILYSOS – dry or oily winter rescue kits – free with any $40 purchase
Code: RESET – A free "Mint To Be" lightweight, roomy tote bag that holds all your new favorites – free with any $55 purchase
Codes: DRYSKIN or OILYSKIN – Spend $40 and pick your 4-piece kit with Clarifying Lotion 2 or 3.
Code: 5STARS – 5 Clinique superstars in mini sizes – free with any $40 purchase
Code: CALM – a free 4-piece kit (Including 4 me-time essentials (Moisture surge hydrator, Moisture surge mask, Liquid facial soap mild and Silky eye mask) with $45+ purchase.
Codes: 6BALMS or PROS – A free Chubby set (6 Chubby Sticks) or a free 4-piece gift with any $45 purchases
Code: CARRYME – with any$65 purchase receive a free roomy tote bag
Code: JOLLY25 – Take 25% off gift sets + entire site. Get your gift delivered by December 24 – order by 3pm ET 12/18 when you select Standard Shipping
Code: VERYMERRY – With any $55 purchase or more enter this coupon code at checkout and receive a free glittery tote.
Code: 25OFF – One day only – get 25% off any order from Clinique.com
Code: TAKE30 – Cyber Monday offer from Clinique – 30% off all orders
Code: 25OFF – Friends and Family Event during the Cyber weekend giving you an extra 25% off everything at Clinique.com
Code: TOTESFOR2 – Two free totes with any $65 purchase
Codes: HIS, HERS, BOTH – with any $45 purchase you could choose a 4-piece kit for her or him or get them both with a $65 purchase
Code: FRESH – Free 28-day supply of Fresh Pressed Cleanser with $28+ moisturizer purchase
Code: BRIGHT – A free 4-piece All Is Bright kit (Liquid Facial Soap mild 30ml, Dramatically Different™ Moisturizing Gel 15ml, Clinique Pop Lip Colour + Primer in Plum Pop, and Pretty Easy Liquid Eyeliner)
Code: FALL4 – With any $55 purchase you could receive a fall kickoff kit (Liquid Facial Soap Mild, Almost Lipstick in Black Honey, Dramatically Different Hydrating Jelly, Ful-size Bottom Lash Mascara)
Code: SKINNOVATION –  a free Smart Clinical MD Duo with any $35 purchase
Code: REBOOT – with any $45 Clinique purchase you could receive a 4-piece post summer kit to recharge tired summer skin.
Codes: HAPPY, GLOWGETTER, PEPMEUP – you could choose a free 3-piece kit with any $40 purchase.
Code: 4LOVE/POPSTARS or ALLTHEBEST – 4pc best-loved deluxe sample kits
Code: READY – 7-Piece Gift with Summer Beauty Box with any $45 purchase
Code: REFRESH – 3pc Relax & Refresh kit free with any $55 purchase
Code: 2PERFECT – one free deluxe-size Moisture Surge plus a mini Foundation Buff Brush
Code: LOVE7 – one day only offer from Clinique.com – you could receive a free 7pc kit includes 6 minis and a bag with any$ 55 purchase
Codes: HYDRATE – 5 refreshing treats including water bottle free with any $55 purchase
Codes: SHINE or DEFINE – your choice of two 3-pc quick kits with any $55 purchase
Code: FACE – CliniqueFIT Post-workout Mattifying Moisturizer (15ml) with any $55 purchase
Code: GETAWAY – happy travels 5-pc kit with any $45 purchase
Code: HAPPY4TH: Celebrate 4th July with Clinique: spend $65 or more and add this Summer Sendoff 6-pc Kit
Code: LETSGO – Receive free travel kit (includes 1 full size and 3 mins) with any $45 purchase.
Code: SPLASH25 – 25% off everything from Clinique.com.
Codes: ONETOGO or TWOTOGO –  free fullsizes of High Impact Mascara and Take The Day Off Makeup Remover
Code: FORDAD – Receive a free full-size Face Scrub ($21 value) with any $14.50 Clinique For Men purchase
Codes: FIVE, FIFTEEN or TWENTY – the more you spent, the more you could save (up to $20 off)
Codes: GLOWON or LOOKPRETTY – you could choose a free 4-pc almost summer kit at checkout – skincare or makeup kit
Code: MS72 – free full size Moisture Surge 72-Hour Auto-Replenishing Hydrator when you spent $28
Code: BLISS – a free 5-pc kit for wedding season
Code: TRY5 – You could try Clinique iD: get a free sampler kit with any $25 purchase
Code: FABTOTE – Mothers Day offer: Spend $65 or more on Clinique.com and receive a free pink tote.
Code: PRETTY – a kit including 4 favorites that let your natural radiance shine
Code: ALLGIFTS – a roomy, lightweight, limited edition tote bag.
Code: FRESHFACE – Free 4-pc fresh face kit with any $45 purchase
Code: SMART25 – 25% off any order
Code: GREATSKIN – With any $25 Clinique for men purchase receive a free full size 2 in 1 skin hydrator + beard conditioner.
Code: BRIGHT – Spend $40 or more on Clinique.com and receive this exclusive 5-piece kit for brighter and more luminous skin.
Code: IMREADY –  A free Spring Ahead 6-piece gift with any $65 purchase from Clinique.com
Code: 2FORHIM – With any $25 Clinique for Men purchase you could receive free Clinique for Men Moisturizing Lotion Mini (15ml) + Clinique for Men Face Wash Mini (30ml)
Codes: PEPUP  or PINK – Spend $45 or more on Clinique and choose your free set including 6+1 item. A $75 value.
Codes: TRUELOVE or LETSFLIRT – you could choose a free kit with any $45 purchase.
Code: LUNARJOY – Free brilliant red sleeve with any clinique iD purchase. This promo was active during the Lunar New Year.
Code: LASHLOVE – free full-size High Impact Mascara with selected purchase of sets for Valentine's
Code: FRESH – Fresh Pressed Daily Booster with any $28+ moisturizer purchase
Code: MAKEMEGLOW–  Receive 4-pc Big Chill Kit including must-haves during the winter months – free when you spend $45 or more
Code: HANDSOME – Receive free trio – Clinique For Men™ Broad Spectrum SPF 21 Moisturizer Mini, Clinique For Men™ Face Scrub Mini, Clinique For Men Maximum Hydrator Activated Water-Gel Concentrate Mini. Yours with selected purchase.
Code: ORANGE or YELLOW – Purchase any 2 Clinique fit products and enter one of these codes to receive a free workout bag – orange or chartreuse (yellow)
Code: WINK – Receive Chubby Stick Mini in Super Strawberry and Quickliner™ For Eyes Intense Mini in Intense Ebony – free with $35 purchase
Code: MERRYTRAVELS – 4 Holidays must-have to go (Lush mascara kicks up lash volume, Silky balm melts away makeup, #1 Moisturizer leaves skin glowing and Gentle cleanser rinses easily)
Code: HAPPYHANDS, BERRY/HAPPY – free Creams for hands and body
Code: DETOX – Deep-clean skin – free with any $40 purchase.
Code: GLOW or PEP or PRETTY – pick your free kit with any $35 purchase
Code: EYETREATS – Free full-size eye duo
Code: 25OFF – 25% OFF for smart rewards member + 5X Points.
Code: HAPPYTOTE – With any $55+ purchase on Clinique.com receive this tote (15″L x 4″W x 13″H). Vibrant color, roomy design.
Codes: MORETREATS or ALLTREATS – these codes were valid during the bonus time on Clinique.com and you could get 2 step up gifts.
Code: 2BEST – Add 2 mini best sellers (Lush Gel-Cream Hydrator, Potent De-Aging Serum) when you spend $55 or more
Code: FIVEBEST – 5 best-loved fragrance minis when you spent $55
Codes: DRYSKIN or OILYSKIN – Clinique simple 3-Step routine (cleanse, exfoliate, moisturize) to try for free when you spent $35
Codes: MATTE or GLOSSY – With any foundation purchase choose your look – mix and matte or gloss & go
Code: SONIC – a free Sonic duo (Foaming Sonic Facial Soap Mini and Sonic Brush Mini in Pink) when you spent $55
Code: SHINE – A brilliant 4-piece makeup kit
Code: FALL4 – 4 Clinique classics (Chubby stick in Broadest Berry, Mascara in black, Liquid Facial Soap Mild, DDML+) for every $45 spend at Clinique.com
Codes: DRY or OILY – Free 2 hydration essentials with any $28+ moisturizer purchase
Code: GREATS – Spend $40 and receive three Clinique essentials for clean, glowing skin, plus, an extra-credit mascara
Code: DRYSKIN or OILYSKIN – Receive 3-Step Travel Kit either for skin types 1 & 2 or 3 & 4. Free with any $45 purchase.
Code: 2PRETTY – Spend $55 or more and receive Take The Day Off Makeup Remover and Smart De-aging Moisturizer
Codes: BERRY or PLUM – You could get a free 3-pc makeup summer kit when you spent $35 or more
Codes: HAPPYDUO or BERRYDUO – You could choose free full size duo (including Happy Gelato Cream for Body plus Happy Gelato Cream for Hands in Happy or Berry Blush) with any $65 purchase.
Code: PRETTYQUICK – A quick summer look in one easy free 4-pc makeup kit when you spend $40 or more
Code: SUMMERTOTE – Receive a free 6-piece Clinique gift when you spend $45 or more. This offer was not visible on the website, but you could redeem it by using the coupon.
Code: CLEANSWEEP – Pep-Start™ Pop-Up Cleansing Swipes Pop-Ups with any $35 purchase
Code: 4TOLOVE – Add these 4 best sellers (Super-lightweight water-jelly, Gentle Cleanser, Intense Eyliner, Cult-Classic black honey) with any §40 purchase
Code: HAPPYDUO – Spend $65 or more and receive free full size happy duo (Clinique Happy™ Gelato Cream For Body in Clinique Happy and Clinique Happy™ Gelato Cream For Hands in Happy)
Code: MYTOTE – Free summer tote bag with any $50+ purchase from Clinique.com
Code: 2DELUXE – Spend $55 and add two deluxe samples – Take The Day Off™ Makeup Remover For Lids, Lashes & Lips 50ml and Moisture Surge Face Spray Mini, 30ml.
Code: LETSGO – with any $40 purchase receive this kit including Turnaround Revitalizing Daytime Moisturizer Mini in Rosy Glow, Chubby Intense Mini in Broadest Berry, Take The Day Off Cleansing Balm 15ml and CliniqueFIT™ Workout 24-Hour Mascara Mini.
Code: SPFKIT – With any $40 purchase receive 3-piece kit including formula for face and body. Get ready for summer
Code: FREEGIFT – Spend $40 or more and enter this code and receive a free 6-Piece Gift in Plum Pop ($75 Value)
Code: BLISS – Receive 4 Clinique freebies with any $45+ purchase and get ready for the upcoming wedding season.
Code: SPRINGDUO – Spend $40 or more and get 2 free minis: High Impact Mascara Mini in Black and Chubby Intense Mini in Broadest Berry.
Code: REPRESH – free spring refresh kit including a foundation with your $40 purchase and enjoy a free 3-step kit (Almost Lipstick Mini in Black Honey, Take the Day Off™ Makeup Remover Mini, Moisture Surge Extended Thirst Relief Mini, Quickliner™ For Eyes Intense Mini in Intense Ebony).
Code: DETOX – Receive this spring detox kit (including City Block Purifying Charcoal Cleansing Gel, Charcoal Clay Mask + Scrub and Take The Day Off Cleansing Balm
Code: LIPXLASH – With any $30 purchase – receive this lip & lash duo for quick lash + lip touch-ups anytime, anywhere.
Codes: 2XSMART or 3XSMART – Free de-aging duo when you spend $45. Spend $65 and also add Clinique smart night custom repair moisturizer.
Code: LOVEMAKEUP or LOVESKIN – Two kits to choose from, both including 4 Clinique minis. Spend $45 or more and make your choice
Code: HIS or HERS or BOTH – Choose a 3-pc kit (including Clinique supercharged hydrators and two more favourites) for him or her with any $35 order. Want both? Spend $55 and enter code BOTH
Code: WINTER – A free Skin Savers Kit including 4 Clinique must-have for Winter season. Yours with $45 purchase.
Code: CLEAN – Spend $45 or more on Clinique.com and get 3 minis: All About Eyes™ Mini, Dramatically Different™ Moisturizing Gel Mini, 2in1 Cleansing Micellar Gel + Makeup Remover Mini
Code: CLEANSTART – Make a purchase of $45 or more to receive this free all clean kit
Code: SONIC – Purchase $55 or more and use code SONIC at checkout to receive your free mini Sonic Brush
Code: EYEKIT – Free 4-pc makeup kit (including mascara, eye cream, Quickliner for eyes, makeup remover) with any $35 purchase.
Codes: ORANGE or GREEN or YELLOW – you could choose from 3 workout bags with any 2 or more CliniqueFit products.
Code: GLOWING – Spend $45 and enjoy 4 freebies: Quickliner™ For Eyes Intense Mini in Intense Ebony, Take the Day Off™ Makeup Remover Mini, Moisture Surge Extended Thirst Relief Mini, Almost Lipstick Mini in Black Honey
Code: GLAM – Smoky eyes, berry lips, makeup remover – a free holiday kit with any $35 purchase
Code: TOTE – A free silver tote, green inside – yours when you spend $55 or more and enter this code.
Code: PARTYLIPS – Add a free full-size Pretty Easy Lip Palette with any $55 order.
Code: PEPPED – A free refreshing kit (including Pep-Start Pout Perfecting Balm + Pout Restoring Night Mask Blister on card and Pepped to Perfection kit) yours free with any $45 purchase
Code: FLIRT – "Go from work to flirt in a flash" – spend $45 or more on Clinique and get this free kit including: Lash Power Flutter-to-Full Mascara, All About Eyes™ Mini, DDML+ mini, Long Last Soft Matte Lipstick Mini in Matte Plu