The bonus time at Nordstrom happens two times per year, in November and in May. However, Nordstrom often creates mini gift with purchase online-only offers (usually a 6-piece gift with no step up gifts) anytime during the year, especially during their Anniversary Sale.

The advantage of Nordstrom is free shipping all the time and you can also choose up to 5 free packette samples at checkout.
The next Clinique Bonus at Nordstrom
July/August 2021
The next scheduled bonus time at NORDSTROM will most likely start in July or August during the Nordstrom Anniversary sale.
Need to stock up on Clinique now?
Check out this schedule of all active Clinique bonuses.
The last Clinique gift
Clinique Bonus at Nordstrom
June 11 – 17, 2021
Online only, with any $49 Clinique purchase at NORDSTROM receive a free 7-piece gift.
The gift includes:
a cosmetics case
7 Day Scrub Cream Rinse-Off Formula (1 oz.),
Smart Night Custom-Repair Moisturizer Cream (1 oz.),
Pep-Start Eye Cream (0.24 oz.),
Quickliner for Eyes Intense Eyeliner Pencil in Intense Black (0.005 oz.),
High Impact Mascara (0.005 oz.)
Dramatically Different Lipstick Shaping Lip Color in Canoodle (0.1 oz.)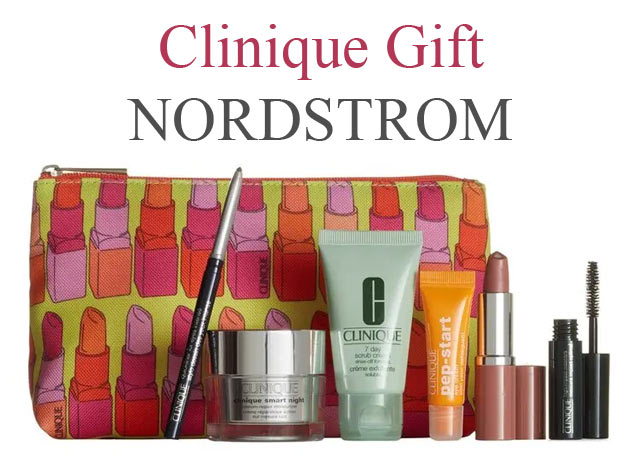 You will also receive free shipping, plus you can choose 3 free samples at checkout (with any beauty or grooming purchase).
---
Previous bonuses at Nordstrom (2017 – 2021):
If you wish to compare the previous gifts over time from this retailer, click on the button below.