There is Clinique bonus at Macy's two times a year – in spring (around March/April) and during the fall (around September/October). However, they also offer a back-in-stock offer (in June/July and November) that is not part of the scheduled bonus times.

Shipping is free on orders above $50, but it is possible to have a promo code for free shipping. There is usually an option to pre-order the gift over the phone. In this case, you would receive something extra, either a bonus sample or another gift, and free shipping.

Update Oct 11: The bonus time ended yesterday. The next scheduled bonus time at Macy's will start in March 2019, but we may see some back in stock offers in December or January 2019.
---
Bonus time at Macy's runs from September 26th, 2018 – October 10, 2018. Start building your 7-piece gift when you spend $29.00.
Both gifts include: 
Geometric Bag
7 Day Scrub Cream Rinse-Off Formula, 30 ml
Take The Day Off Makeup Remover For Lids, Lashes & Lips, 50 ml
High Impact Mascara – Black
Plus, choose:
CHOICE 1 (Standout Eyes): All About Shadow Quad – Morning Java, Pretty Easy Liquid Eyelining Pen – Black, Pop Lip Colour + Primer – Bare Pop
CHOICE 2 (Hydrators): NEW Moisture Surge 72-Hour Auto-Replenishing Hydrator, 15 ml, All About Eyes, 7 ml, NEW Pop Splash Lip Gloss + Hydration – Sorbet Pop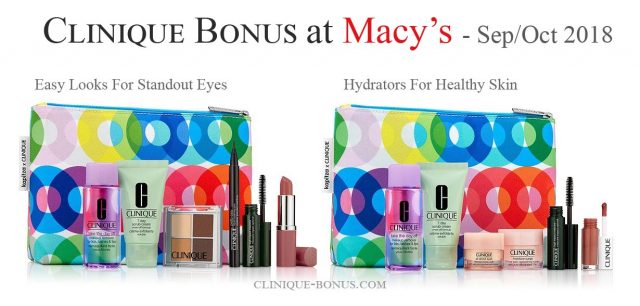 Spend more, get more*
Spend $55 and choose an extra 2-piece gift including exclusive Clinique headband and your choice of Smart Night Custom-Repair Moisturizer, 15 ml or Moisture Surge Overnight Mask, 75 ml. Your 9-piece gift is worth over $100.
Spend $75 and receive receive a FREE limited edition Kapitza tote bag. A $135 total gift value.
*While supplies last. You will also receive free shipping.
---
Previous promotions at Macy's (2015 – 2018):
There have been 4 regular Clinique promotions (with qualifiers of $27 and $28) in the past 2 years and one winter GWP offer, which was available in December 2016 online only on the Macy's website.