Clinique bonuses at Belk
WHEN: Belk runs scheduled Clinique bonuses (gifts with purchase offers) two times per year – in February and in August. Belk also seldom runs 'back-in-stock' offers that may appear anytime during the year, but usually they don't last for long.
QUALIFIER: Clinique purchase of $31.00 or more
SHIPPING: Free shipping when you spend $49 site-wide
BENEFITS: With a valid coupon code you can save up to 15% on beauty products (including Clinique)
The next Clinique Bonus at Belk
August 2021
The next scheduled bonus time at Belk will most likely start in August 2021, but there might be some surprises in the meantime.
Need to stock up on Clinique now?
Check out this schedule of all active Clinique bonuses.
The last Clinique gift at Belk:
Clinique gift at Belk
April 30 – May 2, 2021
With any $35 Clinique purchase receive a free 7-piece Clinique gift at Belk.
Spend $55 and also receive a free duo (a mirror and chubby lip).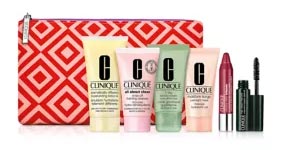 While supplies last.
Free shipping.
---
The past promotions at Belk (2015 – 2021):
Belk usually offers an option to choose 1 or more gift items – giving the store a bit more of a variety than some of the other department stores.
To see which products were included in the previous gifts offered at Belk, click the button "Load more".