Clinique bonuses at Belk
WHEN: Belk runs scheduled Clinique bonuses (gifts with purchase offers) two times per year – in February and in August. Belk also seldom runs 'back-in-stock' offers that may appear anytime during the year, but usually they don't last for long.
QUALIFIER:  Clinique purchase of $33.00 or more
SHIPPING: Free shipping when you spend $49 site-wide
BENEFITS: With a valid coupon code you can save up to 15% on beauty products (including Clinique)
The next Clinique Bonus at Belk
February 2022
The next scheduled bonus time at Belk will most likely start in February 2022, but there might be some surprises in the meantime.
Need to stock up on Clinique now?
Check out this schedule of all active Clinique bonuses.
The last Clinique gift at Belk:
Fall Clinique Bonus at Belk
August 2 – 22, 2021
The bonus time at Belk – free gift with your $33 Clinique purchase.
Spend $33 and take home a best-selling eye cream and fan favorite makeup, including an eyeliner, lipstick and mascara. 7 pieces with your choice of cleanser and full-size moisturizer (up to a $98 value).
The gift includes:
All About Eyes™ (5 ml Jar)
Quickliner™ For Eyes Intense (Shade #01: Intense Black)
Clinique Pop™ Lip Colour + Primer (Shade #13: Love Pop)
High Impact™ Mascara (Shade #01: Black)
Cosmetic Case
Plus, choose your gift:
The Choice A gift includes Dramatically Different™ Moisturizing Gel (50 ml Tube) and All About Clean™ Rinse-Off Foaming Cleanser (30 ml Tube)
The Choice B gift includes Dramatically Different™ Moisturizing Lotion+ (50 ml Tube) and All About Clean™ Liquid Facial Soap Mild (30 ml Tube)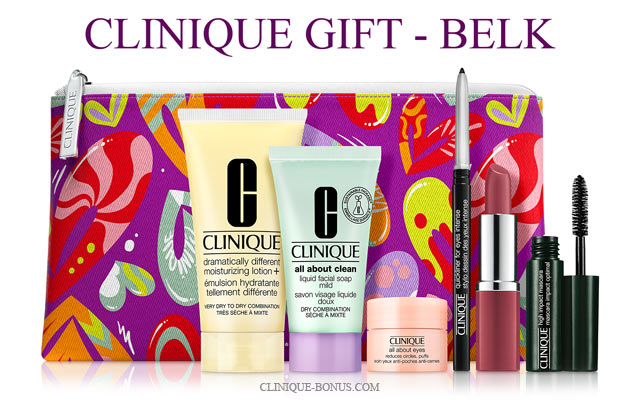 Spend more, get more
Spend $55 and receive 2 Chubby Sticks.

Up to a $130 value.

Spend $75 and receive a Smart Clinical Duo.

Up to a $173 value.
In-store offers may vary.
---
The past promotions at Belk (2015 – 2021):
Belk usually offers an option to choose 1 or more gift items – giving the store a bit more of a variety than some of the other department stores.
To see which products were included in the previous gifts offered at Belk, click the button "Load more".