Clinique bonuses at Dillard's
WHEN: The official bonus times (spring & fall) at Dillard's usually start in March and September. However, there may also be 'back in stock' offers during summer months (June/July) and in October/November.
QUALIFIER: Clinique purchase of $35.00 or more
SHIPPING: Dillard's offers free shipping on orders over $150 (otherwise, shipping costs $9.95) and free pick up in store for orders over $50.
The next Clinique Bonus at Dillard's
March 2022
The next scheduled bonus time at Dillard's will most likely start in March 2022, but there might be some surprises in the meantime (Oct/Nov).
Need to stock up on Clinique now?
Check out this schedule of all active Clinique bonuses.
The last Clinique gift at Dillard's:
Fall Clinique Bonus at Dillard's
August 27 – September 16, 2021
The Fall Clinique bonus time at Dillard's starts on August 27, 2021. Receive a free 7-piece Clinique gift with any $35 Clinique purchase. Up to a $123 value.
7 pieces, including a full-size moisture-rich eye cream.
The 7-pc gift includes:
Clinique Smart™ SPF 15 Custom-Repair Moisturizer, 15ml
All About Clean™ Liquid Facial Soap Mild, 75ml
All About Eyes™, 15ml (Full-size)
Quickliner™ For Eyes Intense in Intense Black, 0.14g
Clinique Pop™ Lip Colour + Primer in Plum Pop, 3.8g
High Impact™ Mascara in Black, 3.5ml
Cosmetic Bag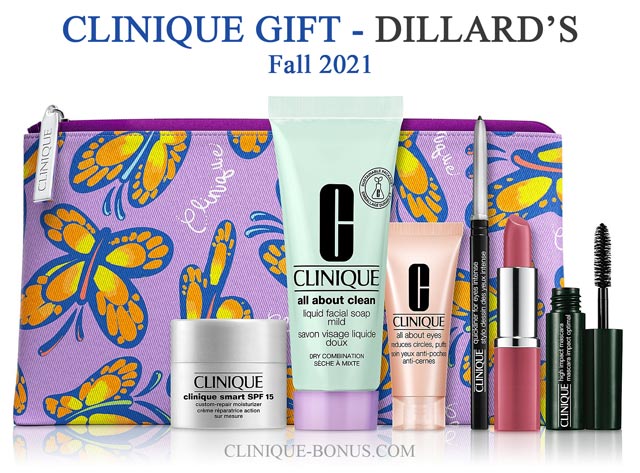 Spend more get more:
Spend $75 or more on Clinique and also receive a new moisturizing routine:
Clinique Smart Night™ Custom-Repair Moisturizer, 15ml
Full-size Moisture Surge™ Overnight Mask, 100ml
A $179 value.
Shipping is $9.95 or FREE when you spend $150 or more.
---
Previous Clinique GWP offers at Dillard's:
In 2017 and 2018, the minimum purchase limit was set at $28. In 2019, you could get the 7-piece gifts with a Clinique purchase of $29. The qualifier in 2021 is $35.
Click on the button below to see previous offers at Dillard's during the past 4 years (2018 – 2021).