The official bonus times (spring & fall) at Dillard's usually start in March and September.
Sometimes there are also 'back in stock' offers during summer months (June/July) and in October/November. Dillard's doesn't offer free shipping, and standard shipping is $8.50. Note that international orders are not eligible for the Clinique gift.

Update March 19: This promotion has ended. The next regular bonus time at Dillard's will be at the end of August/start of September, however, there may be some surprises.
---
The Spring Clinique bonus at Dillard's is from March 7th through March 18th, 2018. Online and instore.
The gift this season is designed by Finnish fashion brand Marimekko.
With a $28+ Clinique purchase each client gets to first choose either:
Then choose either:
a foundation brush or
travel mirror
and then you choose a group of 5 products.
Flawless Fast – includes: 7 Day Scrub Cream Rinse-Off Formula, Dramatically Different Moisturizing Lotion+, Superprimer Face Primer in Universal, NEW Even Better Glow Light Reflecting Makeup SPF 15 in Alabaster, Ivory, Neutral or Golden and Pop Lip Colour + Primer in Plum Pop
Moisture Makeover – includes: Rinse-Off Foaming Cleanser, Moisture Surge Hydrating Supercharged Concentrate, Chubby Stick Cheek Colour Balm in Amp'd Up Apple, High Impact Mascara in Black and Chubby Stick Moisturizing Lip Colour Balm in Super Strawberry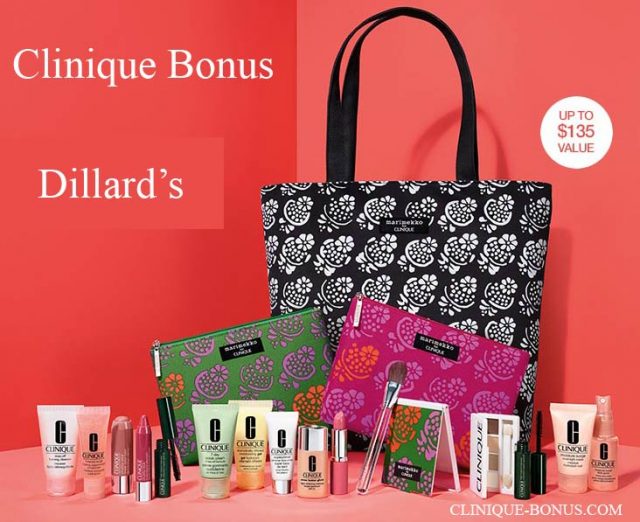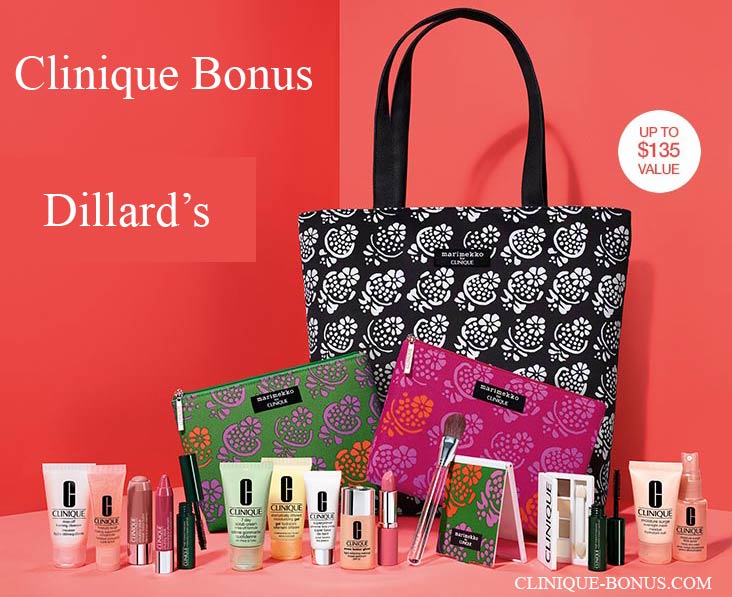 Spend $55 and choose
Option 1: Teddy Bear Eyeshadow Palette (neutral browns), and High Impact Mascara in Black
Option 2: Moisture Surge Overnight mask and Moisture Face Spray
With a $75+ purchase you receive all of the above and really cute large black Marimekko tote with white print.
Shipping is $8.50. Note that this bonus is currently also at Boscov's. Shipping at Boscov's is free when you spend $49 or more on beauty or fragrance.
---
Previous Offers at Dillard's (2015 – 2017):
In 2015 – 2016 you could get the 7-piece gift with a Clinique purchase of $27.00. In the last year, 2017, the minimum purchase limit was set for $28.00. Click on the button below to see previous offers at Dillard's during the past 3 years.