Clinique bonuses at Dillard's
WHEN: The official bonus times (spring & fall) at Dillard's usually start in March and September. However, there may also be 'back in stock' offers during summer months (June/July) and in October/November.
QUALIFIER: Clinique purchase of $35.00 or more
SHIPPING: Dillard's offers free shipping on orders over $150 (otherwise, shipping costs $9.95) and free pick up in store for orders over $50.
The next Clinique Bonus at Dillard's
September 2021
The next scheduled bonus time at Dillard's will most likely start in September 2021, but there might be some surprises in the meantime.
Need to stock up on Clinique now?
Check out this schedule of all active Clinique bonuses.
The last Clinique gift at Dillard's:
Spring Clinique Bonus at Dillard's
March 5 – 20, 2021
Update March 21: This offer is no longer available.
The Spring Clinique gift at Dillard's is here. Customize your free 8-piece Clinique gift with any $35 Clinique purchase at Dillard's. Up to a $154 value.
Take home six skincare and makeup must-haves
The gift includes:
A limited edition cosmetic bag
All About Clean™ Liquid Facial Soap Mild 30ml
Dramatically Different™ Moisturizing Lotion+ 30ml
Moisture Surge Eye FULL SIZE
Superprimer Face Primer – Universal Face
Dramatically Different™ Lipstick – Bamboo Pink
High Impact™ Mascara Black
Plus, choose your foundation brush: Foundation Buff Brush OR Foundation Flat Brush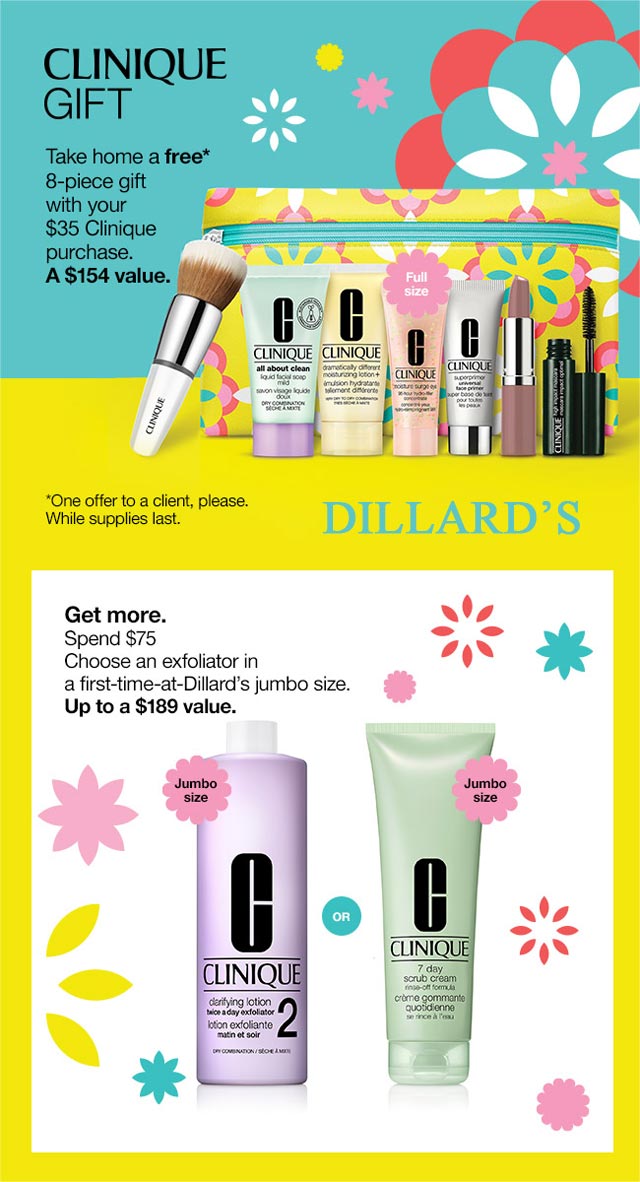 Spend more, get more
Spend $75 or more and choose between two jumbo-size cleaners: Jumbo 7 Day Scrub Cleanser OR Jumbo Clarifying Lotion Cleanser.
Shipping is free with any $150+ purchase.
While supplies last.
---
Previous Clinique GWP offers at Dillard's:
In 2017 and 2018, the minimum purchase limit was set at $28. In 2019, you could get the 7-piece gifts with a Clinique purchase of $29.
Click on the button below to see previous offers at Dillard's during the past 4 years (2017 – 2020).