There are many other department stores with Clinique counters across the United States. Also Clinique itself offers bonuses from time to time on their official website.
Clinique Spring gift comes to Saks 5th Avenue! There is a big 9-piece gift-set online and in stores through Sunday April 27, 2014.
With any $45 Clinique purchase (the same qualifier from previous year) is required to get this gift + you must enter coupon code CLINIQ29 at checkout. You can also use code FREESHIP to get free shipping.
Full image size
Update 4/22/14: The original gift has been replaced with a new 5-piece gift (see below).
We could see this bonus cosmetics bag before – at Belk, I think. Now (starting from April 14, 2014) it comes to Von Maur.
Purchase required: $27.00

Moisture Surge Extended Thirst Relief
Deep Comfort Hand and Cuticle Cream
Lash Doubling Mascara
Different Lipstick in A Different Grape
Cosmetics Bag
Note: Von Maur provides free shipping (FedEx Home Delivery – 1-5 business days) on every purchase made online.
The past bonus times
Click to show more Clinique bonus times >>>

Update: This bonus has been sold out.
Today (March 5th) is starting another Clinique gift with purchase* but this time at Boscov's.
GWP available from March 5 until March 23, 2014. The qualifier is $27 and the gift is valued at $70.00 see below for a picture.
Your color choice of Cool or Warm, PLUS choose 1 of 4 shades of Even Better Makeup.
Choose your Lip & Nail Shades – Warm or Cool
Choose your Even Better Makeup Shade: Amber, Beige, Ivory, Neutral
While ordering online enter promo code: BONUS14 and make your choice.
The gift will not be added automatically to your shopping bag – you need to enter the coupon code (BONUS14) and then make your choice of the gift! Free shipping with purchase over $50.
Make a Clinique purchase now at Saks.com (Saks Fifth Avenue) and receive this 7-piece gift set. Hurry up, the offer ends this Sunday March 2, 2014 at 11:59pm (ET).
Your shipping address must be in United States, your order must be over $65.00 (any Clinique products) and you have to enter promo code: CLINIQ27 at the checkout page while ordering.
What is included? 1. Rinse-Off Foaming Cleanser, 2. Moisture Surge Extended Thirst Relief, 3 .Even Better Dark Spot Correcting Hand Cream SPF 15, 4. Eyeshadow Duo & Blush Compact, 5. High Impact Mascara mini in Black and 6. Different Lipstick mini in Raspberry Glace, 7. all tucked in a cosmetic bag.
Update: We are sorry, the promotion ended.

Offer is available from today (Feb 11) online at Bloomingdale's. Or you can also visit any Clinique counter until March 2 at Bloomingdales.
With any $32.00 Clinique purchase receive an 8-piece bonus gift set (an $80.00 value) with your choice of palette. 
Your choice of one color set:
Choice A: Pinks
- Large Square Color Compact: All About Shadow in Bubble Bath and single shade from Uptown Downtown Duo; Soft-Pressed Powder Blusher in New Clover
- A Different Nail Enamel For Sensitive Skins in Pinkini, 0.14 oz.
- Different Lipstick in Raspberry Glace
Choice B: Tawnies
- Large Square Color Compact: All About Shadow in Nightcap Duo; Soft-Pressed Powder Blusher in Fig
- A Different Nail Enamel For Sensitive Skins in Summer in the City, 0.14 oz.
- Long Last Lipstick in All Heart
+ Every gift includes:
Moisture Surge Intense Skin Fortifying Hydrator, 0.5 oz.
Liquid Facial Soap Mild, 1 oz.
High Impact Mascara in Black, 0.12 oz.
Nail Kit with clippers, file and mini bag
Printed cosmetics bag
This complimentary gift-set can be yours with any $65.00 Clinique purchase at Neiman Marcus.
The bonus gift set includes:
7 Day Scrub Cream 30ml,
Even Better Eyes 3ml,
Rinse Off Eye Makeup Solvent 60ml,
Chubby Stick Intense Moisturizing Lip Balm in Rummiest Rose 1.2g,
Quickliner for Eyes Intense in Intense Aubergine .14 g,
Lash Doubling Mascara in Black 3.4ml
An exclusive cosmetics bag
You will get free shipping (you don't have to enter a coupon code)
Moreover, Neiman Marcus is running beauty event online now – You will receive an additional Free bag with Samples with $125 beauty purchase.
If you have missed the Stage stores gift (recently expired), here is an another chance to get the same looking gift bag, but with different items inside – at Bon-Ton stores and selected stores (Bergners, Boston Store, Elder-Beerman, Parisian, Herbergers, Younker's and Carsons stores).
Clinique Spring Gift – FREE when you shop Clinique at Bon-Ton
Bonus period: Feb 4 – Feb 22, 2014
Qualifying purchase: any Clinique product(s) in total value of $27.00+
Bonus gift: Spring 7-piece gift ($70 value)
Where: online or in-stores
The Bon-Ton Spring Gift includes:
Repairwear Laser Focus Wrinkle Correcting Eye cream, 5 mL
Rinse-Off Foaming Cleanser, 30 mL
Different Lipstick in A Different Grape
All About Shadow duo in Jammin'
Quickliner For Eyes Intense in NEW Intense Aubergine
Dual-Ended Lash Building Primer and High Impact Mascara in Black
Cosmetics Bag
Gift will automatically be added to your shopping cart (after adding a qualifying purchase). No promo code required.
However, if you want you can enjoy free shipping with a purchase of $75 – you must enter coupon code FREESHIP75 in the Promotion Code box and click "Apply" on the checkout page (in first step 1.Shopping bag).
The very first bonus time in 2014 is happening at the beginning of January at Stage stores. We have slightly different minimum purchase amount – it's gone up ($25 > $27) in this year, but still a good value.
No promo code needed, just add Clinique products into your shopping bag in total value of $27 or more and this 7-piece GWP will be added automatically.
The next Clinique Bonus at Lord and Taylor is from December 4th and it's with a $30 purchase. This "Christmas" gift is probably the last gift in this year from Clinique.
The gift includes:
Take the day off
Dramatically Different Moisturizing Lotion +
Repair wear Laser Focus Serum
Raspberry Glacé lipstick
Choice of either: Twilight Mauve/ Brandied Plum eyeshadow duo with Smoldering Plum blush
Or Neutral Territory eyeshadow duo with Sunset Glow blush
Air kiss Lip Gloss
High Impact Mascara
2 cosmetics bags
Do you want nine piece gift with purchase? Now at Saks and in-store. With $45 purchase of any Clinique products you will receive this gift for free. The gift contains:
Repairwear Laser Focus Wrinkle Correcting Eye Cream
Repairwear Uplifting Firming Cream Broad Spectrum SPF 15
Take The Day Off Makeup Remover For Lids, Lashses & Lips
7 Day Scrub Cream Rinse-Off Formula
Blushing Blush Powder Blush in Smoldering Plum
Almost Lipstick in Black Honey
Lash Building Primer
High Impact Mascara in Black
Cosmetic bag
Remember that you must use coupon code CLINIQ24 to get this gift. Also enter code HOLIDAY and get free shipping and save extra bucks:)
Update: Only the sample is added to your bag now. The bonus is sold out. (thanks Fairy for the comment)
There is one more bonus time at Bloomingdales in this year (the 5th one). Starting from today. Gift (7-piece) comes with one extra sample for free. Qualifying purchase is $50.
There is also an option to choose your colors. Moreover, you will receive free shipping and the mentioned extra sample – sample of Repairwear Uplifting Firming Cream (it will be automatically added if still available).
Receive this Clinique gift set through Sunday, November 10, 2013 at 11:59pm (ET) at Saks Fifth Avenue webshop (not available in-stores).
The gift set includes:
Turnaround Overnight Radiance Moisturizer
7 Day Scrub Cream Rinse-Off Formula

Soft-Pressed Powder Blush Compact in New Clover

High Impact Waterproof Mascara in Black

Butter Shine Lipstick in Perfect Plum

A Different Nail Enamel in Really Rio
Use promotional code: CLINIQ22. Purchase must contain any $65 Clinique product (excluding shipping, taxes, gift-wrap).
Update: We are sorry, this offer has expired.
This online exclusive Bonus is now available on official Clinique.com website. With only $25.00 purchase receive this 7-piece fall gift. A $65.00 value. Shipping is free with $50 purchase.
Enter voucher code: DUO and enjoy 2 extra minis. Get Almost lipstick in black honey + Clinique happy perfume spray. Applies only when you make total purchase of $65 or more. You will be also eligible for free shipping.
Choose your SHADES:
Offer available to residents of United States only. Offer is not applicable to purchases made prior to Saturday, October 26, 2013.

Starting from October 1st there is an another bonus at Bloomingdales online as they are running its beauty event now.
The gift is the same as in February at Bon-Ton (if you can remember).
You have to spend 50 USD on Clinique beauty products in order to get this gift for FREE.
Update 9/28/13: The promo has expired.
Boscov's is having their free gift with purchase* starting Wednesday, September 11 through Sunday, September 29th.
The Bonus is now available online on Boscov's website with $25.00 Clinique purchase.
Do not forget to enter coupon/promo code: BONUS13 at the checkout page!
In the gift you receive:
Repairwear Laser Focus Wrinkle Correcting Eye Cream
Rinse-Off Foaming Cleanser
NEW All About Shadow (warm shade: Buttered Toast, cool shade: Day Into Date)
Quickliner for Eyes Intense (warm shade: Intense Ivy, cool shade: Intense Chocolate)
Lipstick (warm: Long Last Lipstick in shade, Sugared Maple, cool: Different Lipstick in shade, A Different Grape)
High Impact Mascara in shade Black
Pretty cosmetic bag in shades of pink and orange, with a paisley print.
As you can see the gift is the same as at Dillards now.
* Yours with any Clinique purchase of $25.00 or more. Limit 1 per customer.
Update: It seems this gift is already sold out online. However, it might be available in-stores!
From August 27th (online)/28th (instore) through September 15, 2013 there is a Clinique promotion at Bloomingdales.
With 30.00 USD purchase you can choose from two different cosmetic bags: Green or Pink.
No coupon/discount code required for this promotion.
Global colour artist Jenna Menard picks her Clinique favourites for your 8-piece gift.
And what will be inside?
All About Eyes Rich,
Take The Day Off Makeup Remover for Lids,
Lashes & Lips, All About Shadow Color Compact,
Two-Piece Brush Set,
Quickliner for Eyes in Intense Ebony,
Chubby Stick Intense Moisturizing Lip Color Balm in Curviest Caramel
and High Impact Mascara in Black.
They also give an additional 3-piece gift with any beauty purchase. Shipping is free for every beauty order above 50 USD.
My opinion: It seems this is a really good time to buy cosmetics from Bloomingdales…
Update 2: Promo has ended.
Update: This is now available only in-stores!
Starting from today (16th of July 2013) there is Clinique bonus time at Stage stores (Bealls, Goody's, Palais Royal, Peebles, Stage). Offer available online and in selected stores.
Minimum required purchase is $25.00 (taxes and shipping costs are NOT included) will eligible you for 7-piece gift set valued at $70.00.
Promo/offer code isn't required, bonus should appear in your shopping cart automatically.
Period for this promotion: 7/16/13 – 8/3/13. One gift to a client, please.
Update July 12th: This offer is now expired.
Lord and Taylor bonus time is starting today (June 18, 2013).

This is a really good value; with any Clinique purchase of $30 or more receive 8-piece gift (valued at $85.00). Free. Now on Lord & Taylor website. No offer code required.
Promotion period: 6/19/2013 – 7/7/2013.

It is an 8 piece gift with your choice of fun summer shades. It includes 1 cosmetics bag and 7 Clinique products. For details click on the picture  >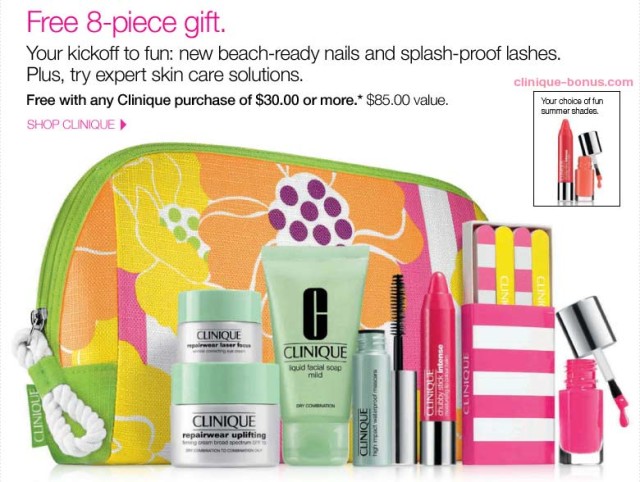 Update 6/6/2013: This is no longer available on their website.
Starting from June 3rd, 2013 with unknown expiration date there is a seven-piece beauty treats gift with any $50 Clinique purchase on Bloomingdales.
Bloomingdale's offers free shipping on any Beauty order of $50 or more (otherwise $10).
Update May 11: Sold out!
Update May 10: It is back again. Until this Sunday (May 12) or while the supplies last. Here is the direct link to this offer.
Update May 2: This has sold out.
Happy days! Today (Sunday, 28 April 2013) is starting a wonderful Clinique offer directly from Clinique.com official website. With only $25 purchase receive this $65 gift.
Online only. Simply add your products in total value above 25 USD (Minimum purchase amount does not include shipping and handling, sales tax, gift wrap fees, items noted as ineligible) to your shopping bag and at the checkout choose from 2 bonus choices.
Cos Bar is offering a nice 9-piece gift to celebrate the upcoming Spring 2013.
When? – February 24th through March 9th
Where? – Cos Bar. In-store only
Minimum purchase: $35.00
Bonus gift: 9pc gift-set. A $65.00 value. Click here for details
Update: It seems this bonus is sold out already.
Yes, another clinique bonus again at Stage stores. The first one was sold out so quickly (lasted less than one day) so here is another opportunity for everybody who missed the previous one.
Make a purchase of 25.00 USD or more online at Stage  and Clinique Spring 7-pc. set (click here for picture) will be automatically added to your shopping cart.
Update 2: Sold out! Lasted less than one day. But don't worry, the same bonus gift will be available soon at Belk.
Update: It seems this gift is sold out (not showing in the shopping cart as it should be). I will keep an eye on it and let you know when/if it will come back again. Anyway, you can still try it for yourself.
Sometimes is the opportunity to get the free bonus gifts on the Clinique.com homepage using their online shopping.
Choose 5 minis from Clinique largest selection ever:
Only today – Wednesday 5th December 2012. With every purchase you can choose up to 5 minis. For free. No code required. Click here or here and it should be working. Offer expires today's Midnight or whilst stocks last. Available online only

3

Free minis
Why wait until Black Friday? Pick 3 minis for FEE.
With any $30 purchase . No Coupon code needed.
Starting from today (Tuesday 20th October, 2012) until 11:59 PM (EST) Saturday, November 24, 2012.
A gift for you:

Black

Friday Survival Kit
Only 2 days left. Offer valid until 11:59 PM (EST) Friday, November 16, 2012 and only for United States. Now you can choose from 4 cute coloured skin care bags if you make a purchase any of the skin-care specialists.
FREE with any $30 purchase. Look great while you shop with this trio of minis. Choose from these bags. Each one holds up to 3 products. Purple, green, pink, 3-step bag as Today's offer on Clinique.com.
Bonus time on Clinique.com – $65.00 worth gift with $23.50 purchase
Starting from yesterday (Sunday October 21, 2012) and officially from today there is a new Clinique promotion available directly on the Clinique.com homepage.
Make any new (if you have pending purchase, it doesn't count) purchase of Clinique products in total value of $23.50 (before adding shipping, handling or sales tax charges).
Then, if you are from United States and your purchase has been placed on Sunday, October 21, 2012 or later (the expiration date is unknown) you are eligible to get the 7-piece exclusive gift-set valued at $65.00 with your order.
The gift contains:
4 makeup greats (your pick: Violets or Nudes) -your choice
2 skin care favourites
1 cosmetics bag
Make sure your gift has been added to your cart, before you make the payment. After selecting your favourite Shade (Nudes or Violets) you should see something like this:
Then, you can continue with online shopping on Clinique until you have 23.50 USD in your cart or more. Notice, that if you will make a purchase over $50 you will get free shipping, as well.
As I said earlier, there is no expiration date settled for this promotional offer. So, be sure to check directly on Clinique homepage the latest information about this bonus gift. You can do so in the "Offers" section.
I will update this page whether or not is this offer still available.
UPDATE: 10/27/2012: Just received an email about this offer. This offer ends today (Sunday, Oct 27). Also be informed that the Nudes shades option is no longer available. This online bonus has gone really quickly.
All other U.S. stores with Clinique products:
Bloomingdale's
Saks Fifth Avenue
Neiman Marcus – Starting from December 5, 2012. Get 7-piece gift with any $75 Clinique purchase. Promotion is only available online at Neiman Marcus website. Click here for a picture of the bonus gift.
Lord & Taylor
Von Maur
Boscov's
The Bon-Ton
Cos Bar
In each of the stores above they provide Bonus days from time to time with some free Clinique gifts. My favourite store from this list are first two and Boscov's with many promotions happening regularly there.
I will regularly update this site with available Clinique offers. Be sure to check it later, or follow me via FB, Twitter on the right panel of this site.