Almost every Nordstrom has a Clinique counter, making these two big companies able to create promotions together on a regular basis around two times per year, November and May. However, it is possible that Nordstrom has its gift "back in stock" anytime during the year.

Unlike Macy's and Dillard's during the past few years, Nordstrom offered an 8-piece (instead of 7-piece) gift with slightly higher qualifier ($32 and $29). This year (2016) Nordstrom is going to have bonus time(s) with a lowered qualifier ($27) and the gift will be a 7-pc gift (like those gifts from Macys and Dillards).
Advertisements
---

Update June 8th: All the gift-sets have been sold out. The next Clinique bonus at Nordstrom will most likely be in November.
The bonus time at NORDSTROM starts online (May 16) and instores (May 17). While supplies last.
The qualifier is $27.00 (lowered qualifier, it was $32 in May 2015) and you can choose from four 7-piece deluxe sample sets.
Enter one of these promo codes:
LIGHT
LTMED (sold out)
MED (sold out)
DEEP
Gift components:
Foaming Sonic Facial Soap
Moisture Surge Extended
Beyond Perfecting Foundation  + Concealer in your choice of one of 4 shades: Alabaster, Ivory, Neutral or Nutty
Long Last Soft Matte Lipstick in Matte Petal
High Impact Mascara in Black
Compact with All About Shadow in Mink and Sunset Glow plus Blush in Fig
Nordstrom Exclusive Cosmetic Bag
Step up gift
With any $55+ purchase receive also a full-size 7 Day Scrub. A combined gift value of $91. While supplies last.
You will also receive free shipping (no code required) and you can choose 3 extra samples at checkout.
How to get the gift?
3 ways to get this gift:
Online

(recommended)

: Open Clinique section on Nordstrom website. Once you add Clinique product(s) in total value of $27 or more into your shopping bag, continue to checkout. Select shipping address and shipping method and in the 3rd step (Payment) click on "Apply a Promotion Code". Enter one of these codes: LIGHT, LTMED, MED or DEEP. You will also get free shipping.
Order by phone: Call 310.254.1428 or 310.470.6155 Ext. 1428

(Assistant Manager: Fatima Paredes at Nordstrom Westside Pavilion, 10830 West Pico Boulevard, Los Angeles, CA 90064)

.
In-store: Visit Clinique counter in your nearest Nordstrom (show the map) and the ladies will be more than happy to assist you.
Advertisements
---
---
Previous bonuses at Nordstrom (2012 – 2015):
The minimum required purchase was gradually increasing in 2012-2014 (not only at Nordstrom). In 2012 we could get an 8-piece gift with only $28 purchase and in 2014 it was $32. However, in the Fall of 2015 the minimum required purchase went down to $29 and in May 2016 we can see even lower qualifier ($27).
If you wish to compare the previous gifts over the time from this retailer, click on the button below.

Update Jan 21st, 2016: Sold out.
Update Jan 4th, 2016: The Clinique gift is back in stock again on NORDSTROM website. Both gift choices (REPAIR or EVEN) are available. Online only.
An 8-piece gift (valued at $85) yours with only $29.00 Clinique purchase (it was $32 in May and in Nov '14).
The gift components are:
Rinse Off Eye Makeup Solvent
Liquid Facial Soap – Mild
Chubby Cheek in Roly Posy Rosy
All About Shadow Quad in Morning Java
Dual-Ended High Impact Mascara/Lash Primer
Long Last soft Matte Lipstick in Matte Beauty
Exclusive cosmetic bag
CHOOSE: Even Better Moisturizer (enter promo code EVEN) or Moisturizer Repairwear Uplift (enter promo code REPAIR)
Spend more & get free samples
Nordstrom has new sample offers: All About Eyes (0.21 oz.), Repairwear Sculpting Night Cream (0.5 oz.), Take the Day Off (1.7 oz.) and Rinse-Off Foaming Cleanser (1 oz.)  – all yours free with any $39.50 Clinique purchase.
Promo code required (for the base gift) to be entered at checkout, the samples should automatically be added in your shopping bag, if not, they are out of stock.
Free shipping on every purchase plus you can choose 3 free packette samples at checkout, as usually.
Note: the gift cannot be shipped to international addresses. Valid in the U. S. only.

Update 6/2: This promotion ended.
The next Clinique bonus at Nordstrom is available now through May 25th or while supplies last.
Receive an 8 piece spring gift* with your Clinique purchase of $32.00 or more. You can choose between two variants; Orange/Pink OR Green/Blue. *A promo code required.
Every gift includes:
Repairwear Sculpting Night Cream
Take the Day Off Makeup Remover
Rinse Off Foaming cleanser
All about eyes
and Orange/Pink variant includes (code: WARM):
Compact with:

Eye shadow: sunset glow/black honey
Blush: Fig

Lip/High Impact Mascara Dual Ended: A Different Grape/Black
Gloss: Love at first Sight
Orange/pink cosmetics bag
and Green/Blue variant includes (code: COOL):
Compact with:

Eye shadow: Single form Wave After Wave/Single from Smoke and Mirrors
Blush: Cupid

Lip/High Impact Mascara Dual Ended: Raspberry Glace/Black
Gloss: First Date
Green/blue cosmetics bag
To qualify you must enter promotional code "COOL" or "WARM" at checkout (see screenshot where to enter the code).
Extra bonus with $55 purchase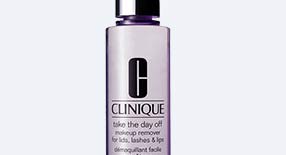 Spend more ($55) and you will also receive a full-size Take the Day Off Makeup Remover (4.2 oz.). An $18.50 value.
Update 5/21: This extra bonus item has been probably sold out. However, the two basic gifts variants are still in stock.

Update Jan 23, 2015: What a surprise, the gift is back in stock! While supplies last. You will also get free shipping and 3 free packette samples.
Clinique Bonus Time at Nordstrom is here! From November 3rd, while supplies last.
Party-pretty essentials to last the season.
It is an 8-piece gift including a cosmetics bag. Free* with your Clinique purchase of $32.00 or more – that's an $85.00 value.
You'll take home Clinique #1 best-selling moisturizer Dramatically Different Moisturizing Lotion+, as well as Take the Day Off Makeup Remover, Turnaround Overnight Radiance Moisturizer, a can't-buy-it-anywhere colour Duo compact for eyes, the ever popular Chubby Stick in Mega Melon, Quickliner for Eyes in Ivy, and High Impact Mascara in Black.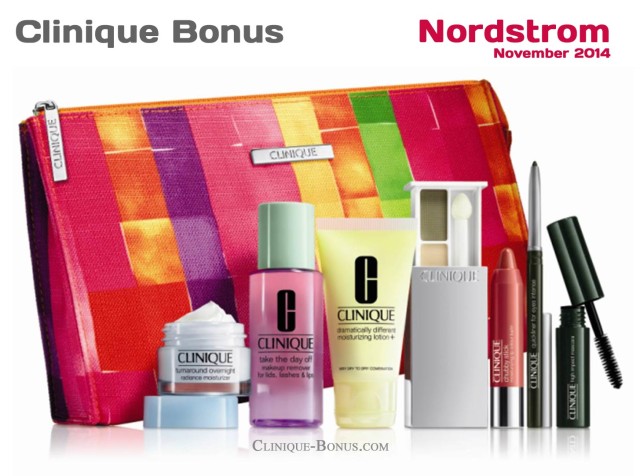 All Allergy Tested and 100% Fragrance Free.
Get more!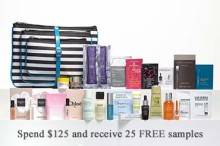 Receive FREE 25 samples (Lancôme, philosophy, Yves Saint Laurent,…) when you spend $125+ on beauty or fragrance products on Nordstrom.
Online only while quantities last.

Update: This promotion has ended.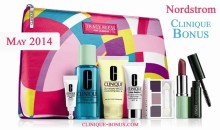 The next bonus at Nordstrom starts today (May 19th 2014). The minimum purchase is $32.00 and the value is $85.
This new Tracy Resse bag comes with this promo exclusively at Nordstrom packed with seven Clinique favorites.
The gift includes:
Rinse-Off Eye Makeup Solvent (2 oz.)
Different Lipstick in Raspberry Glace
High Impact Mascara in Black (0.14 oz.)
Even Better Eyes Dark Circle Corrector (0.1 oz.)

Dramatically Different Moisturizing Lotion+ (1 oz.)

All About Shadow Trio in three shades from Going Steady Quad
Even Better Dark Spot Correcting Hand Cream Broad Spectrum SPF 15 (0.5 oz.)

Update: The offer has been expired.
Nordstrom Fall 2013 GWP starts Nov 4th and ends Nov 17th. It is available in-stores now (sold out online).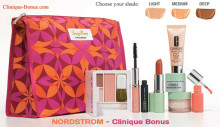 Qualifier: $30

(make Clinique purchase in this value)

Gift Value: $89

(receive Clinique gift in this value)
What is included in the gift?
Tracy Reese Designer Cosmetic Bag
Repairwear Laser Focus For Eyes
Moisture Surge Intense
Moisture Surge CC Cream
Eyeshadow (Starlight Bright) / Blush (Fig) Palette
Lipgloss (Bonfire) / High Impact Mascara Duo
All Heart Lipstick ( Full Size)
Nail Enamel in Happy
Choose your shade
To choose your shade (CC Cream shade), you must enter one of these codes during checkout:
By entering the code you will also ask for the bonus, which will be added automatically into your shopping bag. Nordstrom offers free shipping all the time – so another reason to shop at Nordstrom.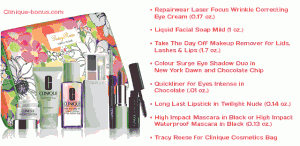 Update: Unfortunately, this promotion is no longer available.
The next Clinique's Nordstrom Spring Bonus time is starting on Tuesday – May 21st, 2013. Online and at the Clinique kiosks @ Nordstrom (in-store gift may vary).
You have to spend 30 USD to get this exclusive Tracy Reese bonus bag filled with 7 beauty Clinique essentials. This Nordstrom gift with Clinique purchase good while very limited supplies last.
One per customer. Gift will be shipped only to the address as your purchased items. No discount code required for qualifying. Not available for international customers.

8-piece Clinique gift with $28 purchase at Nordstrom. Online and in-store. At the end of this month (October) is starting another Clinique bonus time, now at Nordstrom. It is one of the most popular stores in the United States with Clinique products. Moreover, this time is the bonus available online and offline (in Nordstrom stores, as well).
To qualify for this bonus you need to make some Clinique purchase during the promo period. The minimum purchase is $28.
The start is on Tuesday 10/30/12 and the expiration date is not published. Probably while supplies last, which can be only a few days in the next month. If you are ordering online at Nordstrom, in order to receive the gift you will be asked to enter one of the following promo code at the checkout page.
NEUTRAL
PORCELAIN
SAND
DEEP
NOTE: By entering one of the codes above you are also selecting your colour of shade, automatically. Gift set is valued at $80 and with ordering online be informed that it can be shipped only to the same destination as your order.
About NORDSTROM
Another big company with many (231+) departments stores across the United States (in 31 states) is Nordstrom. It was established in 1901 by John W. Nordstrom and Carl F. Wallin. Currently this company sells fashion clothing, jewelry, accessories,… and especially cosmetics products.