Almost every Nordstrom has a Clinique counter, making these two big companies able to create promotions together on a regular basis around two times per year, November and May. However, it is possible that Nordstrom has its gift "back in stock" anytime during the year.

Unlike Macy's and Dillard's during the past few years, Nordstrom used to offer an 8-piece (instead of 7-piece) gift with slightly higher qualifier ($32 and $29). This year (2018) Nordstrom is going to have bonus time(s) with a qualifier  of $28 and the gift will be a 7-pc gift (like those gifts from Macy's and Dillard's).

Update April 18: This mini GWP has sold out. The next regular bonus time at Nordstrom starts on May 2, 2018.
There is a mini Clinique Gift with purchase online only at Nordstrom. Starting from March 28, 2018, while supplies last. Spend $40 or more and receive a cosmetics bag and deluxe samples of :
and deluxe samples of Pop Lip Color in Plum Pop (0.14 oz.),
Happy Fragrance (0.05 oz.),
Moisture Surge Hydrating Supercharged Concentrate (0.24 oz.)
Take the Day Off Cleansing Balm (0.5 oz.)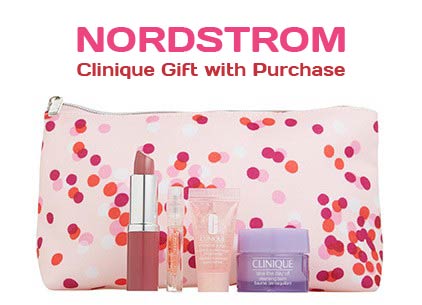 You will also receive free shipping & you can choose 3 free packette samples at checkout.
Online only, while supplies last. Gift(s) will be added automatically in Checkout, no promo code needed.
---
Previous bonuses at Nordstrom (2015 – 2018):
The minimum required purchase was gradually increasing (not only at Nordstrom). In 2012 we could get an 8-piece gift with only $28 purchase and in 2014 it was $32. However, in the Fall of 2015 the minimum required purchase went down to $29 and in 2016 we had even lower qualifier ($27). In 2017 the qualifier was $28 for a 7-pc gift. The first regular bonus at Nordstrom in 2018 will be in May, most likely with a qualifier of $28.
If you wish to compare the previous gifts over the time from this retailer, click on the button below.