Another big company with many (231+) departments stores across the United States (in 31 states). Nordstrom was established in 1901 by John W. Nordstrom and Carl F. Wallin. Currently this company sells fashion clothing, jewelry, accessories,… and especially cosmetics products.
Almost each department store of Nordstrom has a Clinique counter. Therefore, these two big companies create promotions together on regular basis.


Update: The offer has been expired.
The next bonus at Nordstrom starts on November 4 2013. Nordstrom Fall 2013 GWP starts Nov 4th and ends Nov 17th. 
It is available in-stores now. (Sold out online).
Qualifier: $30

(make Clinique purchase in this value)

Gift Value: $89

(receive Clinique gift in this value)
What is included in the gift?
Tracy Reese Designer Cosmetic Bag
Repairwear Laser Focus For Eyes
Moisture Surge Intense
Moisture Surge CC Cream
Eyeshadow (Starlight Bright) / Blush (Fig) Palette
Lipgloss (Bonfire) / High Impact Mascara Duo
All Heart Lipstick ( Full Size)
Nail Enamel in Happy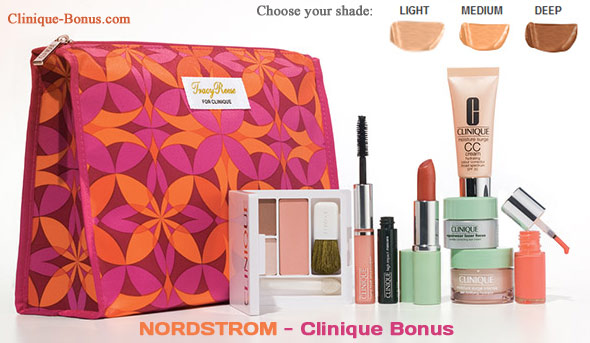 Choose your shade
To choose your shade (CC Cream shade), you must enter one of these codes during checkout:
By entering the code you will also ask for the bonus, which will be added automatically into your shopping bag. Nordstrom offers free shipping all the time – so another reason to shop at Nordstrom.
The past gift with purchase offers at Nordstrom:


Update: Unfortunately, this promotion is no longer available.The next Clinique's Nordstrom Spring Bonus time is starting on Tuesday – May 21st, 2013. Online and at the Clinique kiosks @ Nordstrom (in-store gift may vary).You have to spend 30 USD to get this exclusive Tracy Reese bonus bag filled with 7 beauty Clinique essentials. This Nordstrom gift with Clinique purchase good while very limited supplies last.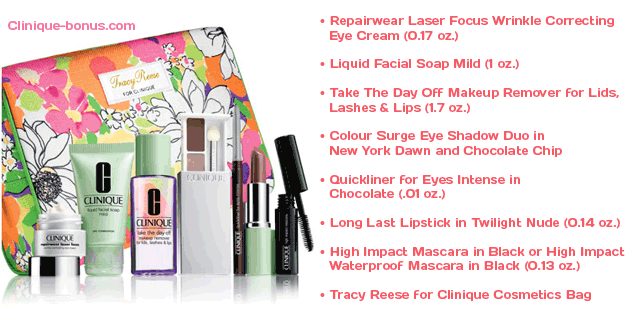 One per customer. Gift will be shipped only to the address as your purchased items. No discount code required for qualifying. Not available for international customers.

8-piece Clinique gift with $28 purchase at Nordstrom.Online and in-store.At the end of this month (October) is starting another Clinique bonus time, now at Nordstrom. It is one of the most popular stores in the United States with Clinique products. Moreover, this time is the bonus available online and offline (in Nordstrom stores, as well).To qualify for this bonus you need to make some Clinique purchase during the promo period. The minimum purchase is $28. The start is on Tuesday 10/30/13 and the expiration date is not published. Probably while supplies last, which can be only a few days in the next month.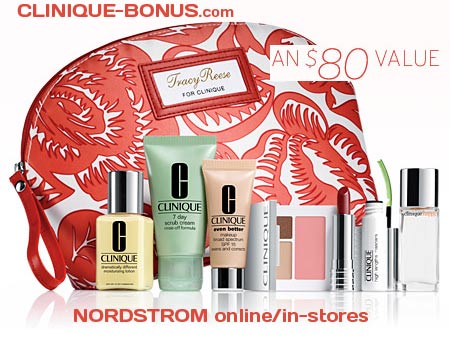 If you are ordering online at Nordstrom, in order to receive the gift you will be asked to enter one of the following promo code at the checkout page.
NEUTRAL
PORCELAIN
SAND
DEEP
NOTE: By entering one of the codes above you are also selecting your colour of shade, automatically.Gift set is valued at $80 and with ordering online be informed that it can be shipped only to the same destination as your order.