Macy's is one of the greatest network stores (850+ stores) in United States. It was founded in New York City in 1858 by Rowland Hussey Macy. If you would like to know more about this department store, click here for the Wikipedia article.
The next bonus time at Macys is around the corner. Just a few weeks and they will start taking pre-orders.
Get your fall favourites. Soon.
Officially, the bonus time starts on October 7th, 2014 (online and in-stores) and it will be an 8-piece gift with $27.00 purchase.
I will update this page soon with more information about pre-orders, (I will post a telephone number) which will be taken in late September, I think.
Advertisements
---

This is not a regular bonus time but it is a really good deal; with any $25 Clinique purchase you will receive a FREE 5-Pc. gift (valued at $55.00). This promotion is available online only at Macys while supplies last.
Skin care & makeup faves in a summer-ready cosmetics bag!
Gift includes: Cosmetics Bag, Dramatically Different Moisturizing Lotion+, Take The Day Off Makeup Remover For Lids, Lashes & Lips, Different Lipstick in Raspberry Glacé, Exclusive Clinique Colour Compact with All About Shadow Duo in Strawberry Fudge and Blushing Blush Powder Blush in Smoldering Plum.
Advertisements
---
Update 4/23/14: This promotion is no longer available.
This is the Spring Clinique bonus at Macy's and in-stores!
The 7-pc. gift (valued at $70) is available starting from March 31st, 2014 with any $27.00 purchase.
There are color options on the eye shadow palette and the lipstick.
Beauty and Skin care essentials with your choice of shades!
What is inside the gift?
Cosmetics bag
Smaller cosmetics bag
Moisture Surge Extended Thirst Relief
Dramatically Different Moisturizing Lotion+
Repairwear Laser Focus Smooths, Restores, Corrects
BONUS CHOICE:

All about shadow quad

BONUS CHOICE:

Dual-Ended lash Doubling Mascara in black & Different Lipstick in Tenderheart or Glazed Berry
How to get the Macy's bonus gift?
3 ways how to get the gift.
On-line – Visit Macy's official website and make purchase as usually. The total amount in your basket should exceed $27.00 and the bonus gift will be added automatically. No  code required.  You can choose color of your shades (Greens or Berries) after clicking on shopping bag during checkout.
In-store: visit your local Clinique counter at Macy's.
By phone: (only for preordering) call 610-231-3251 – Clinique counter @ Macys

(Whitehall, Pennsylvania 18052).

If the order is over $50 it's free shopping.
The past Macy's promotions: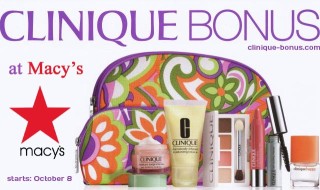 Update Oct 28th: We are sorry, but this Fall 2013 promotion  is no longer available.

The next bonus at Macys starts on October 8 2013.
It is available online on Macys website as well as in-stores. With $25.00 purchase.
You can now place your pre-sell order now and avoid the crowd at the counter from Oct 8.
FREE* 8-piece gift includes our new dramatically different formula, fresh-for-fall makeup choices and more.
*Minimum purchase amount ($25) does not include the purchase of gift card(s), tax, shipping or gift wrap charges.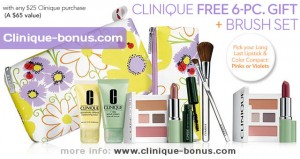 The most popular bonus at Macys will be available in March and April 2013.
Clinique free 6-pc. gift + brush set with any $25 Clinique purchase available from 3/25/13. This Clinique promotion at Macys will be available during period: March 25 – April 14, 2013.
It's with a $25 purchase, a $65 value. No promo code required. One per client while supplies last.
---
What does the gift-set include?
Cosmetics bag (A bright and sunny floral bag holds all of your Spring essentials)
Dramatically Different Moisturizing Lotion
7 Day Scrub
Long Last Lipstick in Bamboo Pink or Different Lipstick in Shy
High Impact Mascara in Black
Clinique Color Compact in Pinks or Violets*
Brush Set with Pouch**
*Each compact has 2 eye shadow, a blush and a bronzer.
** Brushes are eye shadow and blush that fit in matching "pouch".
Pick your long last lipstick & Color Compact: Pinks or Violets?
| CHOICE 1: | CHOICE 2: |
| --- | --- |
| Lipstick in Bamboo Pink and Compact with Pink Slate Eye Shadow, Blusher in New Clover and Bronzer in Sunkissed | Lipstick in Shy and Compact with Twilight Mauve/Brandied Plum Eye Shadow, Blusher in Pink blush and Bronzer in Sunkissed |
Update:  there is a nice conversation on my FB page about the gift items and the two variants to choose from.
Make $23.50 Clinique purchase in October and get a bonus. A $65.00 value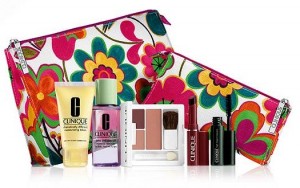 Probably the best Clinique GWP offer (in my favourite stores) is now starting at Macy's.
There is nothing about expiration date on their website so I think it is available while supplies last.
Purchase: 23.50 USD | Gift: 65. 00 USD
Gift contains 7 pieces of Clinique products (lipstick, mascara…) nicely packed in one handy cosmetics bag.
Offer is available online and in-store. I suppose it will be available during very short time for online shopping as many of ladies have been waiting for this bonus.
There are still enough department stores of Macys across the United States. To find the nearest one to your location open Macys website and go to the Store locator there.
Additional info:
Bonus time in Macy's is usually happening in-store as well as online on their webpage. If you prefer shopping online be sure to find a valid coupon code for free shipping. Or you can make a bigger purchase (50 USD) and get the free-delivery option.