There is Clinique Bonus at Macy's two times a year – in Spring (around March/April) and during the Fall (around September/October). However, they also offer a back-in-stock offer (in June/July & November) that is not part of the regular bonus time.

Shipping is free on orders above $50, but it is possible to have a promo code for free shipping. There is usually an option to pre-order the gift over the phone. In this case, you would receive something extra, either a bonus sample or another gift, and free shipping.

The next Spring Clinique Bonus at Macy's starts on March 26, 2018.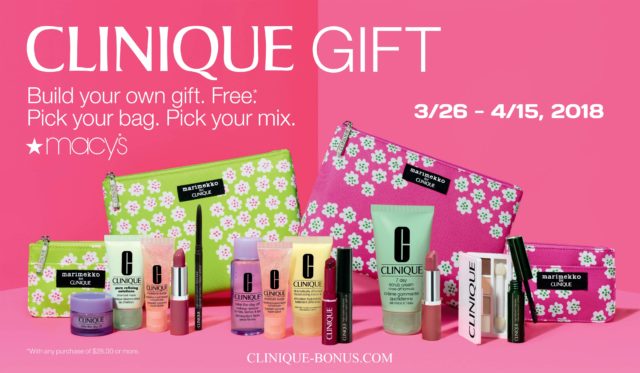 A free gift with any $28 Clinique purchase
You will get the choice of what color bag: Marimekko bag choice: either a Green or Pink Bag. Then, you get a choice of the goodies inside the bag as well:
Cult Classic Gift: Take the Day Off, Dramatically Different Moisturizing Lotion, Moisture Surge Supercharged Concentrate, High Impact Mascara, Almost Lipstick in Black Honey
Spring Refresh Gift: Take the Day Off Balm, Moisture Surge Supercharge Concentrate, Pore Refining Solutions Charcoal Mask, High Impact Custom Kajal in Blackened Black Eyeliner, Clinique Pop Lip in Plum Pop Lipstick
Step up Gift at $55, you will get the choice of either:
7 day scrub & Clinique Pop in Bare Pop or
Eyeshadow Teddy Bear Quad & High Impact Mascara
Super Step up at $75
A black tote that matches.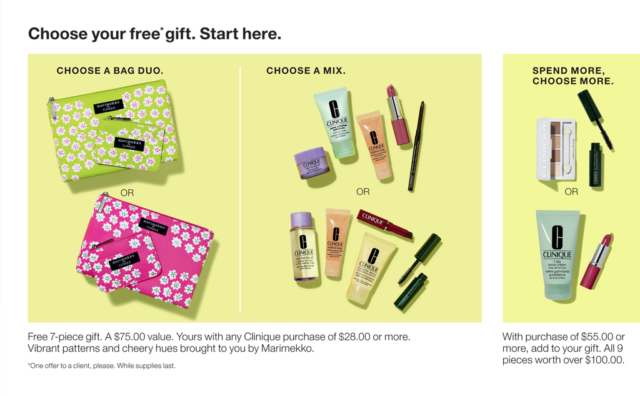 Pre-order now
Reserve now until 3/25 and receive 15% off order (still must hit the minimum qualifier to receiver the gifts). You can call the Macy's Montgomery Store and place your order with an actual Clinical Consultant. Ask for Kimberly. Call 215-393-6251 or Text 267-437-7228. You will also get free shipping. Everything will be shipped out on the 26th of March.
---
Previous promotions at Macy's (2015 – 2017):
There have been 4 regular Clinique promotions (with qualifier of $27 and $28) in the past 2 years and one winter GWP offer, which was available in December 2016 online only on Macy's website.