Lancôme was originally founded more than 75 years ago in France. The mission was simple; to deliver French elegance across the world. Now owned by L'Oréal, operating in United States, Canada, Europe and Australia.
Lancome also offers gift with qualifying purchase offers. Unfortunately, the min. purchase limit is higher (usually above $35 instead of $27/$31 for Clinique bonuses). However, the gifts have a higher value.
Advertisements
---


Receive this customizable gift-set from Lord and Taylor with any $39.50 Lancôme purchase. Gift is available online & in-store from September 1st, 2015 while supplies last.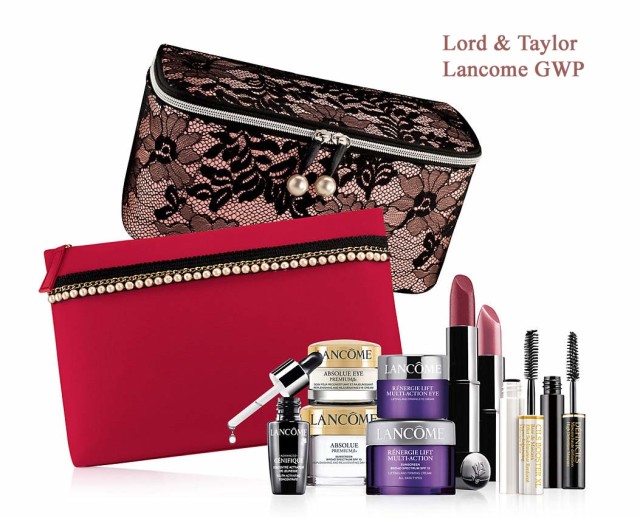 The gift is worth $120 – $150. It comes with your choice of  skincare set (2 products), cosmetics bag and lip color and you will also receive 3 Clinique faves.
Want more? Spend more ($70) to step-up this gift (up to a $221 total value) and you will also receive your choice of an Eye Makeup Set, Absolue Skincare Set or Renergie Skincare Set.
All the choices can be done at checkout (actually, immediately after you add Lancome product(s) in total value of 39.50/70 to your bag). You should also receive free shipping (even with the lower $39.50 purchase). SHOP NOW while all the variants are available.
Advertisements
---

Update Aug 30th: Still in stocks!
A beautiful new Lancôme GWP starts today (Aug 10, 2015) online at Macy's and tomorrow instores. With any $35.00+ purchase you can choose your:
night moisturizer (Renergie Lift Multi-Action night cream, Absolue Premium Bx, or Bienfait Multi-Vital)
your cosmetic bag (3 DIFFERENT bags to choose from – pink/purple/black)
blush & lip color duo (warm or cool shades)
and you will also receive 3 essentials:
Genifique Youth Activating Concentrate
Bi-Facil
Hypnose Drama Mascara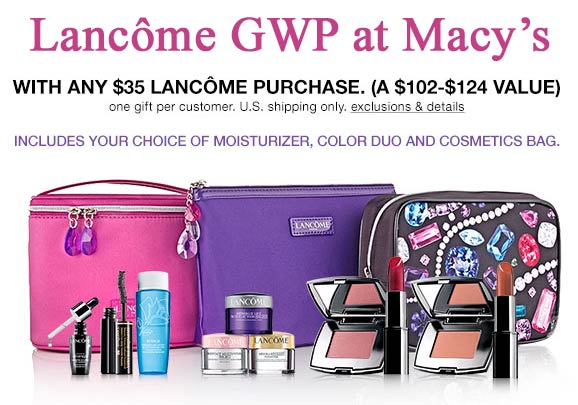 A $102-$124 value.
Add more to your gift:
There is an option to make a bigger purchase to choose 3 bonus minis – with $70 purchase choose your eye & moisturizer duo & cleanser OR 3 makeup essentials.
SHOP NOW while supplies last. Free shipping with a $35 purchase.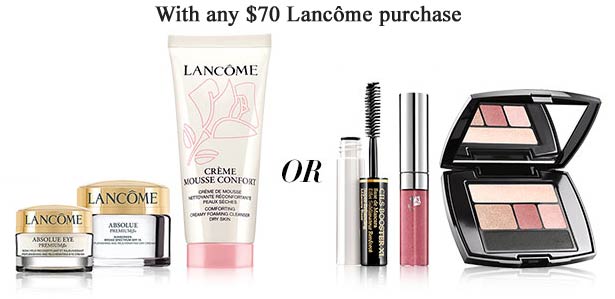 Total gift value: $154 – $224. One gift per customer.

TIP: Make the purchase through Ebates and save additional 8.0% (cashback). Moreover, if you don't have an account on Ebates yet, you will also get $10 (as a giftcard) or $5 (as a cash) just for sign-up.
Advertisements
---
---
The past inactive offers:

Update 8/5: Now, one more piece!
Dillard's is running Lancome GWP offer. The gift (pictured below) contains of 5 Lancome favourites (3 of them of your choice) and cosmetic bag. All yours free with only $35 Lancome purchase.
You can choose:
your cleanser
your lip gloss
your blush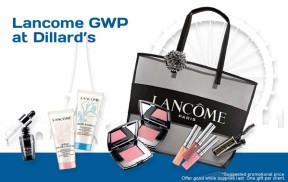 Gift valued at $87. Promo code is not needed. While supplies last.
Plus, there is a step-up gift (with $70 purchase) now and you will receive an additional deluxe skincare trio. This step-up gift is availability online only. Total gift value: $148 – $180.

Nordstrom offers 2 gifts; seven-piece travel sets including beauty and skincare favourites – yours free with any $42.50 Lancôme purchase. A $94 value. Choose and enter one promo code at Nordstrom checkout page.
GIFT A (enter promo code: WARM)
Eye & Face Palette in Warm
Définicils High Definition Mascara in Black
Bi-Facil Eye Makeup Remover
Advanced Génifique Youth Activating Concentrate
Lip Gloss in Candied Coral
Black Cosmetics Bag Duo (2x)
GIFT B (enter promo code: COOL)
Eye & Face Palette in Cool
Définicils High Definition Mascara in Black
Bi-Facil Eye Makeup Remover
Advanced Génifique Youth Activating Concentrate
Lip Gloss in Intense Fuchsia
Pink Cosmetics Bag Duo (2x)
Make a Purchase
You will receive free shipping and you can also choose 3 free packette samples during checkout (while supplies last).
All gifts are available on Nordstrom website, as well as in selected stores while supplies last. Do not forget to enter one of those 2 promotion codes at Checkout to qualify for the gift. Please note, that offer may vary in-stores and the gifts cannot be shipping to international address.

Online only: make Lancome purchase of $39.50 or more at NORDSTROM now and you will receive this gift valued at $101.
Check & Eye Palette in Sweetness (0.07 oz.),
Hypnôse Drama Volume Mascara in Excessive Black (0.135 oz.),
Bienfait Multi-Vital Night Cream (0.5 oz.),
Exfoliance Confort Comforting Exfoliating Cream (2 oz.),
Visionnaire [LR 2412 4% – Cx] Advanced Skin Corrector (0.25 oz.)
Bi-Facil Makeup Remover (1.7 oz.),
a metallic cosmetics bag
Even if you cant see the offer on the Nordstrom website it is still available. Just try to add any Lancome products into your shopping bag and the gift should be added automatically.
You will also get free shipping and deluxe sample of Advanced Génifique Youth Activating Concentrate (while supplies last).
Note: If you want to make a big beauty purchase – its good time to do it right now at Nordstrom. Spend $125 and you will receive a big tote bag with 25 samples of beauty faves.

There is a new promotion at Bloomingdales which ends 6/21 or while supplies last.
With any $39.50 Lancôme purchase receive a 6-piece gift (up to a $113 value).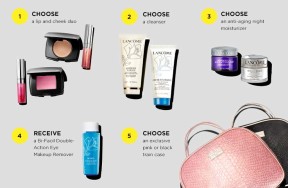 Each gift will contain:
Bi-Facil Double-Action Eye Makeup Remover
plus choose:

lip and cheek duo
a cleanser
an anti-aging night moisturizer
pink or black train case
Bloomingdales offers free Shipping on Beauty orders of $50 or more.

Update June 12th: Now this gift only at Bon-Ton.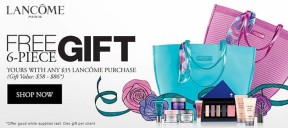 The most recent gift with purchase comes from Belk (online and in-stores). Gift valued at $58 – $86 free with $35+ Lancome purchase.
While ordering online you are not required to enter a promo code, however, you need to confirm the free gift by choosing 4 items of this 6-piece gift.
Choose your night moisturizer:

High Resolution Night Refill-3x, Renergie Lift Multi-Action Night or Bienfait Multi-Vital Night

Choose Makeup Set or Fragrance Collection:

Color Design Eye Shadow & Blush Southern Belle Palette and Juicy Tubes Lip Gloss OR La Vie est Belle Shower Gel and Body Lotion

Choose Color:

Lancôme Signature Tote in Your Choice of Fuchsia or Turquoise
Visionnaire (1 Minute Blur)
Définicils Mascara
*Note: In-stores the gift may vary. **Only one GWP per client and while supplies last.

Update 6/12: They have changed the promo code to LANCOME79, as well, as the gift has been changed slightly.
This is the second complimentary Lancome gift in 2015 which can be receive from Saks Fifth Avenue now through June 8, 2015 at 11:59pm.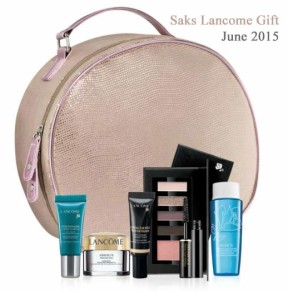 With any $75.00 Lancome purchase you will receive:
Visionnaire Skincare Instant Perfector,
Color Design Eye Shadow,
Blush Subtil Travel Chic Palette,
Definicils Mascara,
Bi-Facil Eye Makeup Remover,
Absolue Premium BX SPF 15 Day Cream and Effacernes Waterproof Concealer,
all in a chic travel case
Note: Gift will not be added automatically into your shopping bag. You need to enter promo code: LANCOME77 LANCOME79.
Enter code FREESHIP to get free shipping. Also, if you want, spend +$10 ($85.00 in total) and after entering coupon code SAKS52 you will receive a bonus cosmetics bag.
You can enter these codes at checkout (after clicking "Saks bag" or "View my bag"). Up to 5 promo codes per order are allowed.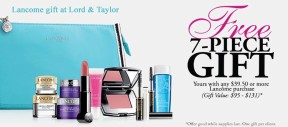 There is a new gift with Lancôme purchase available now a Lord & Taylor. You have to spend $39.50 on any Lancome products and you will receive:
Definicils Mascara
Cils Booster XL
Bi-Facil
Blue cosmetic bag
Plus you can choose:
Your moisturizer and eye cream duo: Renergie Lift Multi-Action or Absolue Premium Bx
Your makeup: Blush Subtil in Rose Fresque, Juicy Tubes in Miracle, or Color Design Lipstick in Vintage Rose
You can enter discount code FRIENDS and you will receive 10% OFF (on beauty items) and 25% off most other items in the store.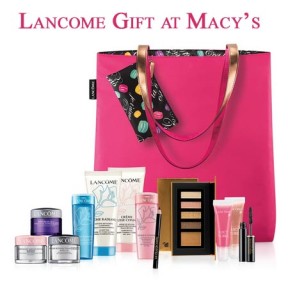 Starting from today (5 May, 2015) there is a new GWP on Macy's website and in-stores. This is a really customizable gift – you will choose 4 from 6 items of the gift (valued at up to $82).
Choose:
Night moisturizer
Cleansing or makeup essentials duo
Lip gloss shade
plus receive: Définicils Mascara and Signature Tote Bag and matching wristlet.
In order to receive the above gift you should make $35 Lancome purchase or more. Also note that Macys offers free shipping at $50 on beauty, all year long.

Update 5/10: The gift is sold out at both of the stores.
Update 4/29: The gift is still in stocks at Dillards and now also Boscov's offers the same gift-set.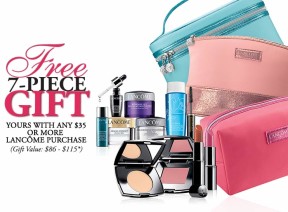 Lancôme GWP is available on Dillard's. With $35.00 purchase you will receive 7-piece gift (you can make your choice of 4 products + you will receive another 2). Gift value: $86-$115.
You can build up your gift by choosing your:
serum
moisturizer
lipcolor
powder or blush shade
and each gift comes with: Bi-facial Makeup remover, Definicils Mascara and Cosmetic bag.
Promotion is available from Friday 17th April 2015. Expiration date is not mentioned.
There is also an option to spend more & get more; with $70 purchase you will receive all the products mentioned above + you can choose: Body lotion & Eau de parfum purse spray OR Body essentials and loofah OR choose a lip & eye trio. Shipping is $8.50.


This is a new Spring GWP direct from Lancome.com where you can customize your gift (valued at 150$) with any online purchase of $60.00 or more. You will also receive free standard shipping (3-5 business days).
The good thing about this promo is fact that you can personalize the lovely gift step-by-step:
Step 1. Choose Your Day & Eye Cream Duo

Step 2. Choose Your Adventurous Look

Step 3. Set The Mood with a Romantic Fragrance

ALSO INCLUDED WITH YOUR GIFT:

Train Case & Bi-Facil
BONUS OFFER
Receive a bonus offer on orders $95+: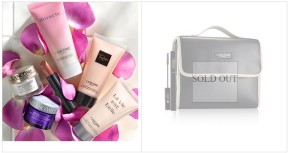 An additional bag (sold out) or
Travel size products
You will also receive free standard shipping.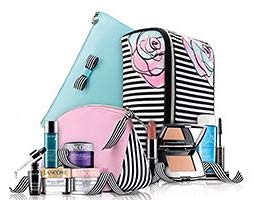 A new Lancome offer on Belk online and instores (the gift may vary instores).
With $35 Lancome purchase you will receive 6 Lancome products, 1 cosmetics bag and free shipping.
Moreover, you will have an option to choose 5 products according to your needs (choose your variant of serum, moisturizer, lip color & blush duo, bag). and you will also receive Défincils Mascara & Bi-Facil Eye Makeup Remover. Gift Value: $104-$124.

Update 1/3: The gift at both of the stores is sold out. The next Lancome GWP is going to be soon at Saks.
Update 12/21: The gift is now available at Belk and Von Maur (Boscovs has sold out of this gift).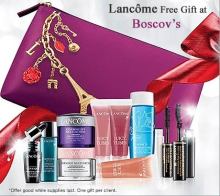 A new Lancome GWP comes from Boscov's (started on November 26). Online/in-store while supplies last.
With any $35.00 Lancome purchase you can choose 3 products (Serum, Moisturizer and Juicy Tube Shade) + you will receive Lancôme Holiday 4pc. Bag, Bifacil, Mascara and Cils Booster XL.
Value depends on the chosen products and it is in range $85 – $101. Delivery is free for beauty orders above $49 (otherwise $9.95).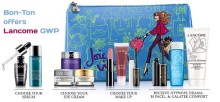 If you are looking for a Lancome GWP with the lowest minimum purchase amount – try to shop at Bon-Ton. They offer a regular 7 piece gift with only 35 USD purchase.
The gift includes your choice of serum, eye cream and makeup and you will also receive,  Mascara, Bi-Facil, Gelatee Confort Comforting Milky Creme Cleanser, and Cosmetic Bag.
In order to get free shipping enter this code BEAUTY25 and you can also enter this coupon GOODWILL14S to get 15% OFF on your beauty purchase! But hurry up, this discount is valid only until October 4th, 2014.