Lancôme, a beauty brand, was originally founded more than 75 years ago in France. The mission was simple; to deliver French elegance across the world. Now owned by L'Oréal, operating in United States, Canada, Europe and Australia.

There is a new gift with Lancome purchase available now at Belk and Bon-Ton. Unfortunately, the qualifier is higher than usual. At Belk you have to spend $75 and at Bon-Ton $65 on any Lancome products.
The gift is the same at both stores, 5-piece and includes followings:
Samples of Blush Subtil, Juicy Tubes Lipgloss, Hypnônse Star Mascara, & La vie est belle Eau de Parfum
Wristlet
No coupon code required.

Lancome GWP is now again at Dillard's website. It is really a good value: with $35 purchase receive 7 best sellers + a big bag; in total value of $108.
Promo available from Friday – 18th April. Expiration date is not mentioned.
You can build up your gift:
Choose your corrector shade
Choose your night moisturizer
Choose 1 Makeup Favourite
PLUS: Every gift-set includes: Definicils Mascara, Bi-Facil, Cils Booster XL and a cosmetics bag (green or purple).

This GWP (Including a Resort Tote) is direct from Lancome.com where you can build up your gift (valued at 160$) with any online purchase of $60.00 or more.
The good thing about this promo is fact that you can personalize the lovely gift step-by-step: 1. DreamTone serum (Light, Medium or Dark skin tone), 2. Skincare Combination (choose from 3 eye and skincare age-defying duo variants), 3. Makeup Look (choose from 2 variants), 4. Bi-facil, 5. All in your new Lancôme resort tote (12″ x 4″ x 14″ for travelling and daily needs) on this website where you can see photo with descriptions of the gift items.
Unfortunately, no promo code is allowed with this promotion offer. Valid through April 20 or while supplies last. You will also receive free standard shipping.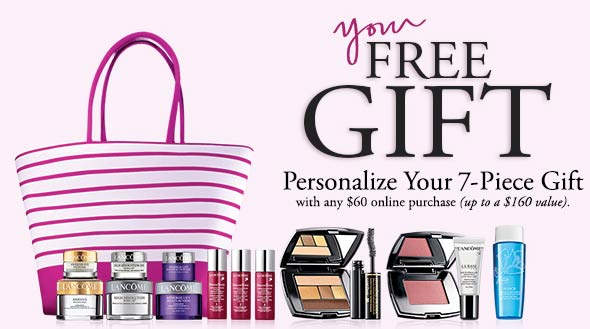 TIP: Make the purchase through Ebates and save additional 5.0% (cashback). Moreover, if you don't have an account on Ebates yet, you will also get $10 (as a giftcard) or $5 (as a cash) just for sign-up. Read more about the cashback.

Update: offers still available as of 31 March.
Nordstrom offers 3 different complimentary gifts filled with deluxe samples with Lancome purchase of $39.50.
Hydrate Gift (use promo code: HYDRATE in checkout)
Hypnôse Drama Mascara in Excess Black (0.07 oz.)
Color Design Lipcolor in Curtain Call (0.14 oz.)
Définicils Mascara in Black (0.07 oz.)
Absolue Premium ßx Eye Replenishing & Rejuvenating Cream (0.2 oz.)
Absolue Night Premium ßx Absolute Night Recovery Cream (0.5 oz.)
Absolue Premium ßx Foam Cleanser (2 oz.)
Black Cosmetics Bag
Smooth Gift (use promo code: SMOOTH in checkout)
Hypnôse Drama Mascara in Excess Black (0.07 oz.)
Color Design Lipcolor in Trendy Mauve (0.14 oz.)
Définicils Mascara in Black (0.07 oz.)
Crème Radiance Cleanser (2 oz.)
High Résolution Refill-3X™ Triple Action Renewal Anti Wrinkle Cream (0.2 oz.)
High Résolution Night Refill-3X™ Triple Action Renewal Anti Wrinkle Night Cream (0.5 oz.)
Black Cosmetics Bag
Lift Gift (use promo code: LIFT in checkout)
Hypnôse Drama Mascara in Excess Black (0.07 oz.)
Color Design Lipcolor in The New Pink (0.14 oz.)
Définicils Mascara in Black (0.07 oz.)
Bi-Facil Double-Action Eye Makeup Remover (1.7 oz.)
Rénergie Lift Multi-Action Eye Cream (0.2 oz.)
Rénergie Lift Multi-Action Night Cream (0.5 oz.)
Pink Cosmetics Bag
+Spend an additional $30 on Lancôme and get:

Flash Bronzer Tinted Self-Tanning Leg Gel (2 oz.)
Savon Fraîchelle Invigorating Body Cleansing Gel (2 oz.)
Juicy Tubes Smoothie Lip Gloss in Tickled Pink (0.33 oz.)
A combined value of $190. All 3 gifts are available on Nordstrom website, as well as in-stores while supplies last. Do not forget to enter one of the 3 promotion codes in Checkout to qualify for base gift.

Update 6/3/14: This gift is now also available at Von Maur.
Now (starting from March 3rd) there is the first promo in this year at Bloomingdales: online and in-stores. With any $39.50 Lancome purchase receive these complimentary gifts:
Choose your Anti-Aging Eye & Night Moisturizer Duo
Choose one makeup favorite
Advanced Génefique
Bi-Facil Eye Makeup Remover
Hypnôse Drama Mascara
Choose your cosmetics bag (Pink or Orange)
TIP: Sign up for Loyallist on Bloomingdales website (it is free of charge) and you will receive free shipping.
Gift will be added automatically at Checkout. One per person.
---

Update March 6: Promotion is not available anymore.
This is not an usual gift with purchase offer. Purchase with Purchase means that you will be offered an another item (5-piece gift valued at $89) at a reduced price ($38.50). In order to be qualified for this reduced price, please, add a full priced item to your cart.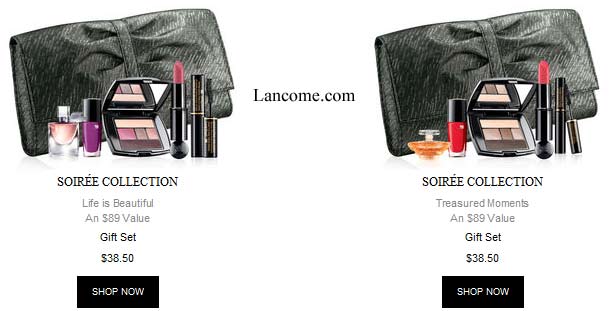 Two gift sets to choose from (Holiday Soiree Collections). Both for just 38.50 USD each. The value of each one exceeds the asking price which makes this offer a worthy purchase.
These Soirée Collections Gifts are available direct from Lancome.com where you will also get free shipping with an order of $49+.

Update: Gift appears to be sold out.
Starting from today (4 February) there is another GWP at Macy's and in-stores. This is a really customizable gift, you can build your own 7-piece gift online. There are two variations of the gift:
The basic gift (with $35 purchase, valued at $112)
+ GET MORE

with any $70 Lancôme purchase

and get 3 extra freebies:
Bi-Facil,
An eyeshadow quad
Your choice of eye cream
Moreover, for a limited time you can choose up to FREE 3 packette samples at checkout. Both gifts are available now on the Macys website. While supplies last. One bonus per customer.

Update: Offer expired.
First Lancome promotion is happening at Saks Fifth Avenue. This cosmetics bag featuring six best selling products is yours as a complimentary gift with $75 Lancome purchase of any Lancome products. Now through January 26, 2014.
You must enter promo code: LANCOME53 to get this gift.
The past promotions in 2013:

A new Lancome GWP comes from Boscovs. Online/in-store while supplies last.
With any $35.00 Lancome purchase and entering promo code: LANHOLIDAY receive:
Génifique & Mascara +
Choose a night cream +
Choose 3 beauty essentials

Here is another opportunity to get a free gift filled with Lancome products for free – at Lord & Taylor.
On-line and in-store
with $39.50 purchase
6 Best sellers plus a cosmetic bag (black or silver) brush set valued up to $116
They also provide free shipping option – when your order will be above 49 USD (beauty products, any brand).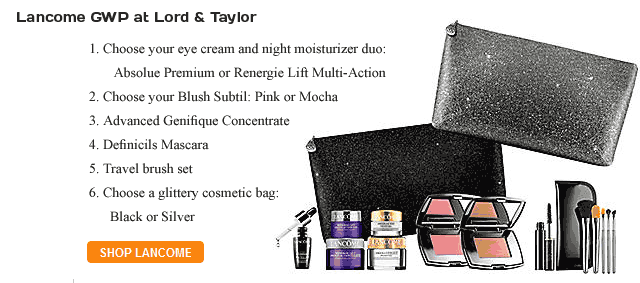 This Big beauty box (including 12 full size favourites) is now available with any Lancome purchase of $59.50 at many different stores.
Belk
Bloomingdale's
Bon Ton
Boscov's
Dillard's
Lord and Taylor
Macy's
Nordstrom
Von Maur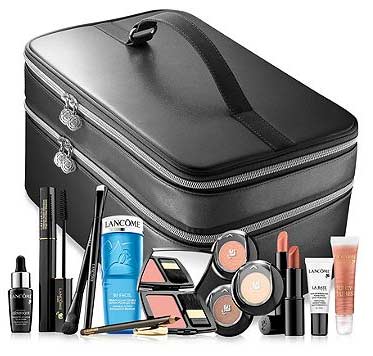 Dillards and Boscov are holding the same bonus gift with the same purchase limit. The gift (pictured below) contains 6 Lancome favourites (customizable) and cosmetic bag (also of your choice). All yours with only $35 Lancome purchase.
Promo code: LANFALL (apply only when purchasing at Boscovs)

During Fall 2013 you can also get some Lancome products for free at Nordstrom online and/or in-stores with $39.50 purchase.
with promo code

COOL

:
with promo code

WARM

:

Color Design Shadow & Liner Palette in Mauve Cherie,
Hypnose Drama Mascara in Excessive Black,
Bienfait Multi-Vital Cream SPF 30

Color Design Shadow & Liner Palette in Petal Pusher,
Definicils High Definition Mascara in Black,
Absolue Premium Bx Cream SPF 15

Cils Booster XL
Bi-Facil
Visionnaire Serum
Cosmetic bag
The image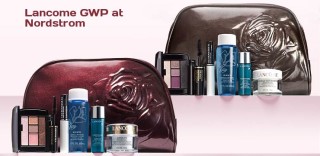 Neiman Marcus is running a beauty event. That means a lot of great free gifts with purchases. Besides the Clinique Free Gift (with $65 purchase) there is also Lancome gift-set.
If you make an order in total of $100+ (Lancome products) during this event (started 9/9 – while supplies last) you will also receive this gift set which comes in a lace cosmetic case valued at $155.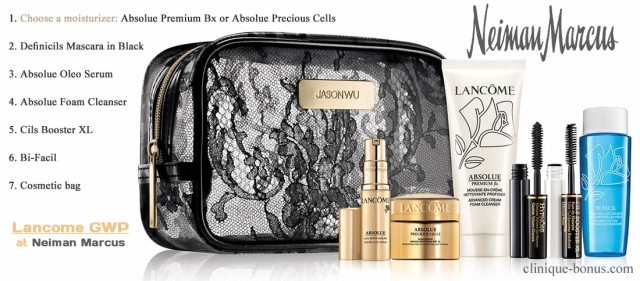 Directly from Lancome.com comes this fall GWP opportunity to build up your own 7-piece gift with any 60.00 USD Lancome purchase.
Watch this intro video about the gift and products inside
GWP available from September 1st – September 14th, 2013. You will be also qualified for free shipping automatically (on all orders above $49).
Build up the gift in 3 steps:
Step 1. Choose Your Bag
Step 2. Choose Your Serum + Moisturizer Combo
Step 3. Choose Your Makeup Look

On Nordstrom's website you can now (starting from July 26th) choose from 2 FREE* gifts with your 49.50 USD Lancôme purchase.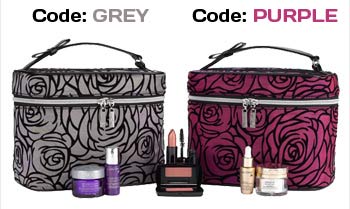 Gift must be claimed; enter one of the code (GREY or PURPLE) at the checkout page. Click here for the list of included items.

Update: Promotion has started in May 2013 and it is still available also in June 2013!
The most recent gift with purchase comes from Belk stores. Online on their website, as well as in-stores*. With any two-product OR $35+ Lancome purchase.
While ordering online you are not required to enter a promo code, however, you need to confirm the free gift by choosing one of the 2 variants of this 6-piece gift valued at 75 USD.
Gift Mix 1:
Gift Mix 2:

Génifique Youth Activating Concentrate
Crème Radiance Cream-to-Foam Cleanser
Color Sensational Effects Eye Shadow Quad

Visionnaire Advanced Skin Corrector
Galatée Comforting Milky Creme Cleanser
Star Bronzer Long Lasting Bronzing Powder

Bi-Facil Double-Action Eye Makeup Remover
Définicils High Definition Mascara
Lancôme Signature Reversible Tote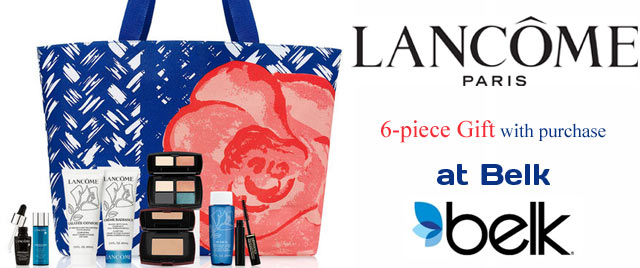 *Note: In-stores the gift may vary.
**Only one GWP per client and while supplies last.
The past Lancôme GWPs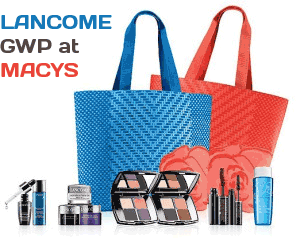 Update: SOLD OUT.
During days in May visit your nearest Lancome counter at Macy's department stores or make your order online and receive this FREE* gift.
Place: Macys. Online. In-stores.
Date: May 2013
Purchase: 2 Lancome products
Gift: 6-piece gift with an option to choose from many variants.
*Yours free with any purchase of at least two Lancome cosmetics products.