In 1938 William T. Dillard founded his first and very successful company called Dillard's. Nowadays, it is a department store chain across the U.S. with 330 stores in 29 states. The biggest concentration of the stores are in Florida and Texas, but you can literally find it everywhere in the United States.
It is still too early to confirm information about the next bonus at Dillards, however, it is likely to happen in late August or September 2014. The minimum purchase (qualifier) should remain the same $27 (as it was in March this year).
As usually, the gift will be available online, instores and you will be able to pre-order it by phone in August. I will post here more information as soon as possible.
Advertisements
---

Update 1st of April: The gift has been sold out.
The official dates for the Spring Clinique bonus at Dillard's are: March 9 – while supplies last.

Qualifier for the gift is $27.00 and products included are:
Take the day off makeup remover for kids lashes and lips,
Dramatically different moisturizing lotion,
Lash doubling mascara in black,
Even better foundation SPF 15 (with shades in ivory, neutral, beige, and amber).

PINK CHOICE

includes Raspberry glacé lipstick and Hi sweetie nail polish. The

PEACH CHOICE

includes Sugared grapefruit lipstick and Really rio nail polish.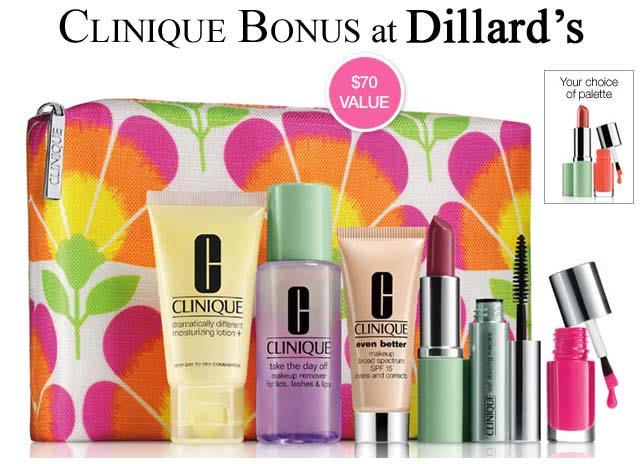 How to get the bonus?
Choose from these 3 options:
Online: Visit Clinique cosmetics on Dillard's website and make purchase online. You can select the gift at checkout.
Order by phone: Call (251)471-1551

(Clinique at Dillard's Bel Air Mall, Mobile, AL)

and ask for Clinique and order the gift. Shipping is free with $100 or more purchase

(before tax)

and regular shipping is $8.50.
In-store: This gift will be available in stores, as well! Visit Clinique counter in your nearest Dillard's store.
Advertisements
---
Previous Clinique promotions:
Click to show more Clinique bonus times >>>


The next Fall Clinique bonus time at Dillard's is starting from September 1st, 2013.
As usually, you have to make Clinique purchase of 25 USD or more to get the 7pc Gift. A $70.00 value.
Online and in-stores.
FREE* 7-piece gift! Try best of beauty winners, eye and lip colour in your choice of palette and more.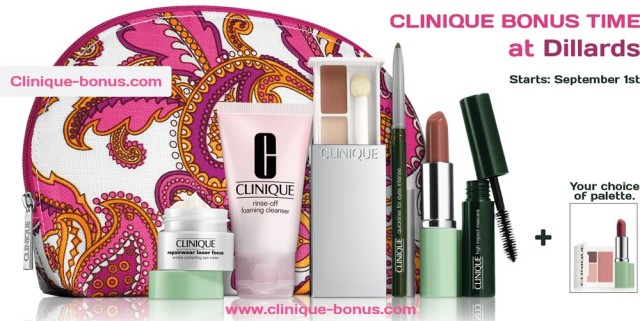 Gift items
Rinse Off Foaming Cleanser
High Impact Mascara in Black
BONUS EXCLUSIVE Cosmetic Bag
BONUS NEWS: Repairwear Laser Focus Wrinkle Correcting Eye Cream
BONUS NEWS: All About Shadow Duo in your choice of Buttered Toast or Day into Date
BONUS AWARD WINNER: Quickliner For Eyes Intense in Intense Ivy or Intense Chocolate
BONUS CHOICE: Long Last Lipstick in Sugared Maple or Different Lipstick in A Different Grape

Update: This is now expired. The next one should start in September 2013 and I will update this page.
A 7-piece Free Gift with Purchase is available until March 28th with any Clinique purchase of $25.00 or more.
The bonus time officially starts on Sunday March 10. If you have made the pre-order your order will be shipped on Monday (March 11th).
What is included in the gift?
Cosmetics bag
Turnaround Overnight Radiance Moisturizer
Moisture Surge Extended Thirst Relief
Liquid Facial Soap Mild
Lash Doubling Mascara in Black
+ BONUS CHOICE OF PINKS OR VIOLETS
(Violets include: Raspberry Glace Different Lipstick, Beach Plum eyeshadow duo, and Mocha Pink blush)
(Pinks include: Think Bronze Different Lipstick, Rose Wine eyeshadow duo, and Pink Blush blush)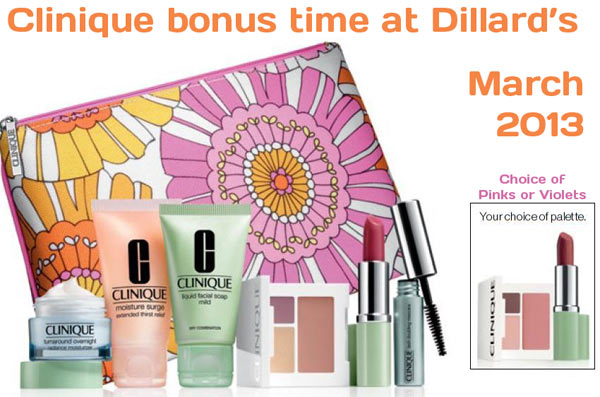 During Fall 2012: 2 Gift-sets valued at $60 to choose from – with Clinique purchase
One of the first free bonuses for this upcoming Fall 2012 we have at Dillard's stores. Bonus time officially starts on September 3, 2012 but you can already make a pre-order. To do so, please call (312) 725-8363 or visit your nearest Dillards department store.
Offer is available online, as well as in almost all Dillards stores in United States.
A good news: This time we have a possibility to make a choice from 2 available gifts. Simply open Dillards website and go shopping as usually. First step is to insert any Clinique products in to your shopping cart (in total value of at least $23.50). In the next step you will be asked to choose from 2 Gifts. There is also a nice picture, so you will have an idea about what you are going to get.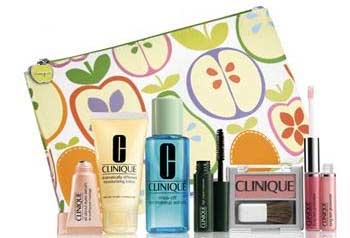 Bonus gift is valued at approx. 60 USD. But that's not all. If you make your purchase now, via online shop, you will get Mini bonus: Clinique Even Better Corrector. More info on their webpage.
Update: The mini bonus is no longer available.
What we want to know is if there are any collaborations between Dillard's stores and Clinique cosmetics brand. Dillards today also sells clothes, shoes, accessories and of course a little bit of Clinique cosmetics, as well.