The official bonus times (Spring & Fall) at Dillard's usually start in March and September.
Sometimes, there are also 'back in stock' offers during summer months (Jun/Jul) and in Oct/Nov. Dillard's don't offer free shipping, standard shipping is $8.50. Note that international orders are not eligible for the Clinique gift.

The Clinique bonus at Dillard's is from March 7th through March 18th, 2018. Presale is February 7th through March 6th.
The gift this season is designed by Finnish fashion brand Marimekko.
With a $28+ Clinique purchase each client gets to first choose either:
Then choose either:
a foundation brush or
travel mirror
and then you choose a group of 5 products.
Option 1: Bright Eyes. This includes Rinse Off Foaming Cleanser, Moisture Surge Concentrate, Chubby Blush in Amp'd Up Apple, Chubby Lip in Super Strawberry, and High Impact mascara in Black.
Option 2: Moisture Makeover. This includes Dramatically Different Moisturizing Lotion, Universal Superprimer, Even Better Glow Foundation (4 shade options) and Plum Pop lipstick.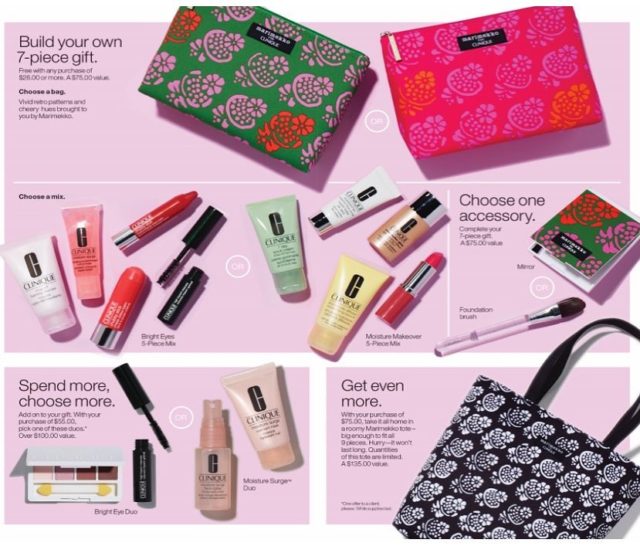 Spend $55 and choose
Option 1: Teddy Bear Eyeshadow Palette (neutral browns), and High Impact Mascara in Black
Option 2: Moisture Surge Overnight mask and Moisture Face Spray
With a $75+ purchase you receive all of the above and really cute large black Marimekko tote with white print.
---
Previous Offers at Dillard's (2014 – 2017):
In 2014 – 2016 you could get the 7-pc gift with Clinique purchase of $27.00. In the last year – 2017, the minimum purchase limit was set for $28.00. Click on the button below to see previous offers at Dillard's during the past 3 years.

Update Sep 11th: Now only available at Boscov's – while supplies last. No promo code required, however, to receive your gift click on the "Click here for your FREE Clinique 7-Piece Gift" message at the checkout page at Boscov's. At Boscov's you will also get free shipping with any $49+ beauty purchase.
The next Fall Clinique Bonus at Dillard's starts online and in-stores on August 30th and ends September 10th. (Only 12 days this time).
A gift you can't miss. Hurry – it won't be here long
A 7-pc gift – free with any $28 Clinique purchase includes:
Take the Day Off for Lids Lips Lashes
Liquid Facial Soap Mild
Choose your shade of Clinique Pop Lip Colour + Primer (Plum Pop or Nude Pop)
Choose your shade of Chubby in the Nude Foundation Stick (Normous Neutral, Intense Ivory, Voluptuous Vanilla or Grandest Golden)
High Impact Mascara
NEW Moisture Surge Hydrating Supercharged Concentrate
Exclusive Jonathan Adler Designer Bag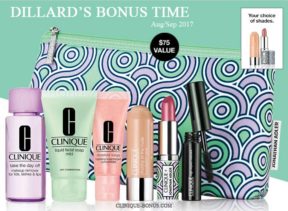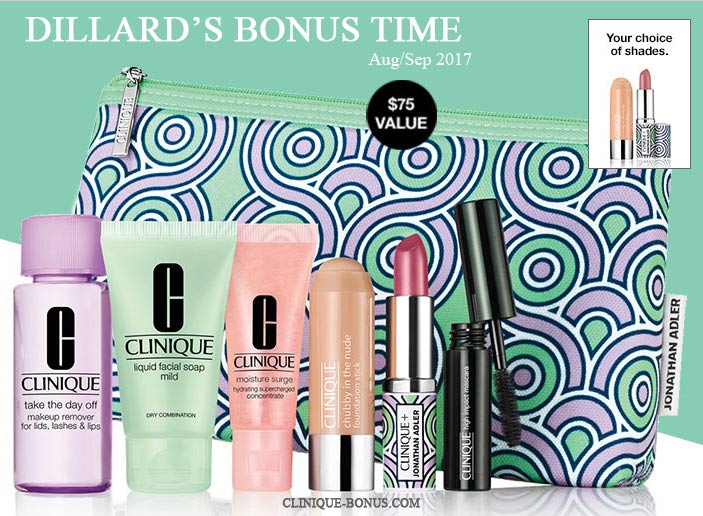 Spend more & get more
spend $55 and also receive your choice of: Jonathan Adler Eye Shadow Palette (shadow shades: Tarnished Gold, Silvery Moon, Jute Brown, Ink Blot, Gray Matters, Boron) or Smart Night Custom-Repair Moisturizer, 30 ml.
Spend $75 or more and get both above step-up gifts (Eye Shadow Palette + Smart Night Custom-Repair Moisturizer)

Update: The 'back in stock' offer has ended. The next regular bonus time at Dillard's will be in September.
This bonus is back in stock now at Dillard's in June & July 2017. We originally saw this promotion in March as a 7-piece gift-set, unfortunately, now it's a 6-piece gift (see below what is missing in the gift).
Most wanted new looks. In your free* gift.
*Free with any Clinique purchase of $28 or more.
The 6-pc gift includes:
Exclusive cosmetic Bag
First time in Gift: Superbalanced Silk Makeup Broad Spectrum SPF 15 in your choice of 4 shades.
Clinique Pop (Plum Pop or Love Pop)
Eyeshadow duo (Beach Plum or Starlight Starbright)
Rinse off Foaming Cleanser
DDML+
High Impact Mascara in black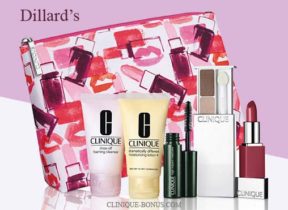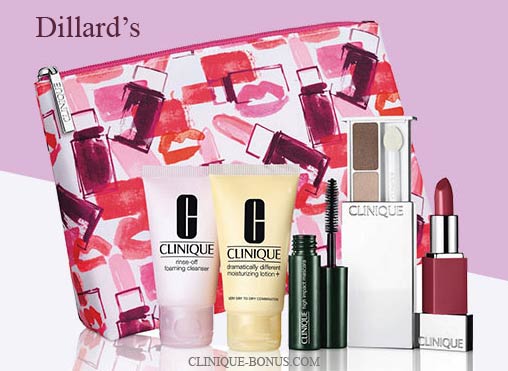 Extra gift: Turn your 7-piece gift into 9! Choose a repair duo or stellar contouring team with any $55 Clinique purchase.
Check the availability with your nearest store as the instore dates are different. See in-store dates here.

Update Oct 27: Surprisingly, this gift is back in stock at Dillard's! While stocks last.
The Fall Clinique Bonus Time at Dillard's starts on September 2, 2016. It's a 7-piece gift (a $70 value) – free with any $27 or more Clinique purchase.
With $27 Clinique purchase receive:
Cosmetics Bag with zipper closure
All About Eyes Rich,
Take The Day Off Makeup Remover,
Dramatically Different Moisturizing Lotion+,
Clinique Colour Compact (All About Shadow Duo in Nude Rose and Chocolate Bark / Soft-Pressed Powder Blusher in New Clover)
High Impact Mascara in Black,
CHOOSE YOUR LIPSTICK: Clinique Pop Lacquer Lip Colour + Primer: in Love Pop (Violet) or Lava Pop (Red) or Sweetie Pop (Pink)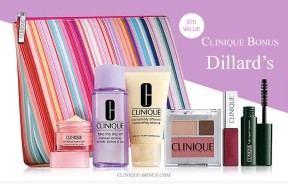 Note this offer was originally offered at Dillards and Boscov's one month ago.

Update March 17: The promotion at Dillard's has ended. The next bonus time will most likely be in September 2016.
Clinique Spring Bonus 2016 at Dillard's (online and instore) started February 26, 2016 and ended on March 16, 2016. The qualifying purchase was the same as in 2015 – $27.00. You could receive a 7-pc gift (worth over $70).
New looks. New ways to pop.
With a $27 purchase:
A custom bag by Satchel & Sage,
All About Eyes,
Moisture Surge,
Rinse-off Foaming Cleanser,
High Impact Mascara,
YOUR CHOICE of Beyond Perfecting Foundation + Concealer in 4 shades (Alabaster, Ivory, Neutral or Nutty),
YOUR CHOICE of Soft Matte Lipstick shade in Matte Beauty (cool) or Matte Peony (warm)
Step up gift with a $55 purchase receive: All About Shadow 6-pan eye palette (worth over $25). Both gifts together worth over $95. Note that the step up gift is not available online anymore.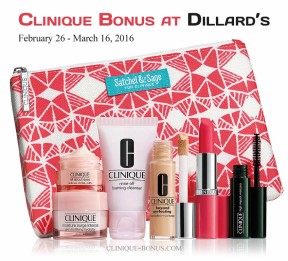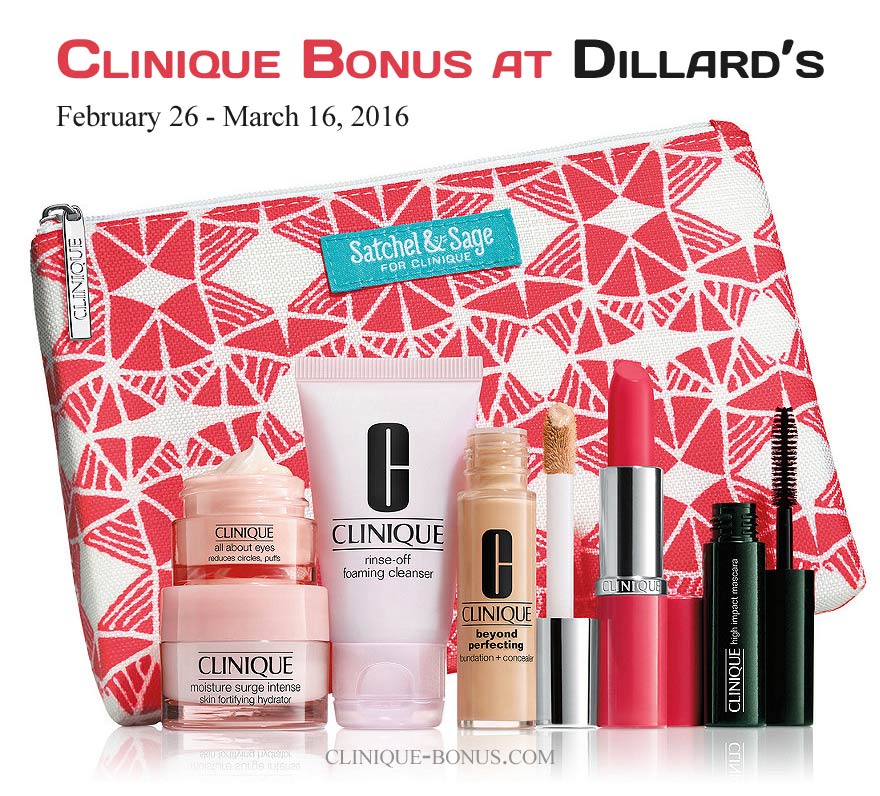 Limit one gift per customer, please. The promotion ends on March 16, 2016 or while supplies last.
 Getting the gift:
Sorry, you are too late. The promotion has ended.
Online: Open Clinique cosmetics section on Dillard's website and add any Clinique product(s) in total value of $27 or more in your shopping bag. Open your shopping bag. Now, you have to select the your choice of the gift – by clicking on "Select/Change gift" blue button. Important: picking the free gift must be done before checkout (before you click on "Proceed to checkout" button). Note: Standard shipping is $8.50.
Order by phone: Call (251) 471-1551 ext 5017

(Clinique at Dillard's Bel Air Mall, Mobile, AL)

and ask for Clinique. Free shipping with orders over $100. Regular shipping is $8.50.
In-store: This gift is available in stores, as well. Visit Clinique counter in your nearest Dillard's store during the promo period (2/26-3/16).

Update Sep 24: Not available anymore:(
Update Sep 17: It seems the stepup gift (2 Chubby Sticks) is not available anymore:(
The fall Clinique bonus at Dillard's starts September 4 and it ends on September 23, 2015. The qualifier (required purchase) remains the same – $27.00 and the gift-set (in your choice of pink or violet) is valued at $70.
It's fall. New season, new starts.
Gift-set includes:
Liquid Facial Soap Mild
Turnaround Overnight Moisturizer
High Impact Mascara – black
Brush Set – Eyeshadow Brush & Eyebrow Brush
All About Shadow Quad – choose Pink (Ballet Flats, Hazy, Raspberry Beret, Chocolate Covered Cherry) OR choose Violet (Pony Pink, Plum, Fairy Lights, Graphite)
NEW Long Last Soft Matter Lipstick – choose Pink (in Matte Magenta) OR choose Violet (in Matte Plum)
Cosmetic bag – Pink OR Violet


There is also a step-up gift available – with $55.00 purchase choose 2 full-size Chubby Sticks. Your choice of two shades from these available shades. Note: limited quantity of shades available.

Update 3/20: Not available at Dillards anymore, but the same gift is now at Boscov's. Moreover, Boscovs offers free shipping on beauty orders above $49. Use coupon code CLINIQUE15.
The next gift with purchase at Dillard's starts February 27th, 2015 and will run until March 18th.
The components of the gift are as follows:
Dramatically different moisturizer lotion,
Rinse off foaming cleanser,
High impact mascara in black.
+ There is a gift option for color as well:
The violet gift contains: The eyeshadows Angel Eyes and Rock Violet with a chubby stick for eyes in Lavish Lilac. The blush color is Smoldering Plum and the lip color is Raspberry Glace.
The nudes gift contains: The blue shade from the Galaxy Quad with Nude Rose. The blush is Sunset Glow, with a chubby stick for eyes in Bountiful Beige and the lip color is Tenderheart.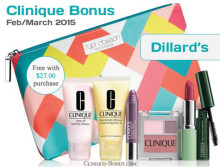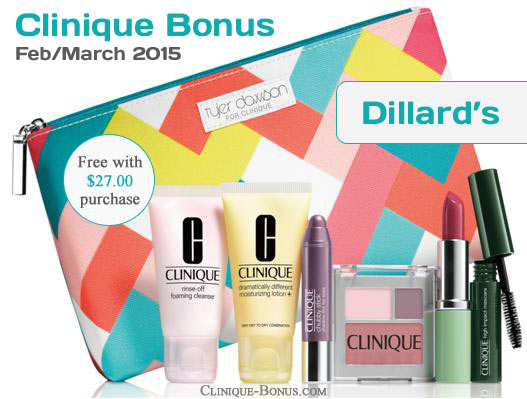 The bag is designed by Tyler Dawson. Your Choice of palette: Violets (shown) or Nudes. You can pick your gift at checkout. No coupon code required. Est. Shipping is $8.50.

Update 9/21: The gift is not available anymore. The next one will be in February/March 2015.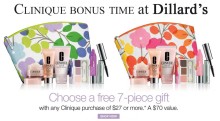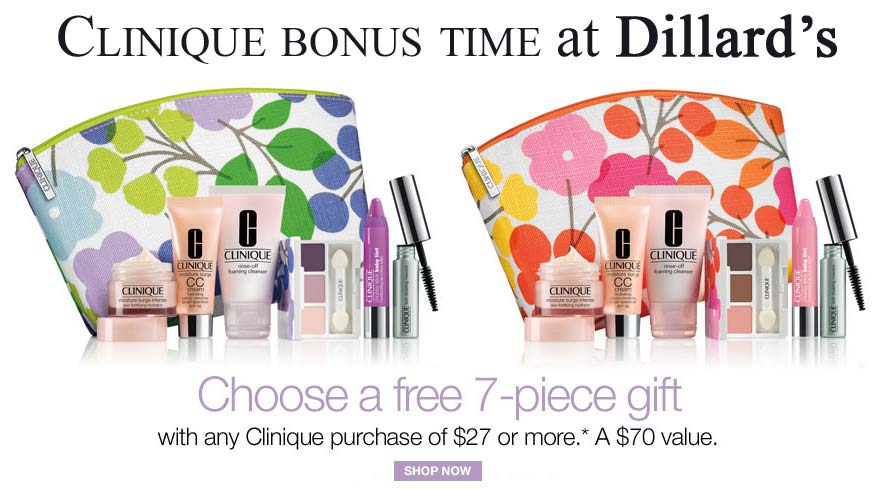 There is a new bonus time at Dillard's now. From August 31st to September 20th, 2014 or while supplies last.
The minimum purchase requirement is $27.00 and you will get these products:
Moisture surge intense
Rinse off foaming cleanser
Lash doubling mascara in black Cc cream (light, light/medium, or medium/deep)
Eye shadow trio and new chubby baby tint in either violets (flowering freesia) or pinks (budding blossom)
cosmetics bag (2 variants to choose from)