In 1938 William T. Dillard founded his first and very successful company called Dillard's. Nowadays, it is a chain of department stores which can be found throughout the U.S. With 330 stores in 29 states it is very popular all over the country. The biggest concentration of the stores is in Florida and Texas.
If you don't have Dillard's store nearby, you can order online.  They offer standard shipping for $8.50. Note that international orders are not eligible for the Clinique gift.
Advertisements
---

The Spring 2016 Clinique Bonus at Dillard's (online and instore) starts around February 26, 2016. The qualifying purchase is the same as one year ago – $27.00. You will receive a 7-pc gift (worth over $70).
With a $27 purchase receive:
a custom bag by Satchel & Sage,
All About Eyes,
Moisture Surge,
Rinse-off Foaming Cleanser,
High Impact Mascara,
YOUR CHOICE of Beyond Perfecting Foundation + Concealer in 4 shades,
YOUR CHOICE of Soft Matte Lipstick shade (in Matte Beauty or Matte Peony)
With a $55 purchase receive:
all the products listed above
All About Shadow 6-pan eye palette (worth over $25).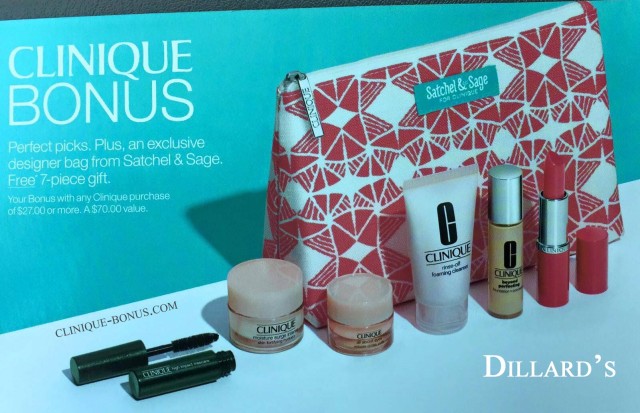 Excuse this low quality photo
Preselling starts at the beginning of February, visit or call your local Clinique counter at Dillard's.
Advertisements
---
The last Clinique GWP at Dillard's:

Update Sep 24: Not available anymore:(
Update Sep 17: It seems the stepup gift (2 Chubby Sticks) is not available anymore:(
The fall Clinique bonus at Dillard's starts September 4 and it ends on September 23, 2015. The qualifier (required purchase) remains the same – $27.00 and the gift-set (in your choice of pink or violet) is valued at $70.
It's fall. New season, new starts.
Gift-set includes:
Liquid Facial Soap Mild
Turnaround Overnight Moisturizer
High Impact Mascara – black
Brush Set – Eyeshadow Brush & Eyebrow Brush
All About Shadow Quad – choose Pink (Ballet Flats, Hazy, Raspberry Beret, Chocolate Covered Cherry) OR choose Violet (Pony Pink, Plum, Fairy Lights, Graphite)
NEW Long Last Soft Matter Lipstick – choose Pink (in Matte Magenta) OR choose Violet (in Matte Plum)
Cosmetic bag – Pink OR Violet

There is also a step-up gift available – with $55.00 purchase choose 2 full-size Chubby Sticks. Your choice of two shades from these available shades. Note: limited quantity of shades available.
 Getting the gift:
3 ways to get the gifts:
Online (recommended): Open Clinique cosmetics section on Dillard's website and add any Clinique products (in total value of $27+) in your shopping bag. Open your shopping bag. Now, you have to select the gift (Pink or Violet) by clicking on "Pick gift" blue button. Important: picking the free gift must be done before checkout (before you click on "Proceed to checkout" button). Note: Standard shipping is $8.50.
Order by phone: Call (251) 471-1551

(Clinique at Dillard's Bel Air Mall, Mobile, AL)

and ask for Clinique. Free shipping with orders over $100. Regular shipping is $8.50.
In-store: This gift is available in stores, as well. Visit Clinique counter in your nearest Dillard's store during the promo period (9/4-9/23).
---
Previous Offers at Dillard's (2013-2015):
There have been 6 Clinique promotions in the past 3 years. In 2013 you could get a gift with a $25.00 purchase. In 2014 and 2015, the minimum purchase limit was set for $27.00.

Update 3/20: Not available at Dillards anymore, but the same gift is now at Boscov's. Moreover, Boscovs offers free shipping on beauty orders above $49. Use coupon code CLINIQUE15.
The next gift with purchase at Dillard's starts February 27th, 2015 and will run until March 18th.
The components of the gift are as follows:
Dramatically different moisturizer lotion,
Rinse off foaming cleanser,
High impact mascara in black.
+ There is a gift option for color as well:
The violet gift contains: The eyeshadows Angel Eyes and Rock Violet with a chubby stick for eyes in Lavish Lilac. The blush color is Smoldering Plum and the lip color is Raspberry Glace.
The nudes gift contains: The blue shade from the Galaxy Quad with Nude Rose. The blush is Sunset Glow, with a chubby stick for eyes in Bountiful Beige and the lip color is Tenderheart.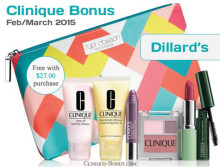 The bag is designed by Tyler Dawson. Your Choice of palette: Violets (shown) or Nudes. You can pick your gift at checkout. No coupon code required. Est. Shipping is $8.50.

Update 9/21: The gift is not available anymore. The next one will be in February/March 2015.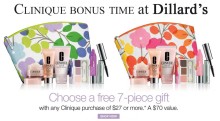 There is a new bonus time at Dillard's now. From August 31st to September 20th, 2014 or while supplies last.
The minimum purchase requirement is $27.00 and you will get these products:
Moisture surge intense
Rinse off foaming cleanser
Lash doubling mascara in black Cc cream (light, light/medium, or medium/deep)
Eye shadow trio and new chubby baby tint in either violets (flowering freesia) or pinks (budding blossom)
cosmetics bag (2 variants to choose from)

Update 1st of April: The gift has been sold out.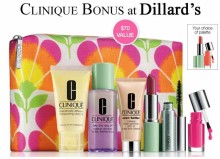 The official dates for the Spring Clinique bonus at Dillard's are: March 9 – while supplies last.

Qualifier for the gift is $27.00 and products included are:
Take the day off makeup remover for kids lashes and lips,
Dramatically different moisturizing lotion,
Lash doubling mascara in black,
Even better foundation SPF 15 (with shades in ivory, neutral, beige, and amber).

PINK CHOICE

includes Raspberry glacé lipstick and Hi sweetie nail polish. The

PEACH CHOICE

includes Sugared grapefruit lipstick and Really rio nail polish.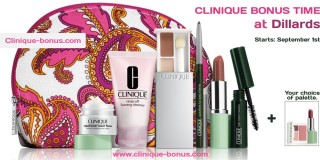 The next Fall Clinique bonus time at Dillard's is starting from September 1st, 2013. As usually, you have to make Clinique purchase of 25 USD or more to get the 7pc Gift. A $70.00 value.
Online and in-stores.
FREE* 7-piece gift! Try best of beauty winners, eye and lip colour in your choice of palette and more.
This time we have a possibility to make a choice from 2 available gifts. Simply open Dillards website and go shopping as usually. First step is to insert any Clinique products in to your shopping cart (in total value of at least $20). In the next step you will be asked to choose from 2 gifts. There is also a nice picture, so you will have an idea about what you are going to get.
Gift items:
Rinse Off Foaming Cleanser
High Impact Mascara in Black
BONUS EXCLUSIVE Cosmetic Bag
BONUS NEWS: Repairwear Laser Focus Wrinkle Correcting Eye Cream
BONUS NEWS: All About Shadow Duo in your choice of Buttered Toast or Day into Date
BONUS AWARD WINNER: Quickliner For Eyes Intense in Intense Ivy or Intense Chocolate
BONUS CHOICE: Long Last Lipstick in Sugared Maple or Different Lipstick in A Different Grape

Update: This is now expired. The next one should start in September 2013 and I will update this page.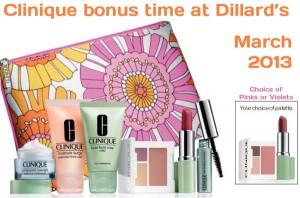 A 7-piece Free Gift with Purchase is available until March 28th with any Clinique purchase of $25.00 or more.
The bonus time officially starts on Sunday March 10. If you have made the pre-order your order will be shipped on Monday (March 11th).
What is included in the gift?
Cosmetics bag
Turnaround Overnight Radiance Moisturizer
Moisture Surge Extended Thirst Relief
Liquid Facial Soap Mild
Lash Doubling Mascara in Black
+ BONUS CHOICE OF PINKS OR VIOLETS
(Violets include: Raspberry Glace Different Lipstick, Beach Plum eyeshadow duo, and Mocha Pink blush)
(Pinks include: Think Bronze Different Lipstick, Rose Wine eyeshadow duo, and Pink Blush blush).