Clinique US and Clinique UK are great websites on which to buy skin care, cosmetics and fragrance products online.
Did you know that there is also a chance to save some extra money, get free gifts or free shipping?
Yes, with an active Clinique coupon you can get something extra. Just enter the code at the checkout page before paying for your items.
Where to enter the Clinique coupons?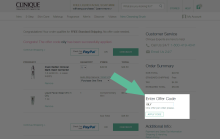 Simply add any items into your shopping bag, click on it (view cart) and find "Enter Offer Code" field at the right bottom.
Enter the code there (usually they are written in CAPITAL LETTERS) and hit the button "Apply code". You will immediately find out if the promo code is active or not.
In my case in the picture on the right I used "OILY" and the system said that the code has been successfully applied. This one has probably already expired but take a look below to find new ones…
Latest coupons and Clinique promotions:
Try this new soap for free

Purchase Clinique Sonic Cleansing Brush and you will also get a mini with your purchase.

Code: SONIC

Verified: July 31, 2015
Advertisements
---
15% OFF on your 1st order

Your first order from Clinique.com? Enter this code to get an extra 15% OFF. No min. amount required. However, I recommend to use it only if the order exceeds $33 (otherwise the code for free shipping (SKIN) is more suitable).

Code: WELCOME15

Last successful use: July 30, 2015
Advertisements
---
4% Cashback offer on Clinique.com purchase

Don't forget to shop on Clinique.com via Ebates (just go through the link) and you will automatically get 4% of your order back via your PayPal account – as a cashback.

If you are not familiar with Ebates check out this detailed tutorial here.
Advertisements
---
Free shipping code

Use promotional code "SKIN" to apply for free shipping (save approx. $6.00).

No min. purchase required.
Last successful use: July 30th, 2015.
Expired coupons:
Code: EVEN – Buy Clinique Smart products (link) and you will receive complimentary Even better skin tone correcting moisturizer SPF 20.
Code: DUO – 2 complimentary minis with 30 purchase using this code
Code: HAPPY – You could get

Clinique Happy Fragrance Mini (4ml) and Happy Body Cream Mini (15ml)

for free. Valid only 2 days.
Code: BUFF – with this promo you could get a free

mini of Sparkle skin body exfoliator.

Codes: TOTE and BAG – for more than one month you could get

two cute freebies – FREE MYO Tote w/ $55 or Cosmetics bag w/ $30 purchase.

Code: 3BEST – without any minimum purchase limit, enter this code to receive fragrance trio (in mini sizes)
Code: PINK or BLUE or BOTH –

a free bag with any $50 purchase – pink or blue

. Or both with $65 purchase.
Code: MYSTERY – get surprised by Clinique with a mystery gift + 2 minis when you spend $35 or more during Memorial weekend.

Code: EXTRA – provided you with free shipping and an extra gift 7 Day Scrub Cream mini for free.
Code: TOTE – a big free tote for your or for your mom with $55+ purchases
Code: 3BEST – 3 free fragrance trio with every order.
Code: SERUM – Free Pore Refining Solutions Serum with $25 or more purchase.
Code: GEL – Acne Solutions Clinical Clearing Gel Mini yours with $25+ purchase.
Code: MORE – with $25 purchase you could get 5pc gift + Quicklinier mini.
Codes: LIGHT or RICH – You could

receive Moisture Surge, All about eyes and your choice of Dramatically Different Moisturizing gel OR Dramatically Different Moisturizing Lotion +. Free with 25 USD purchase.

Code: MERLOT – Free

Long Last Lipstick mini in Merlot with 25 USD purchase

Code: BEYOND – Free

Clinique Universal Superprimer mini

(worth $27) with

Clinique beyond perfecting

purchase. Expired on 8th February.
Code: BODY – With only a $25 purchase you could receive free

Clinique Happy body cream mini.

Code: WELCOME15 – 15% off on your first Clinique purchase. Expired on 1st feb.
Code: TOTE –

Valentine's tote in shades of pink

. Expired on 1st February.
Code: SKINGTRIO or LIPTRIO –

3 travel sized skincare essentials or 3 lip color essentials

.
Code: LIPBAG – an exclusive Meghan Trainor's bag – free with $30.00 purchase. Expired very quickly.
Code: GREATS  – you could get 2 free makeup minis (#1 Makeup remover and #1 Mascara)
Code: RWSERUM – A great code which could be applied with no min. purchase you you could get De-aging serum and free shipping
Code: START – it was the first code available in 2015 giving you the 3 best-loved minis with 30+ purchase.
Code: REPAIR – This was the last code available in 2014 and you could receive 2 De-agers Potent serum  and Line-smoothing eye cream.

Code: DRAMA – Free Eye Kit (mascara, quickliner and makeup remover) with $30 purchase.
Code: MERRY – You could get 3 minis (Clinique Happy, Deep Comfort Cream, Moisture Surge) free with any 45 USD purchase. Expired on December 21st.
Code: INDULGE – Skincare trio: Boost-of-moisture favourite, Line-minimizing eye cream and Gentle skin polisher. Expired on December 20th.
Code: PARTY – Clinique Happy + Chubby Stick
Code: DDML – 6-week supply (1.7 oz. tube) of the best moisturizer from Clinique – DDML+
Code: DUO – two additional extra treats with Clinique 8pc gift.
Code: EXTRA – Free Lash Doubling Mascara mini
Code: MAKEUP – 3 free make-up minis.
Codes: GREEN and PURPLE – you could choose a mini cosmetics bag.
Code: OILY or DRY – free Liquid Facial Soap Mini in Oily or Dry. Expired September 5, 2014

Code: HONEY – Almost Lipstick in Black Honey
Code: GREAT – 3 mini eyes greats
Code: LIFT/YOUTH – free moisturizer with Clinique smart serum purchase
Code: Ship4Free – samples and free shipping.
Code: TOTE – Summer tote with 3 minis.
Code: EXTRA – Line-smoothing eye creams + free shipping
Code: PLUM – 4 complimentary minis with every order above $30