Clinique US and Clinique UK are great websites on which to buy skin care, cosmetics and fragrance products online.
Did you know that there is also a chance to save some extra money, get free gifts or free shipping?
Yes, with an active Clinique coupon you can get something extra. Just enter the code at the checkout page before paying for your items.
Where to enter the Clinique coupons?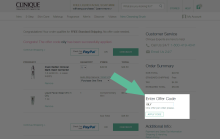 Simply add any items into your shopping bag, click on it (view cart) and find "Enter Offer Code" field at the right bottom.
Enter the code there (usually they are written in CAPITAL LETTERS) and hit the button "Apply code". You will immediately find out if the promo code is active or not.
In my case in the picture on the right I used "OILY" and the system said that the code has been successfully applied. This one has probably already expired but take a look below to find new ones…
Latest coupons and Clinique promotions:
Fresh Pretty Kit (3 minis)

Spend $35 and receive this kit – including 3 minis: Pep Start Eye Cream, Superprimer Universal Face Primer, Superbalm Moisturizing Gloss.

Code: FRESH


Las successful use: August 23, 2016
Advertisements
---
Enjoy a Free Mini Duo

Receive Moisture Surge Extended Thirst Relief Mini and All About Eyes mini – free with $35 purchase


Code: WINK


Last successful use:August 23, 2016
Advertisements
---
Free 4 de-agers

Receive this kit (Mini Clinique Smart multi-taskers lift, brighten, smooth lines, even skin tone) with any $45 purchase on Clinique.com


Code: SMARTKIT


Last successful use:August 23, 2016
Advertisements
---
15% OFF your 1st order

Your first order from Clinique.com? Enter this code to get an extra 15% OFF. No min. amount required.

Code: WELCOME15

Last successful use: August 23, 2016
4% Cashback offer on Clinique.com purchase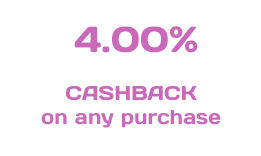 Don't forget to shop on Clinique.com via Ebates (just go through the link) and you will automatically get 4% cashback credited back on your PayPal account.
Expired coupons:
Code: PRETTY – a free summer kit

pretty kit (including Clinique Happy, lipstick and mascara) – yours free with any $55 or more Clinique purchase

Code: 2SMART –

free Clinique Smart Day/Night mini duo

Codes: EXTRAMILD, MILD, OILYSKIN, FOAM, PURIFY or SCRUB – you could choose from 6 custom cleanser minis – free with $35 purchase

Code: WOW – free Wow Kit including

T

urnaround Revitalizing Lotion + Mascara + Almost Lipstick in Black Honey free with $65 purchase.
Codes: GEL or LOTION or CREAM  – you could

choose your moisturizer + get Chubby Stick for lips in Mega Melon.

Code: HITS – A free summer hits kit including

Soothing Shine, Humidity-proof Lashes, Easy Eye Shadow.

Code: TREATS – Get Clinique Smart mini + a cosmetic bag – free with any $65 purchase.
Code: SMART –

Clinique Smart serum that plumps and protects + does-it-all serum – with your $65 purchase.

Codes: PLUM or PINK –

choose Matte Plum mini or Matte Beauty mini lipstick.

Codes: IVORY or NEUTRAL or GOLDEN or BEIGE – you could choose a mini with entering one of these codes – free with $40 purchase.
Code: GRAD – fresh start kit (including

Pep-Start Eye Cream, Pore Refining Solutions Charcoal Mask, 7 Day Scrub Cream Rinse-Off Formula and Moisture Surge Extended Thirst Relief) yours free with any $40 purchase.

Code: GREATS – a free kit of

Clinique smart custom-repair eye treatment, DDMGel, Superprimer Universal Face Primer, Calyx) with any $45 purchase.

Code: VIP –

While there was the bonus time direct from Clinique.com – you could use this code to receive extra 3 gifts. Yours free with any $60+ purchase

Code: SMART – night/day duo. 2

Clinique Smart minis

Code: MUSIC –

you could receive a beuty kit (including: Pep-Start Eye Cream Mini 3ml, High Impact Mascara and Lash Primer Dual-Ended Mini and

Superbalm Moisturizing Gloss Mini in Raspberry) free with any $40 order.
Code: SKIN – this code was active for a long time, unfortunately now it is expired. You could get free standard shipping (save approx. $6.00), no matter how big or small your purchase was.
Codes: PINK or TEAL – you could choose your free tote. With $55+ purchase.
Code: SMART –

receive 20-day supply of Clinique Smart™ Custom-Repair Serum

Code: SPRING –

Cosmetics bag and

Clinique Pop™ Lip Colour + Primer Sample
Code: SWAG – you could receive a mini (6pc) Clinique bonus direct from Clinique.com with this coupon.
Code: 2CHUBBY – with no minimum spending you could get 2 Chubby sticks for free
Code: CLEAR – with any purchase a free

Anti-blemish solutions clinical cleaning gel

Code: 3STEP –

Very dry/dry, Dry combination, Combination oily, or oily solution for your skin

.
Code: LIPS –

Long last soft matte lipstick in Matte Crimson and Almost lipstick in Black Honey – 2 bestselling minis now yours free with any $35 purchase

Code: 2SMART –

10-day supply of Clinique smart (custom-repair serum and eye treatment)

Codes: OILY or DRY – you could choose one of two skincare kit (including 3 minis) depending on your skin type – free with $25 purchase.
Code: 2DAY – all December you could enjoy free express delivery when your order was over $100.
Code: BEST –

4 Clinique greats in travel sizes. Yours free with a $35 order.

Code: GLAM – This code provided you with

Glam Squad (Make up remover, Chubby stick, Mascara and Lipstick) – free with any $75 order.

Code: PRETTY – be pretty with

a mascara (for long, lush lashes), a lipstick (a party-perfect matte red) and Clinique Happy body cream (head-to-toe happiness) – all yours free with $45 order.

Code: MERRY – Free

3 minis (long last lipstick, chubby stick and almost lipstick) with only $25 purchases.

Code: TRAVEL – makeup remover and a mascara – your with $25 purchase using this code.
Code: TWO – 2 minis; chubby stick and makeup remover.
Code: CLEAR – you could try free Acne Solutions Clinical Clearing Gel Mini (3 ml) free with any $25+ purchase.
Codes: OILY or DRY – travel size kit including custom-fit eye cream, a targeted boost of hydration, plus an exfoliator.
Code: PRIME – with any foundation purchase you could get free Brush, Face Primer Mini and Three Shades.
Code: GLOW –

2 free minis- Daytime and Overnight Revitalizing Moisturizers

Codes: NATURAL or BOLD – you could enter one of these codes to get your choice of chubby sticks eye and lip duo.
Codes: DRY or OILY –

you could choose DDML+ and All about eyes rich or DDM gel and All about eyes with one of these coupons.

Codes: PINK or BLUE – with any $50 spend you could choose a free blue or pink bag.
Code: TRIO – expired now but you had the chance to get 3 look-pretty essentials (

Chubby stick for lips and another 2 skincare minis

).
Codes: EYE or LIP – you could choose c

hubby stick for eyes or lips with any $35 makeup purchase.

Code: SONIC – Purchase

Clinique Sonic Cleansing Brush and receive a mini for free with the order.

Code: EVEN – Buy Clinique Smart products (link) and you will receive complimentary Even better skin tone correcting moisturizer SPF 20.
Code: DUO – 2 complimentary minis with 30 purchase using this code
Code: HAPPY – You could get

Clinique Happy Fragrance Mini (4ml) and Happy Body Cream Mini (15ml)

for free. Valid only 2 days.
Code: BUFF – with this promo you could get a free

mini of Sparkle skin body exfoliator.

Codes: TOTE and BAG – for more than one month you could get

two cute freebies – FREE MYO Tote w/ $55 or Cosmetics bag w/ $30 purchase.

Code: 3BEST – without any minimum purchase limit, enter this code to receive fragrance trio (in mini sizes)