Besides Clinique promotions in the U.S. there are also bonus times happening in Canada from time to time. The most popular Canadian bonus times are usually at The Bay and Sears and direct from Clinique.ca (update about Holt Renfrew: it seems that HR will no longer offer any bonuses in Canada). These Canadian department stores (The Bay and Sears) don't usually offer free shipping, unless you are a member of their bonus/loyalty programs.
They offer Clinique gift regularly at 2 times a year. However, The (Hudson's) Bay has a special summer gift sometimes. There is a chance that we may see even more summer gifts from other stores, as well.
Advertisements
---
Update: The offer is not available anymore. The next bonus time in Canada will most likely be at The Hudson's Bay starting March 15th, 2017 with a $34.00 purchase.
Clinique.ca is currently offering a free 7-piece bonus plus free shipping with online purchases of $34+.
A complete look, to go.
You can also choose your shades.
If you will spend more ($50) you can enter coupon code MORE and add 2 treats (Makeup remover, fragrance) + free shipping.
Offer is subject to availability. Note: The gift is the same gifts as being offered on Clinique.com US website right now.
Advertisements
---
---
Previous Canadian bonus times in 2014 – 2016
If you wish to view and compare previous gifts, click on the button to show those offers. We list the latest gifts which were available no more than 2 years ago.

It's here. The Clinique Bonus at Sears CA is available online and in-stores now through November 1, 2016. The minimum qualifying  purchase is $34 (note it was $31.00 in April '16) and the value of the 7-pc gift is $90.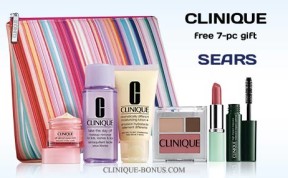 Gift includes:
DDML+
Take The Day Off Makeup Remover
All About Eyes Rich Eye Cream
High Impact Mascara
Clinique Colour Compact Eye Shadow Duo plus Superwearable Blush
Clinique Lipstick – Bamboo Pink
Exclusive Cosmetics Bag
The official bonus dates: October 13 – November 1, 2016.
Note: If you make the purchase of $34+ on the Sears website and the gift is not added into your shopping bag, try to open this page and click on the "Add to Card" button.
The shipping is $6.95 to anywhere in Canada, free for orders over $99.

There is currently Fall Clinique Bonus at The Hudson's Bay (started on September 13, while quantities last).
It is a 7-pc. gift set (a $95 value) – yours free with any $34 purchase in Clinique products (it was $31 in 2015) online or in-stores. There are two variants of the gift: Sassy (pictured below) and Sweet.
The gifts include:
Smart™ Custom SPF 15 Moisturizer,
High Impact Mascara,
Take the Day Off Makeup Remover for Lids, Lashes & Lips,
Happy Eau de Perfume,
BONUS CHOICE: All About Shadow + Blush compact in Blush/Mink/Smoldering Plum or in Fog/Grey/Iced Lotus
BONUS CHOICE: Mini Pop Glaze Sheer Lip Colour + Primer in Sugar Plum or Bubble Gum
BONUS CHOICE: choose from 2 cosmetic bags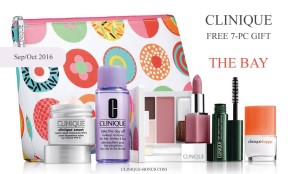 Spend more, get more
Plus, receive your bonus gift with any $75+ Clinique purchase:
Choose your full-size Long Last Glosswear (in your choice of 3 shades) and
also receive Clinique Happy™ Body Cream
Shipping is free with any $49+ beauty orders, otherwise $5.95. No promo code needed. The gift should be added automatically prior to check out, if not, it is out of stock.

The current bonus time is direct from Clinique.ca website; make any purchase of $31 and you will receive this free 7-piece gift. While supplies last.
A bright, bold print by artist Georgia Perry
You can also choose your eye and lip shades: Cherry Pop or Love Pop.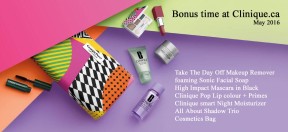 You will also receive free shipping (no promo code is required).
However, enter promo code MORE if you want to receive an additional two freebies:  #1 moisturizer + #1 fragrance. Valid only with purchase of $55 or more.

There is a new Clinique Bonus starting from April 21, 2016 at SEARS CA. Spend $31 and you will receive this free 7-piece gift (valued at $85) with your choice of Lipstick & Eyeshadow. The bonus time runs until May 9, 2016.
A fresh take on spring, by artist Lulu DK
There are two options:
Go Bold – receive a lipstick in the shade Matte Crimson with AA Shadow Duo in Black Honey/Amber
Go Nude – receive lipstick in a neutral pink shade (Matte Beauty) with AA Shadow Duo in Rainforest/Seashell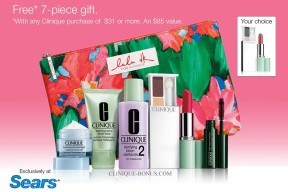 The gift includes: Cosmetics bag, Foaming Sonic Facial Soap, Turnaround Overnight Revitalizing Moisturizer, Clarifying Lotion 2, High Impact Mascara and your choice of Eye and Lip Colour.

The first regular Clinique bonus promotion in 2016 is at The Hudson's Bay from Wednesday – February 3, 2016. While quantities last.
The qualifier for the GWP is the same as one year ago – $31.00. You will receive this 7-piece gift (an $85 value). You can choose your eye shadow and lipstick:
Choice 1 (Soft pop):
Choice 2 (Bold pop):

All About Shadow Trio in Starstruck, At Dusk, and Black Honey from Morning Java Quad
Clinique Pop Lip Colour + Primer in Melon Pop

All About Shadow Trio in Seashell and Tarnished Gold from Starlight Starbright Duo and Rainforest from Nightcap Duo
Clinique Pop Lip Colour + Primer in Love Pop
+ you will also receive:
Clinique cosmetics bag
Smart Night Custom-Repair Moisturizer, 15 ml
Rinse-Off Foaming Cleanser, 30 ml
Dramatically Different Moisturizing Lotion+, 30 ml
High Impact Mascara in Black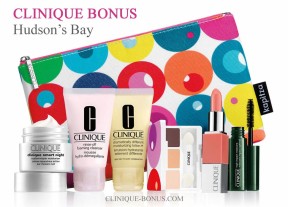 Spend more, get more
Receive a deluxe size of Moisture Surge Extended Thirst Relief or Moisture Surge Intense Skin Fortifying Hydrator with your $75+ purchase.
The gift(s) will be added automatically at checkout. Shipping is $5.95, free on beauty orders of $49 or more.

Update Dec 7th: The promotion on Clinique.ca has ended.
Get free 7-piece gift + free shipping from Clinique.ca. Yours with any $31 purchase. Offer is valid from November 27, 2015 while supplies last.

The gift includes:
Limited Edition All About Shadow™ 6-Pan Palette
Dramatically Different Moisturizing Lotion+™
Moisture Surge™ Extended Thirst Relief
High Impact™ Mascara in Black
Limited Edition Long Last Soft Matte Lipstick (Choose Shade)
Moisture Surge™ Overnight Mask
Exclusive Cosmetics Bag
Choose shade:
Matte Petal (sold out)
Matte Magenta
Matte Plum
Extra gift: spend $50 and you will also receive Clinique Happy.
Offers available to Canada residents only. While supplies last. Online only.

Update Nov 3: The promotion has ended.
Update Oct 18: The gift still doesn't seem to be live on Sears.ca website, but two sources confirmed me that the bonus time is running from October 15 to November 2, 2015. Probably in-stores only (?).
The next Fall bonus time in CA is starting on October 15, 2015 at Sears CA. The minimum purchase of $31 is required to get this 7-pc complimentary gift.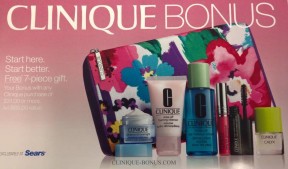 Excuse this low quality picture.
The gift should include a floral bag with these products: Rinse off foaming cleanser, rinse off eye makeup solvent, turnaround overnight moisturizer, high impact mascara, lipgloss and calyx perfume!
More info and ordering
Visit your nearest Clinique counter at Sears or make a call: (807) 622-6811 extension #280 (Intercity Shopping Centre, Thunder Bay, Ontario) to make an order. They are also ready to answer any questions you might have about this promo.
Update Sep 28: The Bay website no longer offers the gift.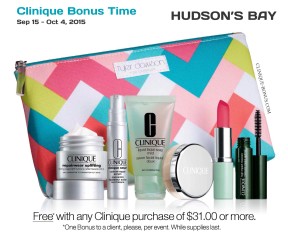 The next Canadian bonus time is going on now at Hudson's Bay (TheBay.com). It runs from September 15 – October 4, 2015 with a minimum purchase of $31.00.
The gift is valued at $85 and it comes with your choice of Repairwear Uplift SPF 15 or Even Better Cream SPF 20, Liquid Facial Soap Mild, Smart Custom Repair Serum, Long Last Soft Matte Lipstick in Matte Peony, High Impact Mascara in Black and a Blended Face Powder. All packed in a pattern bag designed by Tyler Dawson.
You will also have an option to choose 3 free samples. Shipping from The Bay is free for orders over $100, otherwise $5.95.

Update Jun 5th: The gift might be sold out, check the availability in-stores.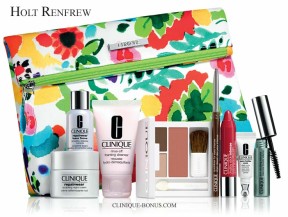 From May 29 until June 4, 2015 there is a new Canadian bonus at Holt Renfrew. The qualifier (min. required spend) is $45.00 and you can get a 9-pc Clinique gift for free – includes the Clinique new Sculpting Night Cream, vibrant color and much more.
Freshly picked – to suits YOUR needs
The gift contains:
Cosmetic Bag
Repairwear Sculpting Night Cream
Repairwear Laser Focus Serum
Rinse Off Foaming Cleanser
Colour Compact with 2 Eyeshadows ( Beige and brown shade) and Fig blush
Intense Chocolate Eye Liner
Mightiest Maraschino Intense Chubby Stick for lips
Even Better Eyes Dark Circle Correcter Eye Cream
Lash Doubling Mascara
Limited quantities, while supplies last. Not possible to shop online. You have to visit Holt Renfrew with Clinique counters in these locations: Calgary, Edmonton, Montreal, Toronto – 50 Bloor St., Toronto – Sherway Gardens, Toronto – Yorkdale or Vancouver.

Update 5/12: Sears bonus is not available anymore.
The next Canadian Clinique bonus will be at Sears CA. The bonus dates are April 23 – May 11, 2015 and the minimum purchase is $31 to receive a 7-piece Clinique gift (an $85 value).
Hydration helpers, trendy colour for eyes, cheeks and lips, plus more
Select your 7-piece gift (with $31.00 purchase):
Violet gift includes:
Nudes Gift includes:

Lipstick in Surprise
Eyeshadow Duo and Blush in Violet

Lipstick in Tenderheart
Eyeshadow Duo and Blush in Nude
Plus every gift includes:
Repairwear Laser Focus Moisturizer
Dramatically Different Moisturizing Lotion
Take the Day off Makeup Remover for lids, lashes and lips
High Impact Mascara
Exclusive Cosmetics bag

Get More (with $75.00 purchase):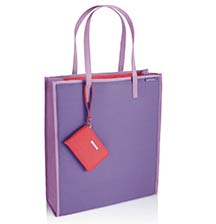 Spend $75 or more on Clinique products now and you will receive a tote bag in purple.
While supplies last.
---
How to get the gift(s)?
3 options to choose from:
On-line (recommended) – Go to Sears.ca website and select your gift. Then continue shopping and make a purchase over $31.00. Sears.ca offers shipping for as low as $7.95 to anywhere in Canada or you can also use "In store pick up" for $3.95 and have your order shipped to your choice of over 1400 locations across Canada.
In-store: visit your local Clinique counter at Sears.
By phone: Call your preferred Clinique counter at Sears and make a purchase over the phone.

Update: no longer available.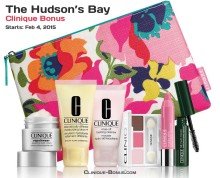 Spring bonus at The Bay (Hudson's Bay) starts on Wednesday – February 4, 2015. Ends February 18th, 2015 or while quantities last.

You have to make Clinique purchase in total value of $31.00 (the same required spend as in 2013 & 2014) to receive an 7-piece gift.
Gift items:
BONUS NEWS Repairwear Sculpting Night Cream
BONUS EXCLUSIVE Cosmetics Bag
Dramatically Different Moisturizing Lotion+
Rinse-Off Foaming Cleanser
All About Shadow Trio plus a mouthwatering Chubby Stick (bonus choice)
Moisturizing Lip Colour Balm together in Nude or Pink colour collections (bonus choice)
High Impact Mascara in Black
The gift is available in 2 colour collections: Pinks (shown in the photo above) and Green. You can choose your favorite one at checkout.
Standard shipping is $5.95 (estimated). Free on orders above $99. If you are Hudson's Bay MasterCard® or Hudson's Bay Credit Card holder, you can get benefits such as free shipping on purchase of $29 or more (applies on cosmetics or fragrance purchases only).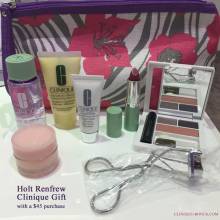 Thanks to a helpful reader who has shared a photo of the next Clinique Bonus at Holt Renfrew in this post on my facebook page. It seems that this promotion will be available in all Holt Renfrews in Canada, however, I recommend you to check the availability at the Clinique counter personally or by phone.
The promotion runs from Jan 9 until Jan 18th, 2015. The gift is yours free with a $45 purchase. Unfortunately, I don't have more information about the gift items.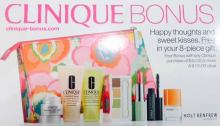 Update Dec 11: Be sure to check the availability of the gift before purchase as it might be sold out.
Bonus Gift at Holt Renfrew starts on Black Friday – November 28, 2014 with $45.00 minimum spend.
Happy thoughts and sweet kisses.
The gift doesn't appear to be available online, so you have to visit Clinique counters at HOLTS personally.
Something about the company: Sears Canada was established in 1952 as a joint-venture company with great support from Sears U.S. Although, this store is operating in the United States as well, the Clinique bonus promotions are happening in Canada more frequently than in the U.S.
Sear has its stores in all provinces and territories across Canada. With over 196+ department stores we could compare this network to the Macy's or Nordstrom in United States.