Besides Clinique promotions in the U.S. there are also bonus times happening in Canada from time to time. The most popular Canadian bonus times are usually at The Bay and Sears.

The next bonus time in Canada will be at The Hudson's Bay starting soon – February 4, 2015.
However, you can pre-order now – visit your nearest Clinique counter at The Bay and ask the staff for more details.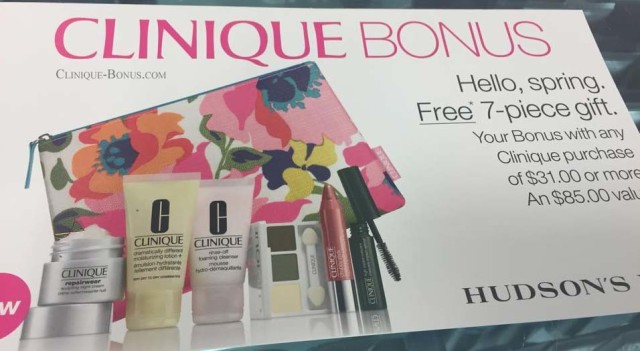 Or you can wait and order online from 2/4/15. The min. purchase is $31.00 to get a 7-piece gift. The promo period will expire on February 21st, 2015.
Advertisements
---
Expired offers: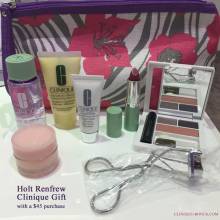 Thanks to a helpful reader who has shared a photo of the next Clinique Bonus at Holt Renfrew in this post on my facebook page. It seems that this promotion will be available in all Holt Renfrews in Canada, however, I recommend you to check the availability at the Clinique counter personally or by phone.
The promotion is from January 9-18, 2015. The gift is yours free with a $45 purchase. Unfortunately, I don't have more information about the gift items.
---
The past Canadian bonus times in 2014
Click to show more Clinique bonus times >>>

Update Dec 11: Be sure to check the availability of the gift before purchase as it might be sold out.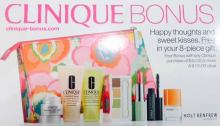 Bonus Gift at Holt Renfrew starts on Black Friday – November 28, 2014 with $45.00 minimum spend.
Happy thoughts and sweet kisses.
The gift doesn't appear to be available online, so you have to visit Clinique counters at HOLTS personally.


Update November 5: Sold out.
October 16th is the date when the next bonus time at Sears starts online. Good news: The minimum qualifying  purchase remains the same ($31.00) and the fall gift will be a 7-piece gift, an $85.00 value.
Gift includes:
BONUS CHOICE

Cosmetics Bag (It's a feast of colour for fall in your choice of bag.)
Repairwear Uplifting Firmling Cream (The bounce is back thanks to this moisturizing cream that helps visibly tighten, lift and firm.)
High Impact Mascara in Black (Kicks up the volume and length of each and every lash for a look that's lusher, plusher, bolder.)
DDML+
Clinique Happy Perfume Spray

BONUS CHOICE:

All About Shadow Trio in Violets or Pinks (Three eye shadow favourites in one can't-buy-it-anywhere compact.

BONUS CHOICE:

Different Lipstick in a Different Grape or Raspberry Glacé
The official bonus dates: October 16 – November 4, 2014. No coupon code required on the Sears website. The shipping is $7.95 to anywhere in Canada.

Update: This is no longer available.
The next bonus time in Canada is starting at The Bay (Hudson's Bay) and in-stores from September 16, 2014. The promotion period is: Sep 16 – Oct 4.
Meet our new Chubby Baby, try got-to-have-it looks for eyes and cheeks, plus more in your 7 – piece gift.
It will be a 7-pc. gift, free with $31 purchase made online or instores.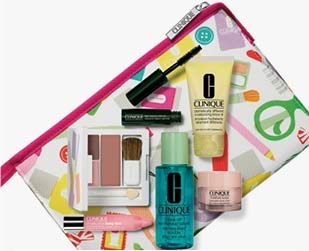 Gift includes:
Moisture Surge Extended Thirst Relief cream-gel
Dramatically Different Moisturizing Lotion+ (DDML+)
Rinse-Off Eye Makeup Solvent
High Impact Mascara in Black

Choose your shades:

Colour Compact (shade: Rock Violet & Graphite, Blush: New Clover or shade: Strawberry Fudge Duo, Blush: Mocha Pink) and Chubby Stick Baby Tint Moisturizing Lip Colour Balm (pink or purple tube)
A Cosmetic Bag
Plus, you will get free shipping. Quantities are limited. One per customer.

Update: Unfortunately, this offer is no longer available.
After the summer gift at Macys, also The Bay offers its summer gift for the first time ever! The last promotion at this store was in February and the next one will be in October. If you dont want to wait, grab this offer.
It is 5-piece gift with $31.00 purchase online only at The Bay (Hudson's Bay).

Limited quantities, value of $50, one pre customer.

Starting today (May 30) at your Clinique counter at Holt Renfrew. The website of Holts doesn't provide online shopping, so you have to visit the Clinique counter in person.

May 30 – June 5, 2014


Holt Renfrew stores, Canada


8-pc gift with $45 purchase.
There are no more information about the gift and products included. You can check the image below to find it out what will be included: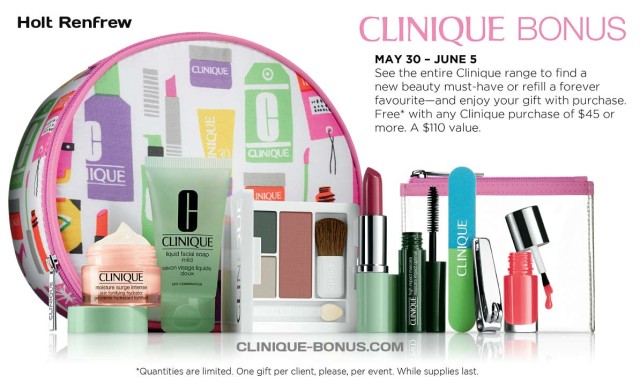 You can find Holt Renfrew department stores in these cities: Calgary, Edmonton, Montreal, Ottawa, Quebec City, Toronto, Vancouver, Winnipeg.

Update: Sold out.
The next bonus (prime) at Sears starts 24/4/2014. It is a 7-pc. gift with an approximate retail value of $85.00.
Yours with any $31.00 purchase during the promo period (April 24th – May 12th, 2014) at Sears online or in-stores.
Healthy skin, a choice of eye and lip colour, and more in your 7-piece gift.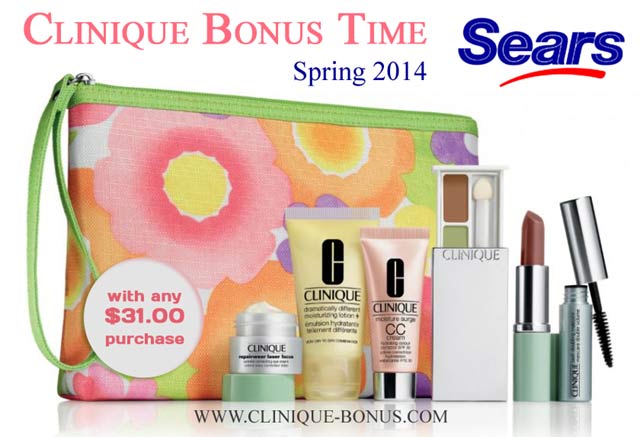 The gift includes:
Cosmetics bag
Lash Doubling Mascara in Black
Repairwear Laser Focus Eye Cream

(5 mL)

Moisture Surge CC Cream in Light Medium

(15 mL)

Dramatically Different Moisturizing Lotion+

(30 mL)

BONUS CHOICE:

Different lipstick in Tenderheart or Glazed Berry

BONUS CHOICE:

 Chrome Slide Duo Compact (Lemongrass or Turquoise)
---
How to get the bonus?
3 options to choose from:
On-line – make Clinique purchase at the Sears.ca website over $31.00 and choose your gift (Lemongrass or Turquoise). Sears.ca offers shipping for as low as $7.95 to anywhere in Canada or you can also use "In store pick up" for $3.95 and have your order shipped to your choice of over 1400 locations across Canada.
In-store: visit your local Clinique counter at Sears.
By phone: Call your nearest Clinique counter at Sears and make a purchase over the phone.


Update: This offer expired.
The next Spring bonus 2014 at The Bay (Hudson's Bay) is starting on Wednesday – February 5 until February 23, 2014.

You have to make a purchase of $31.00 (remains the same as in 2013) to get a sneak peek of Spring 2014 Bonus (includes also the #1 best-selling moisturizer). The offer is available online at The Bay until February 23th.
The bonus consists of these seven Clinique items:
Bonus Exclusive Cosmetics Bag:
Even Better Moisturizer
Dramatically Different Moisturizing Lotion+
Take the Day Off makeup Remover for Lids, Lashes and Lips.
Clinique Colour Compact in Plums or Nudes
Chubby Stick Intense in Plushest Punch or Heftiest Hibiscus
High Impact Mascara in Black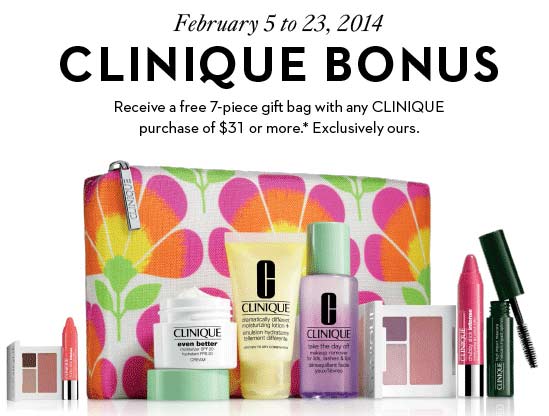 An $85.00 value. One per customer, per even, while supplies last.
You will be able to choose from 2 shades:
Twilight Mauve/Brandied Plum, Smoldering Plum and Plushest Punch
Neutral Territory, Sunset Glow and Heftiest Hibiscus
You will be asked to choose the shades automatically, after adding Clinique product(s) in total value of $31 or more.
---
Video review of the gift items
To get a better picture of the products inside the bag, watch this

Event 1 – Pre-order before Nov 24
Receive these products with Purchase of $50 or more: Rinse-Off Eye Makeup Solvent, Rinse off Foaming Cleanser, Moisture Surge Intense, High Impact Mascara, Chuby stick in Curviest Caramel, Happy Perfume.
+ Step-up gift with $75 or more: Additional Compact Mirror-brush, Clinique Tote. + Additional discount with a purchase of 75 dol. and more.

Something extra – Gala gift: Purchase a Gala Ticket for $10 ($8 towards purchase, $2 towards Cancer Foundation) and have a chance to win a cosmetics basket or a Michael Kors Watch.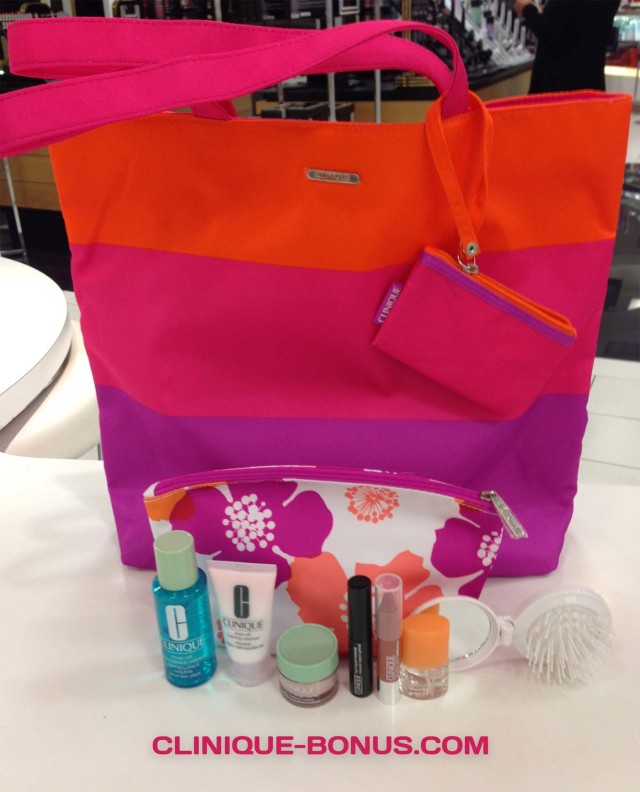 ---
Event 2 – Merry and Bright
Call the same number to set an in-person appointment for a free skin care consultation and receive a Chubby Stick Lipstick and a Mascara with a purchase of $40 dol. or more.
November 20- December 17 or until quantities last. Call-in to set an appointment for a consultation,  (604) 436-1196, ext 313. and mention where you heard about this.

Here is the information for the upcoming promotions at Holts. Its more confusing this time as there are two different gifts on two separate weekends (November 1st – 3rd, November 6th – 13th) for two separate events!
First offer (November 1st – 3rd)
$65.00 minimum spend.  Comes with a 15% promotional gift card.
Beauty Bag
High Impact Mascara (full size)
Black Diamond Eye Liner (Full size)
Take the day off make up remover
Mild Liquid Facial Soap
All about eyes serum
Repair wear laser focus serum 15ml
Bamboo pink Lipstick (Full size)
Compact with 2 eye shadows and New Clover blush
Second offer (November 6th – 13th)
Repairwear experts, luscious shades for eyes and lips, and more.
Free* with any Clinique purchase of $45.00 or more. A value of $110.00.
Beauty Bag
Repair wear laser focus eye cream
Repair wear uplifting firming cream
Mild liquid facial soap
Take the day off make up remover
Smoldering Plum blush
Black Honey lipstick
High impact Mascara
Pre ordering is active!
Now as a bonus if you pre-order both, you will receive a sample of the Dramatically different moisturizing lotion+ or Gel (depending on your skin type, while supplies last).
Also, the promotional gift card you receive during the first event can be redeemed during the second event!
I know this is confusing and very different to normal years, so I recommend any one interested phoning Holts and talking to them, or email Natalie at Natalie.Baggott@holtrenfrew.com. Phone 4032697341 ext 51508.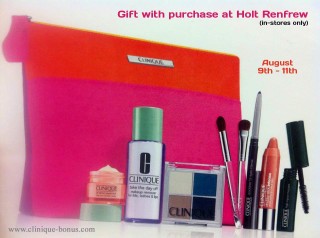 Update: The bonus time is now over

A very exclusive Clinique gift will be available during weekend (August 9 – August 11) at Holt Renfrew.
It is is only available in store, and may vary from each location. This information is true to the Clinique Counter at Holt Renfrew in Calgary.
It will be available only for 3 days, so I highly recommend preorder to reserve this gift.
With $75 purchase you will receive:
Take the day off make up remover for lids lashes and lips – 50ml
All about eyes rich – 7ml
Chubby stick intense 01 curviest caramel – 1/2 size
Quickliner for eyes intense ebony – full size
Chubby stick intense 01 curviest caramel – 1/2 size
high impact mascara – 1/2 size
All about shadow quad, off white shade, turquoise blue, soft taupe brown and deep blue colours
set of 2 travel eye make up brushes
Clinique cosmetics bag
+ exclusively for my readers: extra palette in the gift, consisting of:
a pale pink eyeshadow,
a deep plum purple and
new clover pink blush
Just mention my website (clinique-bonus.com) when ordering to apply for these extras.
---

How to pre-order this bonus?
In order to reserve the gift please call 4032697341 ext 51508 and ask for Natalie.
Shipping costs $7.00 within Calgary city limits. Outside the city or anywhere else in Canada it will cost $12.00. If you have a Holt Renfrew amex and spend over $100 it will be free delivery within Canada.
Sears
A good Canadian department store is Sears. Sears Canada was established in 1952 as a joint-venture company with great support from Sears U.S. Although, this store is operating in the United States as well, the Clinique bonus promotions are happening in Canada more frequently than in the U.S.
Sear has its stores in all provinces and territories across Canada. With over 196+ department stores we could compare this network to the Macy's or Nordstrom in United States.