Belk was founded in 1888 in United States by William Henry Belk. Later, William with his brother (invited as a business partner, as well) tried bargain sales as the biggest advantage of their company. With really great amount of dollars to spend on advertising every month their bossiness was growing.
Now in over 300+ departments stores, Belk is offering anything from Women/Men fashion, Jewelry, Watches, Shoes….and beauty products.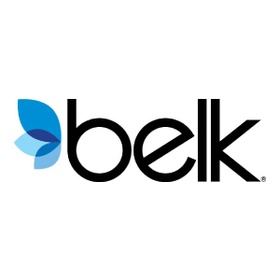 The next bonus:

Update Sep 24: This bonus (with the choices) is now available at Von Maur with free shipping.
Update Aug 27th: Gift is not available online. It might be still in some stores, though.
It has been a while since the last gift at Belk Clinique was on (to be exact 6 months). The next bonus at Belk has started on August 6, 2013.
Make $25.00 purchase of any Clinique products and you will receive 7-pc gift set ($70 value):
All gifts include:
Choose your colour:

Exclusive Cosmetic Bag
Award Winner Turnaround Overnight Radiance Moisturizer
Take The Day Off Makeup Remover For Lids, Lashes & Lips
Repairwear Laser Focus: Smooths, Restores, Corrects
High Impact Mascara in Black

Soft-Pressed Powder Blusher in New Clover or Pink Blush

Different Lipstick in Raspberry Glace or Think Bronze High
How to get the Belk's bonus?
3 ways to choose from:
On-line – purchase any Clinique products over $25.00 on the Belk website and the bonus should automatically appear in your shopping bag. If not, click on the shopping bag and under the selected products there should be a link "Add your free gift now >>". Click on it and choose your preferred colour.
In-store: visit your local Clinique counter at Belk. Find your nearest store here.
By phone: call (601) 991-2017 Ext. 267 and ask for Kayla.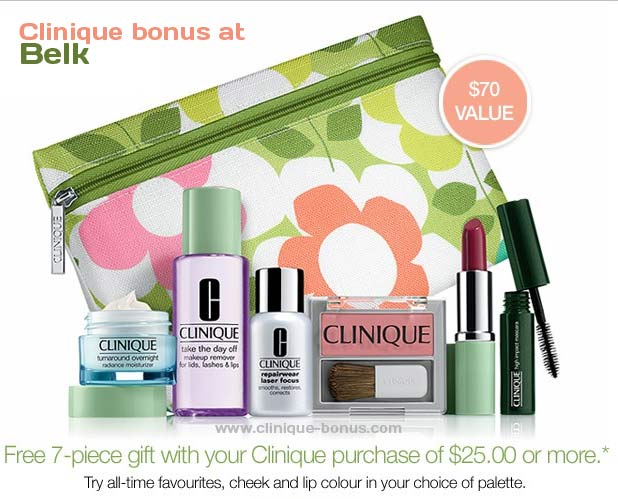 Update Feb 14, 2013: Bonus gift-set is still available. Moreover get extra 15% off entire order – use Belk Coupon code: 99421654. This is not a Valentines offer. The promo code should be working long-term.
Make $25 Clinique purchase and get a FREE spring-perfect cosmetic bag filled with an assortment of Clinique products! A bonus valued at $65! Quantities are limited. Offer also available online at the Belk website.
Promotion should be available until February 24, but I think it will be sold out in just few days…However you can make a pre-order and secure this bonus gift for yourself.
Belk is taking pre-sale orders now (until February 1), choose your gift (pinks or violets) but you don't get your product or gift till February 5, 2013. Not sure if this pre-ordering is available in all Belk stores but they can still ship orders, too. It is not just locally.
How to make a pre-order?
Purchase $25 or more and choose between your choice of the pink and violet gifts. Purchases of $50 or more receives free shipping. Call (601) 991-2017 ext 267 and ask for Javelyn.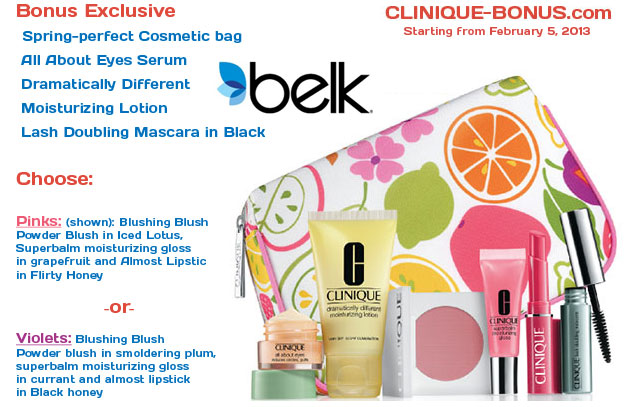 Yes, it is the same bonus as in Stage stores few weeks ago.
History of Clinique promotions at this department store:
July 31st – August 19th – You could choose from 4 variations of Clinique bonus. Each valued at 65 USD.