Belk was founded in 1888 in the United States by William Henry Belk. Later, William with his brother (who was invited into the company as a business partner) found bargain sales to be the biggest advantage of their company. With lots of money to spend on advertising every month their business was growing.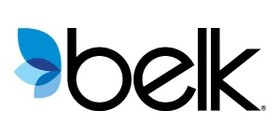 Now they have over 300+ departments stores. Belk is offering anything from Women/Men fashion, Jewelry, Watches, Shoes….and beauty products. They also offer Clinique gift with purchase (was $25 in 2013, it's $27 in 2015) two times per year and most of the time, you can get free shipping online, without the use of a coupon code.
Advertisements
---

Online only, for a limited time at Belk you can receive this 8-piece gift (a $70 value) – free with any $27 Clinique purchase.
Components:
Cosmetics Bag
Mini Cosmetics Bag
All About Eyes
Dramatically Different Moisturizing Lotion+
Clinique Colour Compact in Nudes
Different Lipstick in Angel Red
Lash Doubling Mascara in Black
Clinique Happy Perfume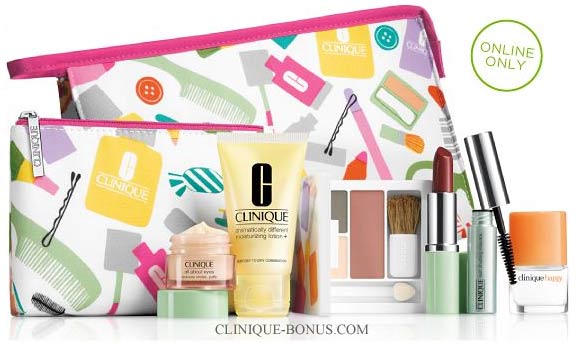 Note: we saw similar gift (the same products with slightly different components) at Macy's one year ago.
You will get free shipping from Belk.
Advertisements
---
---
The past promotions at Belk (2013-2015):
The purchase has increased by 2.00 USD over the years, however, the value of the gift has increased, as well. Belk always offers an option to choose 1 or more gift items – usually there are pinks, nudes, violets variants to choose from, giving the store a bit more of a variety than some of the other department stores.
To see which products were included in the previous gifts offered at Belk, click the button "Load more".

Update August 23rd: The promotion officially ends today, but you might find the gift available online and in some stores, while supplies last.
The next gift at Belk starts August 3rd, 2015. The minimum qualifying purchase is $27.00 (the same as one year ago) and you will receive 7-piece Clinique gift with your choice of shades (Pink or Nude).
A fresh start to fall.
With $27 purchase you will receive:
NEW Turnaroud Daytime Revitalizing Moisturizer in Gold Glow
DDML+
All About Shadow Trio – Bubble Bath, Portobello, Graphite OR Mist from Wave after Wave Duo, Pacific Coast
NEW Chubby Cheek – Roly Poly Rosy OR Robust Rhubarb
NEW Long Last Soft Matte Lipstick – Matte Petal OR Matter Suede
Lash Doubling Mascara in Black
Stripe Cosmetic Bag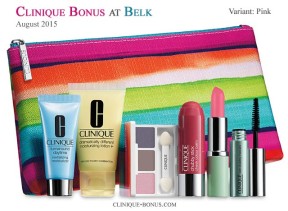 Pink variant shown.
Click here to see Nude variant. Free shipping on every beauty purchase.
Update 2/25: Not available anymore. The next one at Belk will probably be in August 2015.
Update 2/23: The gift is still in stock.
One of the first spring Clinique gifts in 2015 is going on now at Belk.
The bonus time starts February 3, 2015 and the qualifier is $27.00 (the same as a year ago). Gift comes with two color choices (violets or pinks).
Everything's coming up colour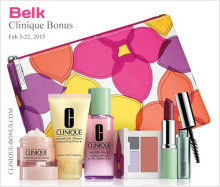 | Pink selection has: | Violet selection has: |
| --- | --- |
| Strawberry fudge eye shadow | Blackberry frost eyeshadow |
| Pink blush | New clover blush |
| Think bronze lipstick | A different grape lipstick |
+ every gift includes:
Moisture surge intense
Dramatically different mascara
Lash doubling mascara in black
Take the day off for lids lashes and lips
The gift is available online and in-stores during promo period Feb 3-22, 2015 or while supplies last.

Update: This mini gift with purchase is sold out now. We must wait for regular bonus time in February 2015.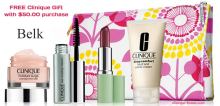 This is not a normal bonus time, but still worth to mention this. There is a 5-piece gift available now at Belk (online only) FREE with any Clinique purchase of $50.00 or more. Excludes fragrance purchases.
Seasonal skin care and colour that's perfect to get and great to give.
Start with skin soothing Moisture Surge Extended Thirst Relief for 24-hours of hydration. Treat hands to Deep Comfort Hand and Cuticle Cream for a little every day luxury. A Different Lipstick in A Different Grape is the shade you'll want to wear this holiday season. Polish your look with Lash Doubling Mascara in Black and keep it all in a chic, retro Cosmetics Bag.
Note: Belk ships for FREE. All beauty, all the time, no min. purchase.

Update: The promotion is no longer available.
The next Clinique gift at Belk (free with any $27.00 purchase) starts on August 5th, 2014 online and instores.
The rich and the colourful. Summer bonus time at Belk in August.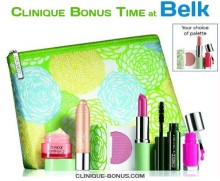 The gift comes with All about eyes rich cream, High impact mascara and Chubby eye stick in bountiful beige. Additionally, there are two color choices:
Peach which includes:
Sunset glow blush
Sugared grapefruit lipstick
Nail polish in happy heart
Pink set includes
Iced lotus blush
Glazed berry lipsticks
Nail polish in hi sweetie
How to get the Belk's bonus?
3 ways to choose from:
On-line – purchase any Clinique products over $27.00 on the Belk website and you should be able to select variation of your gift (Peach: Sunset Glow/Sugared Grapefruit/Happy or Pink: Iced Lotus/Glazed Berry/Hi Sweetie). If not, click on the shopping bag and under the selected products look for a link "Add your free gift with purchase". Click on it and choose your preferred colour.
In-store: visit your local Clinique counter at Belk; find your nearest store here.
By phone: call (601) 991-2017 Ext. 267 and ask for Kayla.
*One Bonus to a client, please. While supplies last.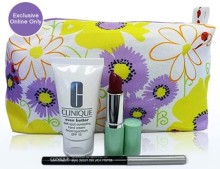 Update: This promotion has expired.
This is not an usual Clinique bonus time. It is a mini gift with purchase ($27.00) exclusive online only at Belk where you will receive 4-piece gift. It includes: a cosmetic bag, lipstick, eye liner and Even Better hand cream.

Update: We are sorry, this promo is no longer available.
The next bonus at Belk starts February 4, 2014. Yours with $27 purchase on Belk and also in selected stores.
The gift ($70 value) includes:
Repairwear Laser Focus Wrinkle Correcting Eye Cream
Dramatically Different Moisturizing Lotion+
Rinse-Off Eye Makeup Solvent
Lash Doubling Mascara in Back
Exclusive cosmetic bag

BONUS CHOICE:

Clinique Colour Compact in Pinks (shown) or Nudes (inset)

BONUS CHOICE:

Chubby Stick Intense Moisturizing Lip Colour Balm in Roomiest Rose (shown) or Curviest caramel (inset).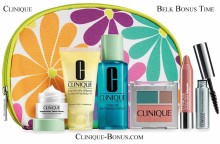 Update Sep 24: This bonus (with the choices) is now available at Von Maur with free shipping.
Update Aug 27th: Gift is not available online. It might be still in some stores, though.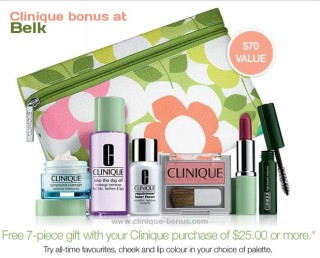 It has been a while since the last gift at Belk Clinique was on (to be exact 6 months). The next bonus at Belk has started on August 6, 2013.
Make $25.00 purchase of any Clinique products and you will receive 7-pc gift set ($70 value):
All gifts include:
Choose your colour:

Exclusive Cosmetic Bag
Award Winner Turnaround Overnight Radiance Moisturizer
Take The Day Off Makeup Remover For Lids, Lashes & Lips
Repairwear Laser Focus: Smooths, Restores, Corrects
High Impact Mascara in Black

Soft-Pressed Powder Blusher in New Clover or Pink Blush

Different Lipstick in Raspberry Glace or Think Bronze High

Update Feb 14, 2013: Bonus gift-set is still available. Moreover get extra 15% off entire order – use Belk Coupon code: 99421654. This is not a Valentines offer. The promo code should be working long-term.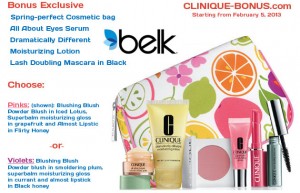 Make $25 Clinique purchase and get a FREE spring-perfect cosmetic bag filled with an assortment of Clinique products! A bonus valued at $65! Quantities are limited. Offer also available online at the Belk website.
Promotion should be available until February 24, but I think it will be sold out in just few days…However you can make a pre-order and secure this bonus gift for yourself.
Belk is taking pre-sale orders now (until February 1), choose your gift (pinks or violets) but you don't get your product or gift till February 5, 2013. Not sure if this pre-ordering is available in all Belk stores but they can still ship orders, too. It is not just locally. And yes, it is the same bonus as in Stage stores few weeks ago.
How to make a pre-order?
Purchase $25 or more and choose between your choice of the pink and violet gifts. Purchases of $50 or more receives free shipping. Call (601) 991-2017 ext 267 and ask for Javelyn.