Belk was founded in 1888 in the United States by William Henry Belk. Later, William with his brother (who was invited into the company as a business partner) found bargain sales to be the biggest advantage of their company. With lots of money to spend on advertising every month their business was growing.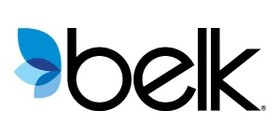 Belk runs scheduled Clinique gifts with purchase two times per year – in February and in August. However, back-in-stock offers may appear anytime during the year.  You can also get free shipping, without the use of a coupon code.

Update April 17, 2018: This gift is back in stock.
Clinique Bonus at Belk – while supplies last with any $28 Clinique purchase Choose your 7-piece gift (a $75 value) designed by Marimekko.
Choose Your Gift:
Brighten and Glow – SOLD OUT: Take The Day Off Makeup Remover For Lids, Lashes + Lips, – Turnaround Overnight Revitalizing Moisturizer, Turnaround Daytime Revitalizing Moisturizer in Golden Glow, High Impact Mascara in Black, Pop Lip Colour + Primer in Bare Pop, Marimekko Credit Card Pouch, Marimekko Cosmetics Bag
Stand Out Eyes: Rinse Off Eye Makeup Solvent, All About Eyes, All About Shadow Trio in Ivory Bisque, Nude Rose and French Roast, Quickliner For Eyes Intense in Intense Ebony, High Impact Lash Elevating Mascara in Black, Marimekko Mirror, Marimekko Cosmetics bag
You will also get free shipping and 15% off beauty products (no code needed).
While supplies last.
---
The past promotions at Belk (2013-2017):
The purchase has increased by $3 over the years, however, the value of the gift has increased, as well. Belk usually offers an option to choose 1 or more gift items – usually there are pinks, nudes, violets, corals variants to choose from, giving the store a bit more of a variety than some of the other department stores.
To see which products were included in the previous gifts offered at Belk, click the button "Load more".